A Female Cabinet Member's Warning for the Incoming Administration
Obama's Secretary of Commerce, Penny Pritzker, has some advice for Trump's inner circle.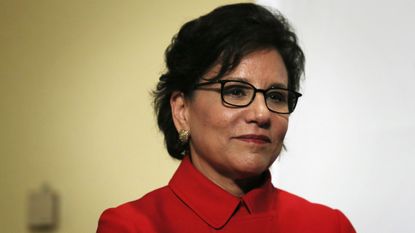 (Image credit: Alex Wong/Getty Images)
Penny Pritzker has had a rough few months. As the current United States Secretary of Commerce, Secretary Pritzker and her team played an integral role in the completion of the Trans-Pacific Partnership (opens in new tab) (TPP)—a pact between 12 nations that aimed to lower tariffs and bolster labor force standards like wages and working conditions around the world. The election put the deal in the crosshairs, derailing U.S. involvement as presidential candidates and many others booed global trade negotiations (opens in new tab) of all kinds.
She's now in a unique position: part of the outgoing class of Obama picks, with three years of cabinet experience under her belt, Pritzker is preparing to watch her work dismantled by Trump and his team. (opens in new tab)
"Frankly, I wouldn't want to backslide from where we are now," Pritzker told Marie Claire on a call this week. She says that the Obama administration has added 15.6 million jobs since 2010 ("800,000 in manufacturing"), lowered carbon emissions, and insured a record number of Americans, to name a few of its accomplishments. "So my advice to the Trump administration is: Don't backslide. America's competitiveness depends on remaining open for business. We have to be able to sell our goods abroad and make sure we continue to attract foreign investment."
And what of the nationalist sentiments this election brought to the fore? Large numbers of Americans—on both sides of party lines—unleashed their voices to oppose multi-country trade deals for fear that their jobs have been (or will be) outsourced to countries with less expensive talent. That's frustrating for Pritzker, who believes the United States' trade and commercial powers can be as powerful as the country's military power in helping America lead globally. "TPP is about lowering barriers," she says. That includes financial barriers like tariffs, as well as non-financial barriers like assuring companies can ship goods into a country and allowing for the free flow of data between borders. This helps U.S. companies stay competitive against state-owned enterprises, Pritzker explains.
"Look at what's happened since the election," she says. "China has already declared it's going to pursue a trade agreement with regional countries, without the standards that protect smaller businesses and employees. If we withdraw from global agreements, it will undercut our competitiveness. Growth will slow. We can't take access to those markets for granted, and we can't take those jobs for granted."
To tackle these challenges, Pritzker encourages breaking down silos. "No one person can have a holistic picture of all the potential issues," she explains of her time working collaboratively with President Obama, colleagues, and advisory councils.
In fact, if the election has sparked your own interest in political involvement, Pritzker says that applications to join federal advisory councils are public. "You can see all the lists online and apply to participate," she says.
How's that for taking things into your own hands?
Follow Marie Claire on Facebook (opens in new tab) for the latest news, fascinating reads, livestream video, and more.