Why Doesn't Donald Trump Ever Wear a Wedding Ring?
A look at our president's perpetual bandlessness.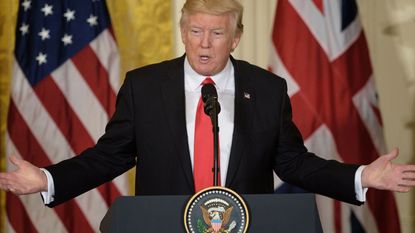 (Image credit: Archives)
Marie Claire Newsletter
Celebrity news, beauty, fashion advice, and fascinating features, delivered straight to your inbox!
Thank you for signing up to Marie Claire. You will receive a verification email shortly.
There was a problem. Please refresh the page and try again.
In 2004, Donald Trump proposed to Melania Knauss, the Slovenian born model he met in 1998, with an engagement ring worth a reported $1.5 million—although he got it half off in exchange for product placement on The Apprentice. They were married a year later and the 13-carat emerald-cut diamond continues to take up serious real estate on the First Lady's ring finger.
President Trump, however, doesn't wear a wedding ring at all.
He's never explained why, and the White House didn't respond to MarieClaire.com's request for comment. But it does cast his relationship with Melania—which many noted on Inauguration Day seemed, at times, cold—in an interesting light.
To be fair, this isn't his first rodeo. In photos from his first marriage to Ivana Zelnickova, another foreign-born model, he doesn't appear to be wearing a wedding ring either. During his second marriage to Marla Maples he occasionally wore one, including in this seemingly joking picture taken on their wedding day:
He's also not alone. Prince William doesn't wear a wedding ring, which the palace said in a 2011 statement was a "personal preference."
"I think they're making a statement by not wearing one," psychotherapist Jeanne Safer told theNew York Times of famous men who skip the band. "It may unconsciously signal availability for adultery, either actually or in fantasy."
But New York Magazine offered a more generous view of men who don't wear wedding rings: They simply don't want to be defined by their marital status.
"Once you're labeled a married man, you're deprived of the attention of numerous people who might have been interested in you," a 30-something commercial director who'd been married for 12 years told New York. "They fill in all these blanks before you can establish what you're about. You become a stereotype."
Of course the thing about Trump is that everyone knows he's married, so whether or not he wears a ring wouldn't change that. But some men, according to Cosmopolitan.com, don't wear rings because they're a nuisance or they simply don't like jewelry. And President Trump, in all fairness, doesn't wear any other visible bling.
We know he loves gold...but maybe not enough to wear it on his finger.
Follow Marie Claire on Facebook for the latest news, fascinating reads, livestream video, and more.
Celebrity news, beauty, fashion advice, and fascinating features, delivered straight to your inbox!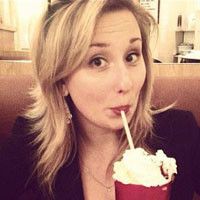 My writing has regularly appeared in The New York Times, The Paris Review, Salon, VICE, Guernica, The New York Observer, BuzzFeed, Cosmopolitan, Seventeen, Esquire, Elle, Harper's Bazaar, and many more publications.

I was previously the Senior News Editor at Best Life Online and the Viral Content Editor in the Newsroom of Hearst Digital Media. My portfolio consists of a vast and diverse body of work that includes personal essays, lifestyle articles, breaking news posts, and viral content. My areas of expertise, however, are Russia, sex and relationships, and mental wellness.