What's Going On with Donald Trump's Fading Tan? An Investigation
A makeup artist who's worked with POTUS weighs in.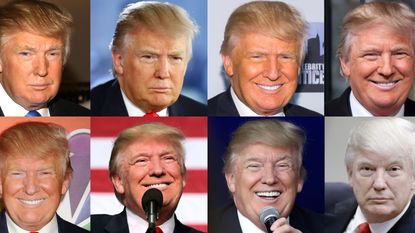 (Image credit: Design Bridget Burns)
Angry Creamsicle. Cheeto Jesus. Decomposing Jack-o-Lantern. These nicknames have two things in common. They're not particularly kind, and they all take aim at Donald Trump's infamous love for tanning, which—thanks to his long history in the public eye—is relatively easy to track.
We'll start with Trump in 1986, looking decidedly un-orange:
Almost a decade later, hints of his tan future started to emerge:
By the mid-aughts, Trump's skin and hair were *almost* the same color:
By the time he was campaigning for president, he'd reached peak orange. Here he is on the campaign trail in 2015:
Trump's apparent addiction to spray tanning became a favorite target for comedians and detractors, and as recently as January he was still looking, well, not *not* orange.
More recently, however, Trump has been looking considerably less citrus-y.
There's a lot about Donald Trump that we can never understand or unpack, but this? This seems doable. So let's dig deep into an investigation of what appears to be Trump's breakup with his spray tan.
To get to the bottom of things, we reached out to an expert who's worked with Trump personally—Cleveland-based makeup artist Jason Kelly, who handled Trump's look (and a slew of other prominent Republicans) at the 2016 Republican National Convention.
While Trump arrived at the RNC with most of his hair and (very minimal) makeup done, Kelly put on finishing touches to get him camera-ready—which gave him an up-close and personal look at the POTUS' complexion.
Are you sitting down? Because Kelly's expert opinion about Trump's spray tan habit is almost guaranteed to surprise you.
Trump might *never* have had a spray tan addiction to begin with.
"He didn't have any liquid or cream foundation on, or spray tan actually," Kelly reveals, explaining that the key to spotting a spray tan is all in the knuckles (or elbows/knees/anywhere the body bends), where you'll see creases that give the tan away. "The newer ones nowadays are a lot better, but I have an eye for it and I can spot it a mile away."
What's more, Kelly reports that the orange tone we see in pictures might be more a result of lighting than of Trump's tanning routine. "When I met him, he didn't really look orange at all," Kelly explains. "Not the way he did in all the previous pictures I had seen when I was doing my homework."
But Trump *has* changed his tanning routine recently, in a very public way.
While Kelly doesn't think Trump was spray tanning (at least not leading up to the RNC), he does think the POTUS frequented tanning beds—as evidenced by the light rings around his eyes that are a dead giveaway for goggle use.
"I could tell he definitely does the tanning bed—or some sort of tanning with some sort of light—because he has that abrupt contrast around his eyes where they wear those goggles," Kelly says, adding that we're probably noticing a more natural complexion on Trump nowadays because his tanning habits have changed. Instead of soaking up artificial light, he's getting the real thing...out on the golf course.
"What I'm seeing now, truthfully, is not so much tanning bed, but maybe the sun that he's getting whenever he goes golfing—and that's been pretty frequently," Kelly says. "I think he might be getting a lot of that tan at Mar-a-Lago."
Guess that means at least one not objectively terrible thing that has come out of Trump's frequent travel to Florida, right?
We're nominated for a Webby Award—but we need your vote to win! Vote for the Women and Guns project here.
Kayleigh Roberts is a freelance writer and editor with more than 10 years of professional experience. Her byline has appeared in Marie Claire, Cosmopolitan, ELLE, Harper's Bazaar, The Atlantic, Allure, Entertainment Weekly, MTV, Bustle, Refinery29, Girls' Life Magazine, Just Jared, and Tiger Beat, among other publications. She's a graduate of the Medill School of Journalism at Northwestern University.