It's an Outrage That Trump Invited President Duterte of the Philippines to the White House
He's an avowed murderer, so there's that.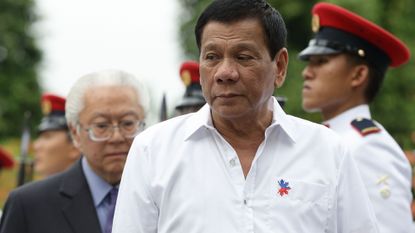 (Image credit: Archives)
President Donald Trump marked his first 100 days in office over the weekend by doing something abominable: inviting a ruthless authoritarian to visit the White House. Trump extended an offer to Filipino President Rodrigo Duterte (opens in new tab) Saturday, saying that the two had "a very friendly conversation." Administration officials backed the invitation, claiming it is key to dealing with the nuclear threat from North Korea.
To call Duterte antagonistic is an understatement. Here are just a few of the undiplomatic things the outspoke strongman has become known for:
His cutthroat war on drugs, which has led to the deaths of thousands.
Many Filipinos simply suspected of dealing with narcotics have been killed, even if there was no actual evidence to suggest they were drug dealers. At one point, Duterte favorably compared his actions to Adolf Hitler (opens in new tab), saying "Hitler massacred 3 million Jews. Now, there is 3 million drug addicts. I'd be happy to slaughter them." His comments caused global outrage for their insensitivity, but they were also incorrect. Six million Jews were killed during the Holocaust.
The fact that he has gloated about personally killing people.
Duterte is a fan of vigilante justice and has personally admitted to killing suspected criminals (opens in new tab). In December, he told reporters that he "killed about three of them because there were three of them," the New York Times reported. He was discussing claims he had made earlier in the week that while he was mayor of Davao City, he would go around Davao with a motorcycle "looking for a confrontation, so I could kill."
He even once said that he would kill his own children (opens in new tab) if they used drugs and has displayed an almost breathless lack of concern about the thousands dead in his country. "Do the lives of 10 of these criminals really matter (opens in new tab)," he said, the BBC reported.
That time he called President Obama "a son of a whore." (opens in new tab)
Duterte uttered the insult in a warning to the former president to not bring up his violent war on drugs in a future meeting. The comments led Obama to cancel said meeting (opens in new tab) between the two nations about territory disputes in the South China sea.
His disdain for the press.
A little less than a year ago, Duterte also targeted journalists. In response to a question about press freedom after the murder of a Filipino reporter, he said "Just because you're a journalist, you are not exempted from assassination (opens in new tab), if you're a son of a bitch."
Trump cozying up to Duterte alarmed human rights groups. According to the Washington Post (opens in new tab), Phelim Kine, Human Rights Watch's deputy director for Asia, said the U.S. and other countries "have an obligation to urge accountability for the victims of Duterte's abusive drug war, rather than offer to roll out the red carpet for official state visits with its mastermind."
Follow Marie Claire on F (opens in new tab)acebook (opens in new tab) for the latest celeb news, beauty tips, fascinating reads, livestream video, and more.