The 9 Most Tone-Deaf "Struggles" Ivanka Trump Shares in Her New Book
Women Who Work is out today.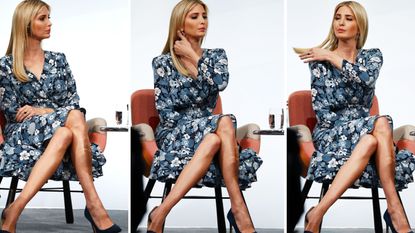 (Image credit: AFP design by Bridget Burns)
Ivanka Trump's newest book, Women Who Work: Rewriting the Rules for Success, is out today, a release that was delayed several months as she helped her father Donald Trump move into the White House. She also took that time to write a new introduction to the volume that reflects a bit about her new reality—she's no longer the businesswoman she was before November 8, 2016.
Women Who Work is packed with very practical, specific advice for women, such as how to examine their schedules in order to be more effective, and how to structure a request to one's manager about more flexible hours around childcare. Amidst the suggestions and inspirational quotes, Trump divulges personal anecdotes to illustrate why or how she struggled within her own career and parenting. While it's a nice effort, these stories often fall flat, given the fact that Trump was born into enormous wealth, joined the family business of which she was an heiress, and married a millionaire.
"On paper, this separation is straightforward, but emotionally, this was not an easy decision for me to make," she writes. "It is difficult to step away from businesses that I have worked hard to build and that I believe in so fully, but the potential to improve the lives of countless women and girls has caused me to fundamentally consider where my work will do the greatest good."
The legendary editor-in-chief of Vogue called Trump personally to offer her a job before she even graduated. "I was completely taken off guard, but awake enough by now to be extremely flattered and honored. I knew working with Anna at Vogue could positively influence my career in a big way," she writes. "But I'd already given my word to [real-estate firm] Forest City. I just wasn't willing to delay my dream of becoming a builder."
"I remember the first time I approached a boss for an increase in pay, I had to prove my worth to the bottom line in real dollars and cents," Trump says. "I quantified each project that I'd spearheaded and every deal I'd landed over the prior year in order to convince him."
"I also believe that my long-term personal commitment to the property made a substantial impact in the bidding process," she writes. "I can envision Arabella overseeing this hotel someday (if she so chooses!), and I shared that with the selection committee."
"When I had the idea for my brand, I realized I was going to have a much steeper learning curve in fashion than I did in real estate," Trump writes. "So I was proactive and met with people in the industry who had created or worked at companies I respected—Tory Burch, Ralph Lauren, Michael Kors, and Calvin Klein."
Trump spends several pages providing advice on how to speak to crowds or deliver a presentation, and provides her own experience at the Republican National Convention as an example. "To say I was nervous would be an understatement!" she writes. Luckily, her husband Jared Kushner helped her out. "He reminded me to take one step at a time, and helped me focus on my goal so I wasn't overwhelmed by the enormity of the opportunity."
"In terms of my own hobbies and interests, once I became a parent, the emphasis shifted from the things I used to love to do solo—like off-the-grid adventure travel—to more family-oriented activities that involve my kids. We love to garden, for example," she writes. She mentions a solo trip to Patagonia, in Argentina, and then goes on to explain how now she spends that down time digging for strawberries at the family's country home in New Jersey.
"I began to wonder whether I had been doing women who work a disservice by not owning the reality that, because I've got an infant, I'm in my bathrobe at 7 AM and there's pureed avocado all over me," Trump writes of her decision to start posting more photos of herself "in a messy ponytail" on her Instagram account.
"Even during the painful periods of growing your business, it's so important to prioritize personal time," she writes. "I'm not great at this, frankly—for me, the hardest thing is to work less."
Follow Marie Claire on Facebook for the latest celeb news, beauty tips, fascinating reads, livestream video, and more.