Sean Spicer Literally Hid in the Bushes Last Night to Avoid the Press
This is even better than 'Saturday Night Live.'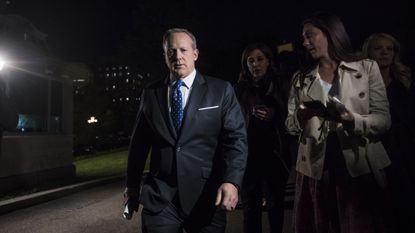 (Image credit: Archives)
At 5:43 p.m. on Tuesday, the White House released a statement saying that President Donald Trump had fired FBI director James Comey. The news was a surprise to everyone, including, it seems, James Comey, who reportedly found out about his termination by seeing it on TV and initially thought it was a prank.
In the termination letter, Trump wrote that he believes "Comey is not able to effectively lead the Bureau," and that "it is essential that we find new leadership for the FBI that restores public trust and confidence in its vital law enforcement mission." A lot of people, however, thought that the move was pretty dictator-y given that Comey is currently leading an investigation into Trump's alleged ties with Russia, as well as the fact that Trump has previously lavishly praised Comey for the way he handled Hillary Clinton's emails.
Clearly, this was going to be a hard night for White House press secretary Sean Spicer. So he did what any sensible man would do and hid in the bushes. Here's how it went down, according to The Washington Post:
White House press secretary Sean Spicer wrapped up his brief interview with Fox Business from the White House grounds late Tuesday night and then disappeared into the shadows, huddling with his staff behind a tall hedge.
Let's just take a moment to appreciate the imagery here: Sean Spicer, huddling behind a "tall hedge." I imagine it would look something like this March 13 photo, except with Spicer standing behind the bushes instead of in front of them, but still sporting the same look of terror and different colored shoes. (Aside: is that a foot brace? who hurt you, Spicey?)
To make things absolutely clear, the article explains that Spicer was behind the hedge because otherwise, "to get back to his office, Spicer would have to pass a swarm of reporters wanting to know why President Trump suddenly decided to fire the FBI director." So, instead, he hid. In the bushes. Like this:
The report then backs up to explain that Spicer had wanted to, "drop the bombshell news in an emailed statement, but it was not transmitting quickly enough, so he ended up standing in the doorway of the press office around 5:40 p.m. and shouting a statement to reporters who happened to be nearby."
The report says he "then vanished, with his staff locking the door leading to his office." At first, they said they might do a briefing, then decided they absolutely wouldn't. But as people clambered demanding answers, Spicer found himself "speed-walking" up to the White House later that night.
Then, "after Spicer spent several minutes hidden in the bushes behind these sets, Janet Montesi, an executive assistant in the press office, emerged and told reporters that Spicer would answer some questions, as long as he was not filmed doing so."
He actually ordered them to turn the lights off so that soon he was "standing in near darkness between two tall hedges, with more than a dozen reporters closely gathered around him."
For about ten minutes, he explained that Deputy Attorney General Rod J. Rosenstein and Attorney General Jeff Sessions recommended firing Comey so that's why Trump did it. Period. Case closed. Bye!
For pretty much every other questions, it seems he just said you should ask the Department of Justice or just went with an exasperated, "I don't know." Then, exactly 10 minutes in, he disappeared.
It's all very funny, but at the same time, this is the press secretary giving non-answers to a huge decision made by the president, only in the dark...and only after hiding behind two hedges. When you look at it that way, it's not very funny at all.
Follow Marie Claire on Facebook for the latest celeb news, beauty tips, fascinating reads, livestream video, and more.
My writing has regularly appeared in The New York Times, The Paris Review, Salon, VICE, Guernica, The New York Observer, BuzzFeed, Cosmopolitan, Seventeen, Esquire, Elle, Harper's Bazaar, and many more publications.

I was previously the Senior News Editor at Best Life Online and the Viral Content Editor in the Newsroom of Hearst Digital Media. My portfolio consists of a vast and diverse body of work that includes personal essays, lifestyle articles, breaking news posts, and viral content. My areas of expertise, however, are Russia, sex and relationships, and mental wellness.