Why Trump Didn't Want You to See These Photos
Especially not now.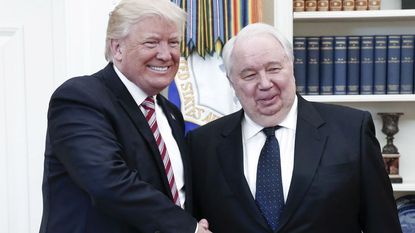 (Image credit: Getty Images)
On Wednesday, President Donald Trump met with Sergey V. Lavrov, the Russian foreign minister, and Sergey I. Kislyak, Moscow's ambassador to the United States, in the White House's Oval Office. American reporters were barred from the meeting, but an official photographer from TASS, a media agency that is, like virtually all media in Russia, run by the state, was allowed.
Shortly after the meeting was over, photos taken by TASS's official photographer, Alexander Shcherbak, hit the Getty newswire, and began flooding social media. While it's not uncommon for reporters to be barred from a meeting with lower-level officials as opposed to heads of state, barring American press but allowing a Russian state-run photographer to take photos of you smiling and shaking hands with top Russian officials the day after you fire the FBI director responsible for investigating your alleged ties with Russia looks a bit sketchy, to say the least.
Photos of Trump's meeting with Lavrov and Kislyak just hit the Getty wire and they're all credited to Russian news agency TASS pic.twitter.com/qE9lWB6KuSMay 10, 2017
See more
That awkward moment when you don't invite US journalists to your Russian party but the Russians tag you in their pics online. https://t.co/4tdUCBOwOwMay 10, 2017
See more
Especially when one of those officials is Sergey Kislyak (pictured below), the man whose meetings with former National Security Advisor, Michael Flynn, led to his resignation. The man whose meetings with Attorney General Jeff Sessions forced him to recuse himself from the FBI's investigation into the alleged collusion between Russia and the Trump administration in the election. The man that Esquire called "the man who connects every thread of an eleven-dimensional Russian conspiracy." Yeah, that guy.
It also doesn't help that, according to The New York Times, no one even knew Kislyak was coming. In fact, his name isn't even mentioned in the readout released by the White House, which only says that "President Donald J. Trump met today with Foreign Minister Sergey Lavrov of Russia."
Poor Kislayk. No one ever seems to remember meeting him.
It took a couple of days, but at some point, someone must have realized how bad this all looks, because on Friday CNN's Jim Acosta tweeted that the White House was "furious" that the Russian government posted photos of the meeting.
WH furious over Russian government photos of Trump meeting with Lavrov/Kislyak. "They tricked us," an official said of Russians "They lie."May 11, 2017
See more
WH did not anticipate Trump/Lavrov/Kislyak photos would be posted by TASS, official said. https://t.co/HdWYNDTTxUMay 11, 2017
See more
Trump White House: Russians duped us about those Oval Office photos pic.twitter.com/5BlcE3O5DFMay 11, 2017
See more
The Internet's initial reaction to the news was, "No sh*t."
It's almost as if the Russians don't have US interests at heart. https://t.co/8dnCL3YmwFMay 11, 2017
See more
This administration has never once correctly figured out who the bad guy is in a Scooby Doo episode. https://t.co/xWl7LQDzY8May 11, 2017
See more
However, in response to the controversy, Alexandr Scherbak, the TASS photographer who took the photos, posted a lengthy Facebook post saying that the White House's claims were "nonsense."
There was nothing unusual about the photoshoot with Trump and Lavrov. Everything was typical. After the meeting with Tillerson I was taken by a US representative to the White House. I was scanned, patted down, and then sniffed by canines. Then I was waiting for the arrival of our delegation in a room in the White House. I was introduced to a female photographer who works there and was told to stay by her side as she knows all the protocol details. I took only two cameras to the photoshoot, I left all my stuff, including my cellphone, in another room as I was told to do. The photoshoot was usual, with the delegations exchanging handshakes, a verbal exchange, and then the meeting began. We worked for just a minute and that's all. I left the Oval Office and returned to the room where I was staying. When the meeting was over, we went to the Russian embassy for a news conference. And then we took off. I am urging US journalists not to lose their professional dignity and not to pin the blame on other people for their failure in organizing the photoshoot and the failure to provide access to their media. I have worked as a professional photo correspondent for many years and I am facing such absurd and ludicrous charges for the first time.
What Scherback wrote adds up. Surely, the White House would not allow some random person to take photos of important politicians from two nuclear states. Surely, they would have had to go through clearance, submit photographs, take the photos on professional cameras, and then post them online, as is standard practice. What's interesting isn't what the White House official said, but what they didn't say. Did they actually tell the TASS photographer he wasn't allowed to post the photos online? If they did, why would he go ahead and do it, and on the the most widely used stock photo agency as well?
The Russians may "lie," but in this case at least, they're not hiding anything.
CNN reports that the official White House photographer was also in the room taking pictures, but those were not released until Thursday on the White House Flickr Page. As you can see, the three photos they released also make the meeting seem markedly more reserved, not featuring the Boys Club style of guffawing visible in the photos released by TASS. So why didn't the White House release the photos taken by their official photographer at the same time as the TASS photographer?
Most importantly, why is it that the three photos that the White House did release fail to feature Kislyak?
WH now releases photos of yesterday's Trump/ Lavrov meeting on their Flickr site... 3 photos of Trump with Russian Foreign Minister Lavrov pic.twitter.com/3leQy2JOZmMay 11, 2017
See more
And why is it that when Trump tweeted out a photo of the meeting, it ALSO failed to show or even mention Kislyak?
The obvious answer is because Trump being all BFF with the Russian official who heralded the entire investigation into the Trump campaign colluding with Russia to influence the election a day after firing Comey looks laughably bad. Fine. But why take two days to become "furious?" Why not get "furious" right away? Russia's Ministry of Foreign Affairs posted a photo of Trump shaking hands with Lavrov literally minutes after the meeting began.
#Lavrov - @realDonaldTrump meeting has just started | В Овальном кабинете началась встреча С.Лаврова с Д.Трампом#RussiaUSA #РоссияСША pic.twitter.com/7raFrkWhiCMay 10, 2017
See more
They even posted a video at 10:48 am on Wednesday of Lavrov pretending not to know Comey was fired. (Though, to be fair, it's unclear if he's joking or not since his "You're kidding!" sounds sort of sarcastic.)
#Lavrov: Was FBI Director James Comey fired? You're kidding! pic.twitter.com/5OXNKBF2QAMay 10, 2017
See more
And the biggest question of all is: if Trump didn't want people to know he met Kislyak, why was he even there?
Follow Marie Claire on Facebook for the latest celeb news, beauty tips, fascinating reads, livestream video, and more.
My writing has regularly appeared in The New York Times, The Paris Review, Salon, VICE, Guernica, The New York Observer, BuzzFeed, Cosmopolitan, Seventeen, Esquire, Elle, Harper's Bazaar, and many more publications.

I was previously the Senior News Editor at Best Life Online and the Viral Content Editor in the Newsroom of Hearst Digital Media. My portfolio consists of a vast and diverse body of work that includes personal essays, lifestyle articles, breaking news posts, and viral content. My areas of expertise, however, are Russia, sex and relationships, and mental wellness.