The World's Best Country for Women
If you want to be happy, healthy, and powerful, you might consider packing your bags and moving to a picturesque country on the other side of the Atlantic. According to a new report, Sweden tops out as the #1 place for women to live. Is it the year-long maternity leave? The chance to date four men at once? The unisex public bathrooms? (Ewww!)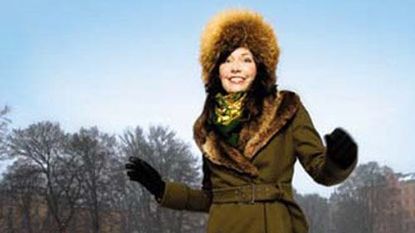 (Image credit: Martin Adolfsson)
Marie Claire Newsletter
Celebrity news, beauty, fashion advice, and fascinating features, delivered straight to your inbox!
Thank you for signing up to Marie Claire. You will receive a verification email shortly.
There was a problem. Please refresh the page and try again.
Her radiant, larger-than-life image is everywhere: on snow-fringed billboards in Stockholm's chic shopping district, on stately buildings in the capital's picturesque Old Town, on the side of city buses. Ebba von Sydow, 25, is Sweden's current it girl: the face of Swedish fashion brand MQ's antismoking campaign and editor-in-chief of the nation's largest magazine for young women, Vecko Revyn ("Weekly Review"). "Every girl in Sweden wants to be Ebba," says a 28-year-old female office worker from Stockholm. "She is the woman with everything — success, power, brains, and beauty."
In other words, Ebba is the perfect example of what the latest research shows: that Sweden is a country in which women truly thrive. In fact, a 2005 report by the World Economic Forum found this Scandinavian nation to be the world's "most advanced country" for women, with greater levels of equality, power, health, and well-being among women than anywhere else. (The survey ranked the U.S. an abysmal 17th place — one above Costa Rica.)
Relaxing with coworkers at an exclusive spa to celebrate her 25th birthday, Ebba sips champagne while explaining that Sweden's pro-female culture has helped her achieve her dreams. "I have a fantastic life and a job I love. Women here are judged on their talents, not their gender," she says. "If you're good at what you do, you can get to the top very fast."
Sweden, which has a population of 9 million — around the same as the state of New Jersey — has a long history of female-friendly policies. The government gave women equal rights to inherit property way back in 1845; in 1901, it introduced the world's first formalized maternity-leave program. In 1958, the Swedish Lutheran church changed its doctrine to permit women to become priests. And today, female politicians make up around half of the Swedish parliament.
The goal of equality starts young: "Anti-Sexism Awareness Training" begins in kindergarten, where male toddlers are encouraged to play with dolls, and females with toy tractors. In school, classes in cooking, sewing, metalworking, and woodworking are compulsory for both sexes. All education, including college, is free, and girls routinely outperform boys; in 2005, women made up more than 60 percent of all Swedish college students. All this adds up to more flexible gender roles later: As one Swedish website puts it, "In our country, women drive the buses and men push the baby buggies."
For Ebba, freedom from traditional roles means she has never experienced the turmoil of choosing between her high-profile job and a happy home life. "Few Swedish men expect women to be domestic or subservient," she says. "My boyfriend accepts that my job involves constant meetings and traveling, and he's happy that I enjoy it." Ebba's live-in boyfriend, who works 9-to-5 for a leather company, also does the household chores. According to one study, Swedish men do more housework than men anywhere else — an average of 24 hours per week!
While her boyfriend cleans house, Ebba focuses on being a role model for the 250,000 young female readers of her magazine. The glossy is a classic mix of style and beauty tips, but Ebba refuses to run articles about dieting or fads that might endanger women's health. "I try to convey that beauty is about self-respect, not about impossible ideals," she says. Nevertheless, she's a firm believer that Swedish women don't have to give up their femininity. "I love makeup, I wear pink, and I'm obsessed with handbags," she confesses. "I'm proof that you can be both smart and womanly. I get thousands of letters from girls saying that I inspire them."
In fact, most women in Sweden find it easy to meld femininity with feminist ideals. Carin Gablad, 49, is Stockholm's chief of police, in charge of fighting crime in the capital with a force of 4600 officers. "My approach is the opposite of macho," says the tall, blonde police boss. "I use psychology and negotiation in most cases, but I'm not afraid to use brute force."
Chief Gablad owes her high position to one simple fact: She gets results. Crime has dropped by 9 percent under her leadership, and shortly after taking office in 2003, she won acclaim by capturing a top politician's murderer. "Women make excellent police officers because we're less ego-driven and confrontational than men," she says. Nearly one in three police officers in Stockholm is a woman, and female recruits now outnumber men at some police training academies. "I think women are increasingly keen to join professions like the police because they are no longer told to act like men," she says. "They are rewarded for being themselves."
But for all this, is Sweden really the ultimate female nirvana? With its high income tax, women take home an average of $22,000 per year, compared with $29,000 for American women. Yet prices in Sweden are up to four times higher: a drugstore lipstick costs $15, a pair of non designer jeans, $130. An evening out costs almost $150. For young women who like to have fun, it can be hard on the wallet. "I save all week for the weekends," says Anna-Maria Blomberg, 27, who works as a human resources assistant for a pharmaceutical company. "When I shop, I'm always trying to find ways to buy clothes on sale, so I can spend more on accessories like shoes and bags."
Then there's the other side of the equality coin: To avoid double standards, women like Anna-Maria are fanatical about paying their fair share on dates. "I feel very uncomfortable if a man buys me dinner or drinks — as though I owe him something," she says. Fortunately she almost never finds herself in that predicament, since Swedish men rarely offer to pay, nor do they perform any other conventional courtesies, such as holding a door open or helping a woman visibly struggling under the load of a heavy bag. "Naturally, we can't complain," says Anna-Maria. "But apart from the financial issue, I can't say I'd mind the odd helpful gesture now and again."
With gender equality comes further dating awkwardness: By American standards, Swedish men are painfully slow to make the first romantic move. "Men treat women like friends," Anna-Maria says. "They rarely chat you up, unless they're drunk." Instead, Anna-Maria often does the asking herself. "Sure, I'd like to be chased, but men have grown lazy in Sweden. So I take the initiative. Though I have to say, it detracts from the sexual intrigue."
Even so, Sweden's acceptance of women as the aggressors in relationships has its perks: Anna-Maria regularly dates three or four men at a time without social disapproval. And when it comes to sexual freedom, it's hard to imagine a country with more relaxed rules. Sex and the City is shown on TV at the family hour of 6 p.m., and skinny-dipping in Stockholm's city-center lakes is reportedly a popular summer activity. One-night stands are also common. "You can sleep with whomever — there's no stigma against women who've had many sexual partners," she says. Which is convenient, since Anna-Maria is having too much fun to settle down just yet. In time, she says, she hopes to meet a long-term partner and have a family. Though her requirements might seem unrealistic, Anna-Maria knows what she's looking for: "I couldn't give up my job, so I wouldn't dream of marrying a man who wasn't prepared to stay at home and look after the children on an equal basis with me."
Although most Swedish women work, the country has one of the highest birth rates in Europe, thanks to generous laws on parental leave. "We're lucky, because we can have our careers and our families," says Anna Eriksson, 29, the head of production at a TV company. Anna and her partner, Henrik Persson, 33, live just outside Stockholm with their 16-month-old son and have another baby on the way. Swedish couples — women and men — get 13 months paid leave and another three months at a fixed rate. Of that, 60 days must be taken by the mother, another 60 by the father, and the rest can be divided however they choose. (New mothers in the U.S. who have worked one year receive 12 weeks unpaid leave.) "The system means there's no financial hardship," says Anna, "and your job is still waiting for you afterward." (By law, employers must hold a new mother's job for her for the duration of her maternity leave.)
Anna spent seven months at home after her son, Melvin, was born, and then Henrik, a computer consultant, took over so she could return to work. Henrik leaped at the chance to be a stay-at-home dad: "I wanted to bond with my son. My job is not more important than Anna's, so there was no reason not to stay home," he says.
It's 8 a.m. in their two-story home, decorated in classic Swedish style with pale wood and clean white walls, and Henrik is preparing muesli and coffee for Anna's breakfast. Melvin cried all night because of an ear infection, so both Mom and Dad are sleep-deprived. "We have the usual stresses of new parenthood," says Anna. "But the roles are reversed: Henrik is desperate for adult conversation when I get home at night, and sometimes I just want to sit in front of the TV."
The timing of the couple's second baby works well: "Our allotted leave for Melvin will finish just before the new baby is born. After, Anna and I will swap places again with another round of paid leave," says Henrik. The unmarried couple, who plan to wed "one day," will continue sharing responsibilities. "The system here is great for both sexes. Dads can watch their kids grow up, too," says Henrik.
This principle of equality extends to many other areas of life in Sweden. Women's sports are given as much TV airtime as men's, sometimes with higher ratings — 4 million Swedes watched the 2003 Women's World Cup soccer final. In shopping malls, Sweden's pay-to-pee public toilets are often unisex to minimize those infamously long lines for women's bathrooms (a minus: men still leave the seat up!). One Stockholm nightclub also tried unisex bathrooms, but quickly had to change them after staff discovered amorous couples getting hot-and-heavy in locked stalls. Then there are innovations such as the world's first "female-friendly car," unveiled in 2004 by Swedish auto giant Volvo. Created by an all-female lead team, the car is packed with woman-specific features: seats that auto-adjust to a female body shape, a special groove in the headrest for ponytails, and a high-heel rest near the foot pedals.
But for all the benefits, how sweet are Swedish women's lives, really? A glaring inequality persists in the wage gap — women earn 83 percent of the average male salary. And Amnesty International recently criticized Sweden for not doing enough to tackle domestic violence and discrimination against ethnic minorities.
Some Swedish feminists have even more complaints. A new female-run political party, Feminist Initiative, was launched in 2005 on such platforms as abolishing marriage laws — thereby granting any two (or three, or four!) people cohabiting the same rights as a husband and wife — and legally requiring fathers to take as much time off for child care as mothers. While the party was initially touted as "the way for women's future," its support plummeted after its convention several months ago, during which members sang a rowdy song about "chopping men to bits."
So is Sweden the ultimate sisterhood heaven? The verdict, of course, depends on your point of view: Japanese women live longer, American women earn higher salaries, Greek women have lower rates of breast cancer, and according to one poll, Italian men are better kissers. Overall, though, Swedish women seem happy with their lot. "I've traveled to many countries," says magazine editor Ebba. "But life in Sweden is truly special for women. There's nowhere else I'd rather live."
Celebrity news, beauty, fashion advice, and fascinating features, delivered straight to your inbox!