Q&A with Alexandra Kerry
The daughter of the man who might have been president on politics, her burgeoning career, and, of course, that dress.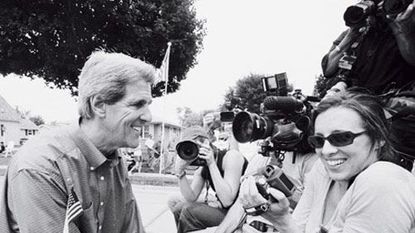 (Image credit: P. Le Segretain)
Q: I hate to begin this way, but when I Googled you, all these sites came up devoted to the incident on the red carpet at Cannes in 2004, when your gown became transparent.

A: I know -- 73 pages of the dress. It's such a shame. I saw the heads of Google last summer, and I joked with them: "How do I get this off your site?"
Q: Did you know as soon as the flashbulbs went off what was happening?

A: No! I walked through the whole thing and nobody said a word. It wasn't until the next morning when my press person said, "We have a little problem..." Then my stepbrother checked the Internet, and he was like, "Don't look!" It was a complete shock and surprise. Even more of a surprise was that people made it as much of an issue as they did.
Q: What did your dad think?

A: I made my sister tell him because I couldn't deal with it. He went through the stages of grief, basically. First, he wanted to know how that could happen. Then, he wanted to make sure I was all right. Finally, he started making jokes about it. I knew when we got to the joking part that everything would be OK.
Q: Were you relieved when your dad chose not to run in '08?

A: I think he would make an incredible president, and it would be great if he'd run again. But personally, for our family, part of me is glad that he didn't. We lost our mother recently, and we need to focus on ourselves. [Kerry's mother died of cancer in April 2006.]
Q: Your charming hamster speech at the Democratic convention helped humanize your father. Why did the press stereotype him as aloof?

A: I think the press gets lazy once a certain kind of image is out there. It just adheres, rather than the press trying to break that down. That stereotype was completely wrong. As his daughter, I felt like he wasn't being understood. I'd challenge the press this time to try and give accurate portrayals of people.
Q: You recently signed on to direct an adaptation of The Hazards of Good Breeding, a novel about an Ivy League grad from a Waspy Boston family who wants to be a filmmaker and has a powerful father. Sound familiar?

A: Yeah, it's pretty familiar. I tried to move away and do something different, but you always come back to what you know. This certainly isn't my own story, but there are pieces of it I relate to. It's a world that hasn't been looked at in an astute way in a very long time.
Q: Meaning?

A: I haven't seen anything that deals with that rarefied world in a way we can recognize. Just because you're in that world doesn't mean you don't have the same problems as everyone else.
Q: From senator's daughter to movie director-that's a bit of a leap.

A: I didn't grow up in public life. I lived with my mother in Boston, not in Washington, DC, so I was somewhat sheltered from that.
Q: It's Mother's Day this month. How did your mother, the late Julia Thorne, influence you?

A: Most of my strength comes from her. She taught us to keep the private and public worlds in different places. I miss her profoundly. I dedicated my book about the campaign to her: "To my mom, who is always on a landline."