Your Top 10 Financial Questions, Answered!
LearnVest founder Alexa von Tobel gives her two-cents on some of your biggest money issues.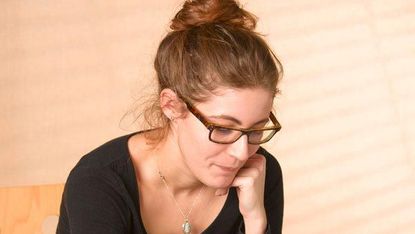 (Image credit: Archives)
We had such a great time getting answers to our burning money questions from LearnVest founder Alexa von Tobel live, via twitter last week. If you missed #MCmoney, here's your chance to catch up with her top 10 favorite questions (answered here in more than 140 characters). If you have other financial questions, check out LearnVest for more information.
My fiancé and I are currently debating: to merge our finances or not to merge? What do you recommend?
I can definitely relate, as I'm recently engaged and working through this with my own fiancé! I recommend a hybrid model, which you can think of as a "Yours, Mine, and Ours" model. Set up a joint account for the "Ours" fund and funnel 75 percent of your take-home pay here. This money allows you to spend together and covers shared expenses, like rent, utilities, groceries, and vacations. At the same time, each of you should put the remaining 25 percent of your take-home pay into your own account. This money is 100 percent in your hands — use it on nights out with friends, presents for your fiancé, concert tickets, you name it. You work hard to have financial freedom, and this allows you to do so while still being part of a team.
For a detailed description of how this model works, check out this video.
How much should you put into your 401K each paycheck when you're still paying off credit card debt?
This is always a difficult question, as debt repayment and retirement savings are both critical. In terms of your overall budget, we suggest that 20 percent of your take-home pay should go toward financial priorities (including debt repayment, retirement savings, and your emergency fund). I recommend balancing these goals and doing both things at once. Maintaining 401k payments is a must-do if your employer offers matching. You should take full advantage of that, as it's essentially free money!
Meanwhile, remember that credit card debt is bad debt, and work to cut your costs so you can pay down this debt as quickly as possible. LearnVest offers a Get Out of Debt Bootcamp that will give you the tools to do just that.
How much should I be spending on rent?
This is a great question, as overspending on rent is a huge culprit in throwing your budget out of whack! In general, 30 percent of your take-home pay is a good figure to keep in mind — though housing costs vary dramatically from city to city. Ultimately, make sure that your "Essential Expenses" (what you need to survive) do not exceed 50 percent of your take-home pay. At LearnVest, Essential Expenses include your housing, utilities, transportation to work, and groceries.
This article on Marie Claire cover star Zooey Deschanel's budget has a great image of what yours should look like.
I hear it's a buyer's market. But, I need time to save up for a down payment. How can I best do that?
Buying a home is an amazing goal, so first of all, congrats! While buying a home may seem out of reach, it's completely achievable as long as you plan ahead. Even though it may be a buyer's market, buying a home is a huge financial move and requires that you're 100 percent ready before taking the leap.
With big financial goals like this, I recommend setting up a separate savings account just for this goal (or create a sub-account to an existing savings account, if your bank allows). By keeping this money separate, it will reduce the temptation to dip into these funds, and it will allow you to watch this money grow as you get closer and closer to your goal.
To figure out how much you'll need to save, do some research into home costs in your area, using sites like Zillow and Trulia. You should aim to save at least 20 percent of your future home cost for the down payment in order to get the best mortgage rates. Take this number and divide by the number of months leading up to your desired home purchase date, and there you have it: your monthly savings goal!
Do I really need to be saving 10 percent of my salary given I'm in my early 20s and don't make a lot of money?
Absolutely. In fact, I'd suggest saving 20 percent of your take-home pay. Even though you're young and may have a tight budget, saving early is incredibly important. With retirement savings for example, compounding interest over time makes all the difference!
If you need some encouragement, check out my TED talk, which outlines exactly what happens to a young woman who doesn't start saving early. Hopefully her example will help motivate you.
Student loans are a HUGE part of my budget — more than my mortgage. Is there any way to consolidate private loans?
Student loans are something so many Americans have to grapple with, and I certainly understand your desire to simplify these loan payments! The big benefit of loan consolidation is that it leaves you with a single monthly payment. However, some loan consolidation plans may be extending your loan period, which means you'll pay additional interest over time. Before committing, make sure to do the math. There are some handy calculators out there that will help you figure out if you're really looking at a good deal.
Although you cannot consolidate private and government loans together, you can refinance private loans. FinAid! has some great resources to guide you in the right direction.
I'm setting up my first 401(k) account ever, and I have no clue what options are best for me. Can you please advise?
First, kudos for tackling your retirement savings! Setting yourself up for a financially secure retirement is so critical. Even though it might not feel like it, it's really a matter of urgency, so congrats for committing to building up your 401(k).
401(k) plans are tax-deferred, which means you'll pay taxes when you take the money out, not when you put the money in. (This works differently than a Roth IRA, where you pay taxes upfront only). With 401(k) savings, the main thing to look out for is employer matching. If your employer offers matching, you'll want to take advantage of that money. If not, a Roth IRA may be a better place to start saving, given its different tax benefits. If you want to make sure a 401(k) is right for you, check out our useful chart to confirm.
This year, you can contribute up to $17,000 in your 401(k), plus another $5,000 in an IRA, so $22,000 in total. Aim to max out your accounts, if possible!
Once you've set aside your retirement funds, you'll need to decide how to allocate them. Your decisions here are dependent on your risk tolerance, as well as your time horizon. How far off is your retirement? Generally speaking, the younger you are, the more risks you can take. LearnVest offers some additional guidance.
What are your thoughts on 0 percent APR Credit Cards for a limited time to help with paying down small debts?
If you have a good credit score and can be approved for a 0 percent APR card, this can be a great option for tackling your credit card debt without accruing further interest charges. Once you're approved for a card, you can do a balance transfer of your debt to this card. Make sure to pay this card off ASAP, as the 0 percent APR will only be for a short-term period. After the period ends, you'll likely be facing a sky-high APR. Do not charge anything new to this card! Your focus should be on debt repayment, so set up automatic payments to help you tackle this debt as quickly as possible. Make sure to do no more than one balance transfer in a year, as any more can damage your credit score.
I pay off my credit card every month, but my hubby insists on carrying debt for improved credit score. Is he right?
Carrying debt does not help your credit score! Credit card debt is by definition, bad debt. Healthy credit card habits include paying off your credit card in full every month.
What factors do affect your credit score? Your payment history (missing payments is a big no-no), your credit utilization rate (maxing out your cards doesn't look great to creditors), length of history (the longer you've had credit, the better), amount of new credit you have, and how many types of credit you have.
You should aim for a credit score of 760+, and you can check your score for free at Credit Karma. If you and your husband are looking to improve your scores, here are nine great tips.
Where can I invest my money that's low-risk? I'm afraid of how up and down the stock market is.
Before you dive into investing, your first question should be, "When will I need this money? In five years? Thirty years?" Your investing strategy will depend on your time horizon.
If your answer is within five years, it's best to keep this money out of the market and invest in safer options like Certificates of Deposit (CDs). If you have a longer time horizon, but still want to watch out for risk, the number one rule of thumb is to diversify. The best thing you can do is to mix things up, so you don't put all of your eggs in one basket. Diversifying is pretty easy to do with mutual funds, indexes, and ETFs, since one fund is likely to invest in 50+ companies. You'll want a range of large-cap, mid-cap, small-cap, international, bonds, and cash — all dependent on your personal risk tolerance!
Check out our free career boot camp with LearnVest here.
Marie Claire email subscribers get intel on fashion and beauty trends, hot-off-the-press celebrity news, and more. Sign up here.