Zooey 101
After more than a decade in show business, building her bona fides as an actress and musician, Zooey Deschanel is finally getting what she's always wanted: superstardom. Don't forget to check out all of the photos from our exclusive cover shoot with Zooey!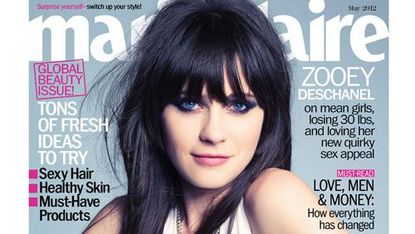 (Image credit: Tesh)
Marie Claire Newsletter
Celebrity news, beauty, fashion advice, and fascinating features, delivered straight to your inbox!
Thank you for signing up to Marie Claire. You will receive a verification email shortly.
There was a problem. Please refresh the page and try again.
Wearing a bright red coat over a simple black skirt and white blouse, her famous bangs framing those slightly more famous blue eyes, Zooey Deschanel walks — no, wafts — into the Polo Lounge at the Beverly Hills Hotel, making Mary Poppins seem like a plodder. She slips into an outdoor booth, orders a cup of English Breakfast tea, flashes the waiter a smile that has the effect of a blow dart to the side of his neck. It's a cold day, so he asks if she's chilly, if she needs the heat lamp moved closer — he appears ready if necessary to build a campfire beside her Ferragamos. Even here, at the nexus of fame and beauty, where fresh celebrity is on the menu daily (Reese Witherspoon, dead ahead), the waiter is clearly starstruck, a little swoony and dazed.
Deschanel, 32, seems dazed, too, but not in a good way. This might be her least favorite part of celebrity — the interview. "I don't do well with direct questions," she admits. Deschanel tends to think out loud, talking in rough drafts, starting a sentence, then stopping, then starting another one, crumpling that one up, too. It's not the insecure patter of Jess, her lovably clueless character on Fox's New Girl, one of the smash hits of the fall TV season. Deep down, Deschanel seems to know exactly what she wants to say — it just takes her several tries. She's that way with most things. "I'm a person who gets better with practice," she says. "Getting older is awesome — because you get more practice."
At the moment she's trying, in fits and starts, to describe how the success of New Girl has changed her life. Never mind the Golden Globe nod (her first), and forget the critical praise. "It's harder to do normal things," she says. No longer can she run blithely into Ralph's for a head of lettuce or some paper towels. "I think that if you haven't been to the grocery store in a really long time, it's really easy to get very out of touch," she says.
Also gone is her privacy. Earlier this year, after Deschanel split with her husband of two years, Death Cab for Cutie front man Ben Gibbard, her divorce papers were splashed across the Internet, along with her financial records. Anyone remotely curious can now instantly access the minute details of Deschanel's finances — how much she spends on clothes, food, charity.
Then there's the weird backlash. Detractors excoriate Deschanel for playing into stereotypes of female meekness, for being too girly, too dorky, too Zooey. There are days when she seems a more polarizing figure than Tim Tebow. "People do think I'm weird," she says. "I don't know why." The waves of vague hostility even inspired the plot of a recent episode of New Girl. (The girlfriend of Jess' roommate hates Jess for no good reason.)
A greener actress might be overwhelmed, but Deschanel seems well-prepared, in full control, largely because this is the very thing for which she's been fiercely, steadily working toward most of her life. "I always knew there was nothing else I wanted to do," she says. "I wanted to sing, perform, act."
No surprise, given her family. The Deschanels are full-bore dynastic Hollywood — not quite the Barrymores, but close. Her father, Caleb, is an Oscar-nominated cinematographer (Being There, The Natural); her mother, Mary Jo, is an actress (The Right Stuff, Twin Peaks); and her big sister, Emily, is the star of Fox's long-running drama Bones. Deschanel was even named after an actor — Zooey Glass, from the classic J.D. Salinger novella.
Her parents then sealed the genetic deal by sending their younger daughter to Crossroads, an artsy K-12 school that's spawned dozens of stars, including Gwyneth Paltrow and Kate Hudson. On campus with Deschanel were Jonah Hill and The Big Bang Theory's Simon Helberg, both still friends.
Though Crossroads was unconventional and nonconformist, it was still school, and Deschanel had trouble fitting in. At 12 she was "chubby," which made her a target of bullies. "I was ridiculed," she says. The low point came when a mean girl spit in her face. "I really don't know why she spit at me," Deschanel says. "I just talked to her. I guess I wasn't allowed to talk to her. I remember I couldn't believe it."
The moment was searing, scarring, but ultimately transformative. It inspired Deschanel to reimagine herself, and over the next year, she carefully, painstakingly recast her persona, becoming more open, more empathic, less "stubborn."
She also shed 30 pounds.
"All of a sudden," she says, "everybody treated me differently."
There's a tinge of pain in her voice as she describes the metamorphosis. The new girl sounds like an old soul. There's also a touch of triumph when she mentions the popular kids who once ruled her world. "I don't even know where they are now."
Read Zooey's full interview when the May issue of Marie Claire hits newsstands on April 17.
More from Marie Claire:
21 Short Hairstyles for Women This Year
Go Long: Latest Long Hairstyles & Trends
Latest Fashion, Style Trends and Looks for 2015 / 2016
Celebrity news, beauty, fashion advice, and fascinating features, delivered straight to your inbox!