Cheers to Janet Yellen, the Most Powerful Woman in the World
Yellen was confirmed on Monday as the first-ever chairwoman of the Federal Reserve.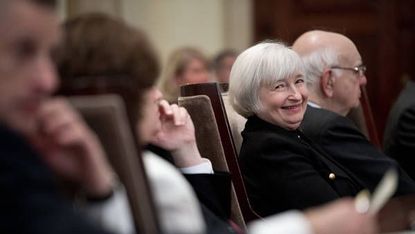 (Image credit: Getty)
Who runs the world? Janet Yellen. Yesterday the Senate confirmed Yellen, 67, as the new chairperson of the Federal Reserve. She succeeds Ben Bernanke, who she has served under as vice chair since 2010. She's also the first woman to serve as Fed Chair in the central bank's 100-year history.
Prior to her position at the Fed, Yellen served as chair of the Council of Economic Advisers under President Bill Clinton and as president and CEO of the Federal Reserve Bank of San Francisco from 2004 until President Obama nominated her to the position of vice chair.
Even though we'd hate to make the rise of such a qualified person all about gender, it's worth noting that her confirmation is especially worthy of celebration because, as the Washington Post's Ezra Klein wrote earlier this year (opens in new tab), there was a subtle, sexist whispering campaign waged to keep her from getting the nomination. Klein says Yellen was often talked about as highly qualified and very knowledgeable on monetary policy, but lacking "toughness" and "gravitas" and other characteristics that tend to be more rewarded in men than women, and thus more prevalent among men than women. And since every Fed Chair in history has been male, having those characteristics has become a defacto prerequisite, even though Yellen is abundantly qualified for the role for other reasons.
Thankfully, Yellen triumphed over the haters—thanks in part to the overwhelming support from more than 450 economists (opens in new tab), who submitted letters to President Obama urging him to nominate her for the position. (According to the Huffington Post (opens in new tab), some credit is due to the organizing efforts of groups like the National Organization for Women and a progressive women's group called Ultraviolet that gathered signatures, asked people to call Congress and launched a public education campaign to highlight Yellen's qualifications.)
She takes the position at a pivotal time for the central bank, which has begun to taper its bond buying program known as quantitative easing as the U.S. economy continues to recover. Her first meeting as Fed Chair is scheduled for March.
Kayla Webley Adler is the Deputy Editor of ELLE magazine. She edits cover stories, profiles, and narrative features on politics, culture, crime, and social trends. Previously, she worked as the Features Director at Marie Claire magazine and as a Staff Writer at TIME magazine.