Women Gets Paid Bank to Eat In front of Cameras
Want to see me eat a bucket of K.F.C.? I only accept cash.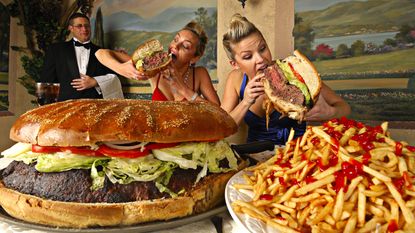 (Image credit: Getty Images)
Somewhere in South Korea, my spirit lady friend, Park Seo-yeon, is living out my dream job— aka she's getting paid to eat massive, elaborate meals in front of a camera, according to Uproxx via Jezebel (opens in new tab). It's a little odd there's a slew of people who tune in to watch, but I really just want to give her a virtual high five: Seo-yeon is getting paid more than $9,000 a month to eat the most delicious looking food I've ever seen in my life.
Seo-yeon, also known as "The Diva" is a part of the latest craze in South Korea called "gastronomic voyeurism." She prepares meals and then broadcasts herself eating for up to three hours a day. Users then send her bitcoin-esque virtual balloons that can be converted into money. Seo-yeon had to quit her full time job at a consulting job.
According to Seo-yeon in a video interview with Reuters (opens in new tab), "People join the vicariously pleasure with my show when they can't eat that much, or they can't eat food at night, or are on a diet."
One viewer provides this explanation about why there are so many people tuning in, "It feels as if I'm eating that much food with her. I think that is what the show is about. It is probably comforting for people that eat alone."
I calculated it out: $9,000 dollars would take care of my groceries for roughly four years — maybe this way of life is the best way to put food on the table. Pun intended.
Related:
The History of Tattoos (opens in new tab)
5 Iconic Bobs That Have Made History (opens in new tab)
The 5 Sexiest Hairstyles Ever (opens in new tab)
The History of Lingerie (opens in new tab)