4 Feminist Porn Movies the White House Should Make an Exception For
The President reportedly can't watch porn. But what if it's educational?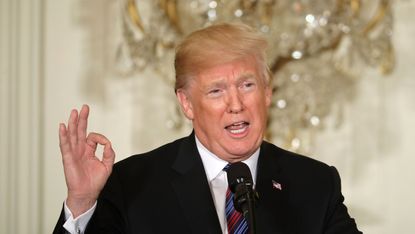 (Image credit: Chip Somodevilla)
It'll be a cold day in hell when I feel bad for Donald Trump about anything, but being President really does sound like the pits. It's long hours of rigorous work, a lot of meetings, constant blame for everything, and you have to wear a suit the whole time. In fact, elected presidents tend to have shorter lifespans on average (opens in new tab) than their political opponents. (Finally, some good news for Hillary Clinton.)
And now we can add to this list of horrors the worst news of all: The President might not even be allowed to watch porn. He can collude with Russia but he can't enjoy some erotic entertainment. Truly, the worst job ever.
Rolling Stone points to a clip (opens in new tab) from Thursday's Morning Joe in which co-host Mike Brzezinski reveals the following tidbit:
"I know someone who spoke to Donald Trump recently about life in the White House and Donald Trump's biggest complaint was that he's not allowed to watch porn in the White House."
Not even for stress relief?! Rolling Stone reached out to Trump's press secretary for comment on whether this is actually true (for what it's worth, I couldn't find anything definitive about it online), but let's for a moment assume it is. That's messed up! This president in particular could totally benefit from an informational porn-viewing experience—something feminist that would teach him how to respect ladies and not grab them without their consent.
If the White House were to make such an educational exception, here are four feminist porn films they should definitely choose. The links are, duh, NSFW:
The Crash Pad (opens in new tab)
Though it's now one of the premiere feminist porn sites (opens in new tab) on the internet, The Crash Pad started as a single film by one Shine Louise Houston. It's like an extremely hot, queer take on the Jack Lemmon classic, The Apartment (opens in new tab) (which is pretty jarringly horny for something in black and white).
Last Tango (opens in new tab)
A take on the hella problematic 1972 Marlon Brando movie, Last Tango in Paris. In fact, let's agree as a society to make this the de facto one (opens in new tab) and add the Brando version to the growing list of Cancelled Man Things.
Basically Anything from Lust Cinema (opens in new tab)
Erika Lust is the biggest name (opens in new tab) in the increasingly popular world of feminist porn, and for good reason: Her movies are beautifully shot, cinematic, inclusive, and insanely sexy. The White House should drop the porn firewall for just this site. It's what America needs.
The Female Voyeur (opens in new tab)
It's about time Donald Trump learned that females have gazes (opens in new tab), too.
Cady Drell is a writer, editor, researcher and pet enthusiast from Brooklyn.