Editors handpick every product that we feature. We may earn commission from the links on this page.
The 60 Sexiest Movies of All Time
Fifty Shades is one of the tamest movies on this list.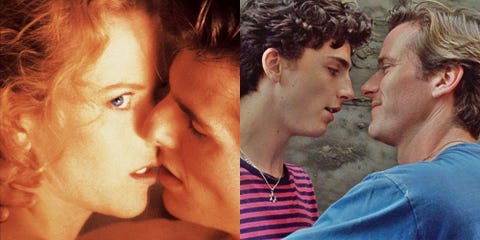 Sony Picture Classics
Warner Bros.
The internet is full of sex. There are sexy pictures, sexy videos, and, of course, porn. But sometimes you want to watch something provocative without seeing straight-up porn. Lucky for you, the world has been producing sexy-but-not-sex-y entertainment for even longer than the internet has been in existence. When you want to watch something that's definitively NSFW, but not quite PornHub, when you're looking for steamy content, but not just intercourse, there are certain mainstream movies that land right in that sweet-spot.
For your sexy-but-not-porn viewing pleasure, we've collected some of the sexiest and most sensual movies that mainstream cinema has ever gifted to the world. From Stanley Kubrick's anonymous sex orgy party classic Eyes Wide Shut to the very different mainstream accounts of real-life BDSM kink in Fifty Shades of Grey and Secretary to scorching hot LGBTQ+ love stories like Blue Is the Warmest Color and Call Me By Your Name, these movies epitomize the best kinds of sexy Hollywood has ever been able to muster. Yes, they have nudity and sex (sometimes just implied, sometimes, um, let's just say very strongly implied), but they also have amazing stories and, in many cases, top notch writing, directing, and acting, too—all courtesy of true A-list talent, no less.
Bookmark this list for the next time your body is aching for a sexy story to satisfy your binging urge (and, you know, any other related urges you might have). Here are 60 incredibly racy movies to watch right now (or later, if you need some privacy for this particular streaming sesh).
This content is created and maintained by a third party, and imported onto this page to help users provide their email addresses. You may be able to find more information about this and similar content at piano.io