My First Year of Marriage Almost Ended in Divorce
"It's not always sexy, and it's not easy."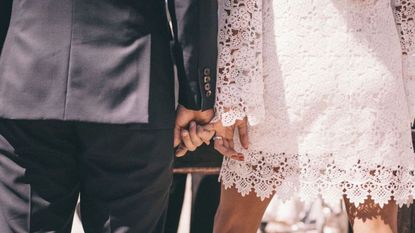 (Image credit: Getty Images)
Marie Claire Newsletter
Celebrity news, beauty, fashion advice, and fascinating features, delivered straight to your inbox!
Thank you for signing up to Marie Claire. You will receive a verification email shortly.
There was a problem. Please refresh the page and try again.
"So…how's married life?"
I hate this question. It requires me to be quick on my feet and always have pre-rehearsed answers at the ready. After a picture-perfect wedding, I'd been embarrassed to admit to others (and myself) how difficult married life had been. These innocent inquiries felt torturous; they were a constant reminder of the perfect life I had envisioned the moment we exchanged vows. My husband and I were struggling, and if I didn't find methods to resurrect the relationship that had me excitedly accepting his proposal, we would be headed towards divorce after less than a year of marriage.
To be clear, I love my husband. We share a wonderful life together in Manhattan and I am in no way looking to demean marriage. What I would like to put a stop to, however, is the idea that that the first year of marriage is a couple's "honeymoon phase." It's not always sexy, and it's not easy. We didn't regret our decision to spend our lives together, but the smiling photos of us and our newlywed friends on Facebook didn't match up to our reality.
Our story started like many metropolitan love stories. I moved to New York from San Francisco at 24 for a career in the fashion industry after ending a five-year relationship. I was ready for a fresh start and had heard epically exciting stories about the dating scene in New York (read: I had watched every episode of Sex and the City–multiple times). After a string of dates and failed short-term relationships, I met JP at an industry event and we immediately hit it off. His charming demeanor, undeniable spirit and most of all, his sincere attentiveness to every word I said, was endearing.
From the beginning, JP and I have always had a super easy going, fun and adventurous relationship. We barely ever argued; if we did, it was a grocery store pseudo-brawl about organic eggs versus cage free. Our romance started off as the best kind of effortless and easy connection–the type of thing you read about, not actually ever think you will ever experience. We had a natural connection that was unforced and went on the kind of dates that made us forget everyone else existed. We had great sex and memorable conversations that still make us laugh to this day–there was no doubt we were falling hard in love with each other.
I have always been the social type, but JP was a home body, comfortable staying in and Netflixing on a Friday night. I was Carrie Bradshaw wanting to go to the opening of Bungalow 8; he was Aiden, more than happy to stay at home with a bucket of chicken. In our dating years, this disparity never bothered us. We made it work; we compromised.
Eventually, we moved in together. Manhattan was not the kind of city where I could afford to pay rent in an apartment I never slept in. But, unlike I'd imagined it would be, our decision to live together wasn't romantic, it was a logical and matter-of-fact. Gone was the hope of JP proposing the idea and my swooning as we held hands and apartment hunted through Manhattan. Living together made sense; after two years of dating we shared a 500 square-foot river view apartment and officially ticked the box of the "next stage" in our relationship.
I'm not quite sure where we lost our way, but our once tradition of walking through the door and embracing into a little slow dance turned into not even saying hello or goodbye to one another. Small arguments about cleaning, laundry and how much clothing I owned ensued as date nights waned. We were spending lots of time together but quality time was heavily lacking. I understood that relationships went through ups and downs, but as the arguing continued I feared it would break us. If we couldn't get through living together, we likely couldn't handle much else.
We came to the conclusion that our problems started and would end with our tiny studio apartment, so we moved into a large one bedroom. We started reinstating our cute traditions; handwritten Post-it love notes reappeared in secret hidden places all over the apartment and our relationship felt like it was slowly crawling back into the light.
JP proposed to me in Grand Central following the most intricate scavenger hunt around the city, with clues hidden only in places we had been on dates. There were even clues hidden deep inside folds of books in the New York Public Library–he put so much thought into it and the moment was perfect. I knew I was incredibly lucky to have found this amazing man who loved me for everything that I am and as much as I could be.
Our plans to get married in a Catholic church required us to complete Pre Cana, pre marriage counseling, to ensure we were discussing the issues that more often than not, lead to divorce. We discussed finances, family, in-laws, personalities, anger issues and general checks and balances. Getting married at 30 had me confident that I was more equipped to handle married life than a 20-something bride. I wasn't expecting to ride off into the sunset and I wasn't expecting a fairytale. Not thinking we needed Pre Cana but being required to do it made me all the more sure we were prepared for marriage–after two years living together and four years of dating, we already felt like a married couple.
Wedding planning was treacherous and overwhelming; and a year's worth of organizing was the perfect distraction and excuse. I forked up any bickering to planning stress and dove deep into coordinating my custom dress, tablescapes and favors without considering that a perfect wedding does not equate to a perfect marriage. Months after our wedding, I found myself looking through our gorgeous photos and re-watching our wedding video over and over, hoping to recapture those genuine emotions. What was this "honeymoon stage" everyone spoke of? I fought off emptiness with a full social feed; a quick scroll through my Facebook or Instagram account and you would never imagine that the adorable couple pictured would be the one whose relationship was disintegrating with each and every post.
About six months into being husband and wife, it felt like I was failing at marriage. We had so quickly lost what I thought was a solid foundation. I knew I had a man who loved me and whom I loved in return, but our interactions felt monotonous and passionless. We were nothing like the 'frolicking into the sunset' honeymoon photos I was posting.
I have a rather dominant personality, and it unintentionally set the tone for our relationship. When we were dating, JP never resisted my suggestions, the way I lived my life, the decisions I made, how I acted–it was as if nothing I ever did bothered him. Now, it was beginning to feel as though everything I did got under his skin–and vice-versa. Our conversations turned from discussing goals, passions and pursuing dreams to the quality of the weather; we were basically roommates.
Talking about it didn't seem to make much of a difference–we weren't really listening to one another. I decided to go out with friends more and travel often in hopes of getting some perspective. The more time I spent away, I realized that our once-agreeable nature had come to a head; the subjects we once labeled as mainstays like my affinity for nights out, obsession with travel and his more low-key lifestyle were bubbling over in any marital argument that arose.
Rather than truly listen to each other's deep-seated needs early on, we both assumed the novelty of our husband and wife titles would smooth over any problems we'd encounter. We were living our lives by a socially-acceptable timeline (meet, date, fall in love, move in, get engaged, get married, get a dog, buy a house, have children…) without coming to terms with what was best for us as a couple and as individuals. Rather than speak our minds, we put on happy faces. Going from "me" to "we" seemed simple enough, but after getting married, it became a balancing act of finding our individual independence within our family unit.
After a week spent together in the Hamptons, we decided it was best to separate. I was an overachiever in every aspect, and my life felt as though it was falling apart; I never imagined that I would be 30, newly married and separated. Our approach to our marriage led us to this hurtful place. We took advantage of our marital status and assumed it would protect us from the days where we were too lazy to make an effort or threw out hurtful words during an argument. Spending our first Christmas as a married couple apart was heartbreaking. I wasn't happy in my relationship, but I was miserable without him.
My job as a fashion publicist and consultant is all about putting forth the best version of my clients for public consumption–in person, on social media and in photos. Portraying ideals and a picture perfect life comes naturally to me, and I had no trouble curating a social media campaign for my relationship rather than navigating how to be truly happy in my marriage. Selfies, status updates and news feeds create an underlying narcissism that rears its head when you find yourself updating your accounts while out to dinner with your spouse. But your emoji-ridden "date night!" caption underneath the photo of the molten chocolate cake you're sharing can wait.
As a New Year's resolution, we agreed to go to couple's counseling, where we realized that our life together was derailed by constantly striving for perfection. We were far from it–underneath most of our arguments was my resentment and refusal to give up the freedom and adventure I thought married life required me to relinquish (fun fact: it doesn't) and his frustration about feeling the need to hold back his thoughts and feelings under the guise of compromise. The formality of therapy had us talking, not arguing, and truly expressing emotion; we were opening up and listening to each other's wants and needs. Months later, we are a stronger couple and stronger people individually. Our date nights no longer take place at our therapist's office. Our realization that I was communicating with friends and the internet while he was swallowing emotions and confiding in no one helped us to focus on communicating with one another.
Is it a faux pas to be a newly married couple who isn't beaming with joy? I'll take that chance. Odds are, I'm not alone. I vowed to never again ask another newly married couple how married life is treating them–I know better. The only difference now is that when someone asks me that dreaded question, I can turn to the man holding my hand and share a knowing laugh before I answer.
Natasha is still traveling–with and without JP–follow her escapades on her Instagram @jetset.away and on her blog.
Follow Marie Claire on Facebook for the latest celeb news, beauty tips, fascinating reads, livestream video, and more.
Celebrity news, beauty, fashion advice, and fascinating features, delivered straight to your inbox!
Natasha Huang is a former fashion publicist turned consultant and travel writer. After executing countless runway shows around the world, Natasha decided to take her wanderlust to paper with JETSETAWAY to inspire herself and others to live in a constant state of exploration, wherever that may be. She loves anything and everything Hello Kitty, temporary tattoos and can eat ice cream or candy for every meal if given the choice. When she isn't traveling, you can find Natasha searching for the newest rooftop bar, exploring a new pop up art exhibit or catching rare Pokemon. She currently lives on NYC's Upper West Side with her husband and their lizard gecko, Sally.