When I Married My Husband, I Was a Porn Addict
I started in middle school, and it became a way to create distance in my real-life relationships. But when I met the man I'd one day marry, I was forced to confront myself.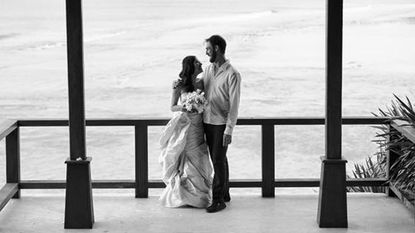 (Image credit: Erica Garza)
I started watching softcore porn when I was 12 years old. Once my parents were asleep, I'd sneak into the living room to catch late-night movies on Cinemax. The volume down low, I'd stare at the screen in fascination, anxious one of my parents would catch me and find out my secret.
I was sure that the attraction to the images I felt was abnormal and that touching myself was a sin, yet I couldn't stop myself. Even then, I was acting out both my desire for and fear of intimacy. This created a pattern of achieving orgasm through secrecy—and always feeling bad about it afterward. It was a pattern that would stick with me for years.
How I Got Hooked
Looking back, the movies were hardly pornographic. I saw plenty of bare breasts and chiseled abs, but I had to rely on my imagination to fill in the blanks. A few years later, technology cleared up that mystery as internet porn grew in popularity and accessibility. I started with the soft stuff, not knowing any better, but when one click led to the next, I soon found myself in an endless pursuit of hotter, harder, faster, dirtier. I grew bored and restless. Threesomes were exciting...until I discovered gang bangs. Women being admired or caressed eventually needed to be leashed and dragged around.
The more I watched porn, the more I trained my brain to need not just the provocative images dancing across my computer screen, but also all the emotions these images aroused in me—excitement, shame, sometimes even disgust.
I never felt okay with watching such graphic porn, but that didn't stop me from bringing it into the bedroom with various boyfriends over the years. Their reactions were typically surprise, followed by amusement. I usually chose clips I thought they'd like, not the kind I watched alone. And after they'd fall into a post-coital slumber beside me, I'd masturbate a few more times because getting off alone was always more comfortable. Isolation was fundamental to my sexuality.
For as far back as I could remember, I'd been scared of intimacy. Terrified, even. In junior high—around the same time I started watching softcore porn—I was diagnosed with scoliosis and sentenced to wear a bulky back brace for two years, leaving me painfully insecure and self-conscious. This made me an easy target for bullies, and I became withdrawn and wary of those around me.
Over the years, whenever I detected a closeness developing with someone, I found a way to sabotage things before they went too far. I was always prepared for people to figure me out, uncover my weirdness and decide I wasn't worth their time.
Porn was a great way to escape myself—just click a few keys, shut off my brain and disconnect from the world for however long I wanted. But it was also a great way to continue feeling bad about myself—it occupied me in my room all day, deepening the shame and exhaustion. In the romantic relationships that populated my twenties, I was perpetually lonely, but I was convinced this loneliness was what I deserved.
Confronting My Addiction
But for my thirtieth birthday, I decided I wanted more. I wanted this decade to be better than the last. After a series of failed relationships, I attempted to retrace Elizabeth Gilbert's path in Eat, Pray, Love—only I skipped over the eating and praying, eager to get to the loving part.
I traveled to Bali. There, I did everything I could to kick porn out of my life and learn how to connect with other people. I practiced yoga, chanted mantras, read self-help books, meditated, met with medicine men and studied ayurvedic medicine.
Just as I'd hoped, my habits weakened and I found myself losing interest in binging on porn and isolating from others. I started to open up to a healthier version of myself, curious about those around me and about who I could be outside of my insecurities. And at a yoga studio in the rice fields of Ubud, Bali, I encountered a man I liked so much that I thought I might actually love him one day. That's when this healthier version met its biggest challenge.
As much as I wanted to love and be loved by someone, the terror I felt was palpable and familiar. So was the chatter in my head: Maybe I'm not ready. Maybe I'll scare him away. Maybe he'll hurt me or I'll hurt him. To shut off these scary feelings, I did what I had always done—brought the laptop into bed with us to serve as a safe barrier.
Only, he wouldn't let the barrier stay up. He noticed the shift in my attention when I searched clips for us to watch. He noticed the distance in my gaze when we made love, how I allowed myself to be touched but not held. He noticed the way I carefully chose my words, afraid to reveal too much about myself. He noticed everything.
When I tried to pull away, he pulled me back. He was full of questions and wouldn't let me get away with brushing off the difficult ones.
In a similar path to my history with porn, I made my way through his gentler questions, confessing bit by bit, until we came to a place I'd never been to in any previous relationship, revealing the depths of why I watched the things I watched and how I felt about myself. This time, going deeper and darker was healing. Every time I revealed something upsetting and shameful, I expected him to decide he'd had enough. I was too much. I was too sick. Instead, he revealed his own dark stuff. We grew closer. We eventually got married.
Me, My Husband, and Porn
During our first few years together, I stayed away from porn as well as I could, convinced it was to blame for all that had gone wrong in my life. I missed it, but we decided it wasn't a good idea to bring it into the bedroom. That was a healthy decision, for the most part.
Our intimacy grew stronger, and we cultivated a relationship based on honesty and mutual respect. Binging on porn became like an old toxic friendship I'd outgrown.
But every now and then I'd relapse. While I was honest 98% of the time, there were moments when I snuck into the other room or waited until he left the house so I could get my porn fix. I got a rush from the secrecy and the shame I felt. It wasn't until I came home one afternoon and caught him in the same secretive situation that we decided keeping porn out of our relationship wasn't worth lying to each other.
When we lifted the restriction on porn, we were both nervous. Would we undo all the good work we'd done for our relationship? Would I become fiendish and unhappy again? Were we taking a giant step backward?
Turns out, once something is no longer forbidden, it's also no longer that enticing. The first time we brought it back to the bedroom, it was exciting for the first few seconds and then became like background noise. I also found that I was turned on again at what I would have previously considered softcore, because I was more excited at sharing the moment with my husband, rather than by myself.
These days, as new parents trying to function on little sleep and rushed meals between diapers and feedings, we sometimes use porn as a catalyst to slip into sexy time with ease. Afterward, in a tight embrace, our vomit-stained clothes in a heap beside the bed, I sometimes feel guilty, like maybe we're building a lazy habit that'll be harder to kick later.
But then we'll have one of those miraculous days, where the baby's well rested and so are we. There's no need to rush or think about what we're doing wrong—and I can see a glimmer of the bright future that lies ahead. The baby will one day outgrow her dependence on us and maybe we'll outgrow our occasional dependence on porn. Or maybe not.
Follow Marie Claire on Facebook for the latest celeb news, beauty tips, fascinating reads, livestream video, and more.