Are Luck and Destiny Related?
When I think of the stupid things that happen to me, I wonder if I'm just destined to be luckless and alone.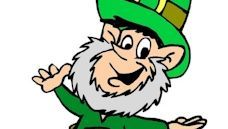 (Image credit: Archives)
The other day some work friends and I were lamenting the long month of March and its lack of holidays.
My friend pointed out that we do have St Patrick's Day in the middle of the month to break up the long wait for winter's end.
Talking about St. Patrick's Day reminded me of how every story I hear about people meeting one another involves so much luck. When I think of the stupid things that happen to me, I wonder if I'm just destined to be luckless and alone. People in my life are in relationships that are based on chance meetings:
My dad grew up in the Philippines where he and his siblings slept on a hut floor like sardines and could hear the giant flying roaches slamming into the thatched roof in the dark of night. My mom grew up in Baltimore, the daughter of a stay-at-home mother who never went to college, and a father who was a stonemason. She worked hard and always stayed at the top of her class. She attended Maryland Medical School when 90% of the medical classes were comprised of men. Meanwhile, my dad was working hard too and came to the USA to attend-you guessed it-Maryland Medical School. The chances of both of these people making it medical school, and meeting from other sides of the earth were certainly low. Man, I guess I'm lucky to be sitting here today too in that case!
My Friend From College and His Girlfriend
Right after college, I battled testicular cancer.In an effort, after treatment, to return to work to a job that was familiar and mentally rewarding, I worked at my high school as an admissions counselor. Eventually, I moved to NYC to live with my buddy from college, but I kept in touch with some of the students I had worked with at the school. One day, years later, I got a call from one of the students from Friends who was moving to New York. I began hanging out with him and his girlfriend. At his girlfriend's birthday a few months later, my college buddy met her friend and they are still together. Would they be together today if I never worked at Friends after getting sick?
My Friend Margaret from Work and My High School Buddy
My sophomore year of high school I thought I was finished making friends. However, my schedule left me with an open period around 10 in the morning with this one kid. With nothing else during that open period but each other, that kid and I eventually became buddies over trips to Dunkin Donuts and sports. Fast forward to 2005, my friend had moved back from LA after getting a job in NYC. In the meantime I had become friends with this new girl in my office-Margaret. We hung out together out of the office and reveled in one another's romantic failures. One night, when I was out with a bunch of people, Margaret and my buddy ended up connecting. They are still dating. Would they be together if my high school schedule didn't put my buddy and I together in the morning for Dunkin Donut trips? What if Margaret had stayed in Richmond after she graduated, like she originally planned, or if my friend had stayed in LA? It all lined up just right...
Are these stories based on luck, or destiny? Merriam-Webster tells me the following:
Destiny: a predetermined course of events often held to be an irresistible power or agency
Luck: the events or circumstances that operate for or against an individual
Both depend on a course of events. Some of these can be negative, like when I got cancer. But that was an integral event in my buddy meeting his girlfriend.
Perhaps destiny depends on a lot of lucky events adding up to fulfill that destiny. So, this makes things tougher for me than I thought: not only do I need to have good game, but I also need a bunch of lucky events to lead me to the one.
Do you have any stories about people who got together through an amazing list of circumstances or events that related to one another? How do you think destiny and luck fit together in dating and love? Do you believe that our soul mates could be pre-determined?
Marie Claire email subscribers get intel on fashion and beauty trends, hot-off-the-press celebrity news, and more. Sign up here.