5 Ways to Feel Hot at Any Age
Just because you don't have baby soft skin doesn't mean you can't rock what you've got!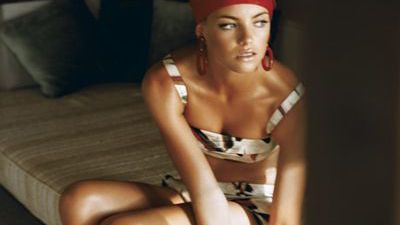 (Image credit: Ben Watts)
When I was 28 or so, I was out with a lady friend who was about 10 years older. A huge knockout with an adoring husband, she bears a striking resemblance to Mariel Hemingway. Nonetheless, that night, after she walked into the little French place in Chelsea where I was waiting for her, she sighed and said: "You get past a certain age and men just stop looking up when you walk into a restaurant. They stop whistling. They stop ogling you. And you miss it."
I thought she was talking crazy — she was, is, and will always be gorgeous!
And then a couple of years passed. And I started to get what she meant. Youth can turn a man's head like nothing else can. And though I've never been a serious beauty like my friend, men did just sort of glance over my way whenever I came into view, once upon a time. In recent years? Not so much. And I notice it myself: Young women have a certain potent natural beauty, thanks to their lovely skin and shiny hair and all the rest.
So ... it can be hard to get older and to suddenly realize you may not be quite as naturally hot as you once were. Then again, there are benefits to getting older — and the main one is that you finally feel the (very sexy) confidence in yourself and your body that you never felt before.
That concept is at the heart of the blog called "Formerly Hot," written by a friend of mine, Stephanie Dolgoff. This month, Steph has a new book out, My Formerly Hot Life. To celebrate the book's release, I asked her if she could give us her thoughts on what we can do to feel hot at any age. Here's what she had to say ...
1. Try not to care much about what other people think.
Steph says: "The hottest women are the ones who aren't too concerned about others' opinions of them. I cared way too much for too long. One of the greatest things about getting older is that you know yourself and what works for you — and that's hot no matter how old you are."
Maura adds: "Absolutely. The only thing you should care about is what you think. Dressing in a way that makes you feel good about yourself and helps you express who you are goes a long way — and it doesn't have to be expensive."
2. Don't focus on what's not hot.
Steph says: "I used to stand in front of the mirror picking my body apart. Now, I look at what totally rocks and ignore the rest. Am I deluded? Yes. Am I happier? Yes. Do I feel hotter than I did when I looked objectively hotter? Yes."
Maura adds: "I try not to focus on my boobs. Of course, not being able to see them unless I use a magnifying glass makes that easier."
3. Find your great feature.
Steph says: "Everyone, no matter her age, has one great body part or facial feature. And that's all you need to feel hot about yourself. Just make the most of it. These days, I highlight my legs, and the rest gets strategically covered."
Maura adds: "I wear tight pants because I like to show off my gym-sculpted derriere."
4. Smile a lot.
As Steph points out, we look best when we're cracking up or grinning about something. (Think about it: How many times have people told you that you have a great smile, or that you look prettier when you're happy?) And though we're not knocking people who've gotten Botox — particularly because I may have experimented with it — it does make your smile look less ebullient, and your laughter more subdued. Plus, anybody who's enjoying life isn't all hung up on those laugh lines in the first place.
5. Laugh at yourself most of all.
Steph says: "Letting yourself crack up at the dumb-ass things you do — we all do — from time to time is incredibly freeing."
Maura adds: "Totes. I agree. And if you have trouble laughing at yourself, try to find some friends you trust, who also have good senses of humor. I've been laughing at myself for a long time, both because I can be an enormous maniac at times but also, perhaps even more importantly, because I've had some great friends who have showed me how to laugh at myself — by mocking my foibles and idiosyncrasies with fondness. Instead of coming off as criticism or an attempt to humiliate me, it has always come off as affection."
Folks — your thoughts? What should we add to the list?