Dying to Hear Back From Him?
Jane Austen knows how you feel. That painful anxiety over when the hell you'll hear from a dude is something all of us -- even our Victorian ancestors -- have been through.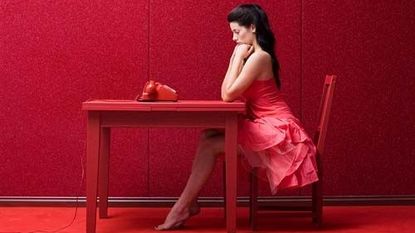 (Image credit: Marie Claire)
As regular readers know, I'm working on a book about what classic novels can teach you about love. As regular readers also know, I think Jane Austen is so over-rated — but I felt like it was necessary to force myself to get through at least one of her novels for my book.
I went with Sense and Sensibility. And although I did find, at the beginning of the story, that it was hard for me to care about the spoiled, prissy characters, and that, as usual, I didn't think Jane Austen's writing was particularly insightful or elegant or funny, I eventually got sucked in. It's a quick, easy read — and every night, it was hard for me to put the book down and go to bed, because I so much wanted to know what would happen next.
One of the things that makes Austen's stories so appealing is that even though dating has changed so much since when she was writing, it's also stayed very much the same.
For instance, I was struck by a chapter in which one of the main characters, Marianne, blows into London with her sister and some friends. The guy she has the hots for, a bloke named Willoughby, happens to be visiting the city, too, so she writes him a letter, announcing her unexpected presence in town … and sends it off with her footman. Then she and her companions have some lunch, and their meal has scarcely finished before she is "anxiously listening to the sound of every carriage," hoping the footman has returned with a response from Willoughby.
Later that afternoon, Marianne is still waiting. She had already "been disappointed more than once by a rap at a neighboring door, when a loud one was suddenly heard, which could not be mistaken ... Elinor, Marianne's sister, felt secure announcing Willoughby's approach, and Marianne moved towards the door …."
But it's another friend, and not Willoughby.
The next day, Marianne and her pals go into London town — and everywhere, she is on the look-out, hoping she might bump into ol' Willoughby. But she has no such luck.
So after they return home, "Marianne flew up the stairs" to find out if a messenger had come by with a response from him.
No dice.
That evening, poor Marianne "was of no use … the [night] … was spent in all the anxiety of expectation and the pain of disappointment. She sometimes endeavored for a few minutes to read; but the book was soon thrown aside, and she returned to the more interesting employment of walking backwards and forwards across the room, pausing for a moment whenever she came to the window, in hopes of distinguishing the long-expected rap."
Marianne! I've so been there. Completely unable to concentrate on anything, jumping at every small sound, wondering when the hell I will hear. And I've had the thought that email — the constant refreshing to see whether he might have sent you a note in the last three minutes since you've checked — has made the anxiety at least a thousand times worse than it must have been before the dawn of the Interwebs.
But Jane Austen tells us that, nope, even before instant messenger, before texting, before clickable computer screen inboxes, women were living in agony as they waited to hear from some jerk.
Here's the question: How do you guys deal with it when you're completely distracted by the question: When will I ever hear from him? I've always found it very difficult to distract myself — and to focus on anything else!
I will also say that one of the many things I really liked about Mr. Cup-of-Tea is that he was always very responsive to all of my messages. I never made myself sick waiting to hear from him ... because I never had to wait long.