What to Get a Commitment-Phobe for Christmas
Am I the only one who feels uncomfortable about the gift exchange?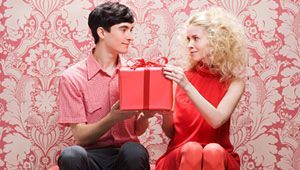 (Image credit: Image Source)
Ah, the week before Christmas — when all through the country, every shopping mall is filled with frenzied creatures, trying to buy all those last-minute gifts while that terrible mix of Christmas music that's been on for the last month continues to play in an endless loop.
I don't mean to sound like Scrooge, but I despise shopping in general, especially during the holidays. This year, as the Yuletide approached, I was feeling stressed out about what I should get for Sweet Pants — and I also found myself worrying that he might blow a lot of money on a present for me. A present that might be an unnecessarily expensive item that I would never wear. A present that he might really, really want me to like — that I might hate. A present like the pair of not-so-sweet pants that my very first boyfriend got me. A present that might not be returnable. But I was also worried that an expensive present would make me feel "owned."
Like, if S.P. — who makes significantly more money than I do — were to buy me fancy jewelry, I might feel uncomfortable. I love unusual rings, bangles, and dangling earrings — and I'd have trouble turning down a nice ruby or an especially sparkling diamond. Nonetheless, I feel like an expensive gift always comes with certain expectations, if not quite strings.
What's your take on this? Am I just being my old commitment-phobic self? How do you handle the question of romantic Christmas gifts?