Something Borrowed's John Krasinski on Love at First Sight
Are real-life romances that start with "love at first sight" destined for happily ever after?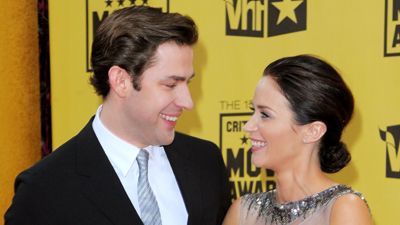 (Image credit: Jason Merritt/Getty Images)
The new romantic comedy Something Borrowed stars Kate Hudson and Ginnifer Goodwin, but the sleeper-hit star was most definitely The Office's John Krasinski.
During his recent appearance on Ellen DeGeneres' talk show to promote the movie, he told Ellen he felt love at first sight when he met his wife Emily Blunt. "It was one of those things where I wasn't really looking for a relationship and I was thinking I'm going to take my time in L.A.," he told Ellen. But, he continued, when he met Emily, "I was so nervous. I was like, 'Oh god, I think I'm going to fall in love with her.' As I shook her hand I went, 'I like you.' "
Life imitates art, or something like that: As the blog, "Science of Relationships" pointed out, in The Adjustment Bureau, Matt Damon's character falls in love at first sight with Emily Blunt's character — so much so that he goes to impossible lengths to be with her.
The SoR blog goes on to say that love at first sight is legit — that plenty of people report feeling instantly smitten with their partners — but that it's not necessarily the basis for an enduring relationship. "A study which followed newlyweds for 12 years found evidence that those who fall in love rapidly and then quickly marry also often divorce," says SoR's Dr. Marci Gleason. "It appears that the intense passion they felt at the start of their marriages faded — as it did in most of the marriages studied — but what was unique in those who fell in love quickly was that this fading was more detrimental to the couples' level of commitment to each other. It is unclear why fading passion would be more problematic for couples who expressed the strongest feelings of love at the start of the study, but perhaps individuals who fall in love quickly are those who also miss passionate love the most when it fades."
Interesting. And yet as I mentioned a while back, when researchers talked to 1,000 randomly selected couples who'd been married for at least 25 years, what they found seems to serve as a counterweight to the study Gleason mentions. The married people fell into three basic categories:
The researchers set out with the hypothesis that those who'd taken the time to get to know each other before getting more serious would have stronger, healthier relationships than those who had simply clicked. What they found, however, was that there was virtually no difference among the three different groups in terms of commitment to each other. What's more, those in the "clicking" group were more likely to say they felt there was something "magical" about their partners, that they still had romantic thoughts about their partners, and that they thought about their spouses frequently during the day. In other words, the people in Group No. 3 were more likely to still feel passion for their spouses (even though those in the first two groups had more things in common).
So perhaps the conclusion is that love-at-first-sight romances are more likely to fail — but if they manage to succeed, they are just as strong (and a little more sparkling) in the long-term than those that started slow.
Marie Claire email subscribers get intel on fashion and beauty trends, hot-off-the-press celebrity news, and more. Sign up here.