The Strange Case of the "Rape Cops"
Two members of the NYPD who were accused of raping a drunk woman were found not guilty.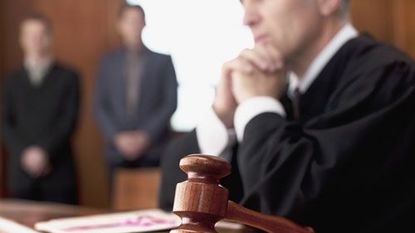 (Image credit: Chris Ryan/OJO Images)
Marie Claire newsletter
Celebrity news, beauty, fashion advice, and fascinating features, delivered straight to your inbox!
Thank you for signing up to . You will receive a verification email shortly.
There was a problem. Please refresh the page and try again.
Have you guys been following the story of two New York City cops who were accused of raping a severely intoxicated woman they'd been dispatched to help? The case went to trial after the woman said that she'd blacked out at a certain point but woke up to a memory of being penetrated from behind by one of them.
Let me rewind a little. A 2009 New York Post story said that the [woman's] cab driver, concerned because she was drunk and vomiting, called 911. "[Kenneth] Moreno, a 17-year veteran who has two kids, and [his partner Franklin] Mata, a three-year vet in his 20s, arrived and escorted her up to her apartment at about 1 a.m. Surveillance video from a nearby bar shows the cops leaving [the woman's building] about seven minutes later, according to bar owner Heather Millstone. The tape shows the cops returning about 40 minutes later — and staying inside for 20 minutes before leaving and doing their best to avoid the surveillance camera, Millstone said. The cops entered the building a third time — using a key belonging to the woman — at about 3 a.m., this time out of camera range, Millstone and sources said. It was during that last visit that Moreno allegedly raped the woman."
All of that sounds incredibly sketchy, and last week, a jury found the men guilty of official misconduct. They were immediately fired from the New York Police Department as a result.
But did Moreno rape the woman while Mata stood watch, as prosecutors claimed they did?
Prosecutors couldn't find any DNA linking Moreno or Mata to the crime. The lawyers representing the cops said the accuser was too drunk to remember what had happened and questioned the motives behind the $57 million lawsuit she was pursuing. And though the district attorney's office presented a tape of the woman talking to Moreno after the night in question, asking him about what happened, the jury decided that the conversation (opens in new tab) wasn't convincing evidence that a rape had occurred.
The New York Times had this to say about the situation: "The jury's decision ... underscores the difficulty of obtaining favorable results for women who say they were sexually assaulted, and who often are subjected to scrutiny and skepticism that keep many of them from speaking out. In this case, defense lawyers pounced on the credibility of the woman because she was very drunk on the night in question and did not remember many details."
It's such a strange case. I'm surprised they weren't fired immediately, simply for sneaking around so much while on duty. (They did not report their return trips to the woman's apartment to their superiors and tried to hide what they were doing from them, too, as well as the security cameras.) But I think if I were on the jury, and the only hard evidence I was presented with was the transcript of their conversation (opens in new tab), I too would not have been able to say that the men were guilty beyond a reasonable doubt.