The Smart Girl's Cheat Sheet to an Inexpensive Yet Totally Romantic Wedding
You don't have to spend a fortune to make it memorable.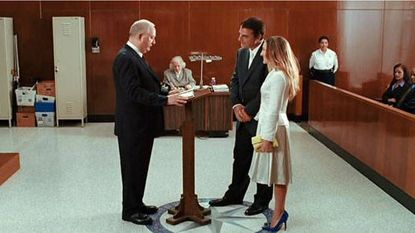 (Image credit: YouTube)
On the heels of one of the most extravagant wedding weekends ever, there is something to be said about marrying the one you love in a very private, intimate, small setting – like it is just for and about the two of you. Not every bride has the budget to throw a fairytale wedding, but she definitely wants the marriage of her dreams.
My husband and I married at City Hall, New York City in January 2010. And while it was small in grandeur, it was big in romance. Not only was the sentiment meaningful, but the ceremony itself cost $25! My husband loves joking about our extravagant, opulent wedding but in seriousness is most very appreciative of his thrifty, modern wife.
City Hall weddings are simple and lovely – even celebrities have taken advantage of their chic convenience – Keira Knightley, Matt Damon, Kristen Bell even Marilyn Monroe and Joe DiMaggio! While saving for a few very glamorous nights at the Plaza Hotel, a European getaway, and a deposit for an apartment– we knew City Hall was the best option for us. With my eye on saving for what I felt were much more important things, here are some great small wedding hacks I learned along the way.
1. Limit (really, limit) your guest list. People really stress over their guest list—worrying about offending distant friends or family members by leaving them out. If you're paying for the wedding, invite who you can afford. This reduces costs dramatically. People understand the high costs of weddings (not just for the bride and groom, but guests too), so the people you can't invite will forgive you and you can celebrate with them later.
2. Don't Google "honeymoon" when looking up honeymoons. Everything goes up drastically in price when you mention the word "wedding" or "honeymoon." The same goes for cake, photographers, and flowers. A great trick is to book these things is using the term celebration or party and be sure not to use the word "wedding."
3. Think brilliantly when it comes to the gown. Don't lose all financial sense the second you step into a dress shop. Yes, you should buy a dress you absolutely love within a budget you can afford. It doesn't make sense to go into massive debt just for a gown you'll wear for five hours. Vintage dresses are great and one of a kind, too. You can also peruse eBay for amazing deals on brand-new designer dresses. I spent $300 on a gorgeous blue silk dress from Saks - my "something blue."
4. Focus on what matters most. Do you care about beautiful wedding bands, lasting photographs, a destination wedding with sand under your feet, a string quartet? Choose your expensive item or two, allow yourself to splurge (within reason) on those and keep the rest simple. We were really into an experience and wanted to celebrate the first few days as a married couple at the Plaza Hotel in a fancy suite and save for a summer vacation in France. The rest just simply was not as important to us and so we took our own pictures, took regular cabs around the city and had a lovely lunch at the Boathouse as our version of a reception.
5. Do your own hair or make up. As women, we have spent a good portion of our lives getting to know how and what looks good on us. If you're particular about your hair, have that done by a professional and do the rest yourself to save a fortune. If Kate Middleton can do her own wedding makeup, so can we!
6. Ditch unnecessary extras. Wedding favors, a wedding video, and even save the dates can really add up and at the end of the day are neither essential nor memorable. How often will you or anyone else remember your save the date cards/magnets/key chains?
7. Be flexible on the day of week. Those who really love and care about you will have no trouble coming to a wedding on a Friday or Sunday! I have been to a few Friday weddings in recent months—it made zero difference. Plus, the savings can be significant.
8. Take advantage of a Honeyfund. Many couples in 2014 already live together and don't need pots and pans, or even utensils. A collection of cash from your guests will give your honeymoon or future together a special and lasting boost!
9. Be open to venues. Some beautiful outdoor settings in the right seasons require very little decoration – such as a winery or anywhere near the water. Or does a friend or family member have a scenic property you can borrow? Think creatively!
10. Remember what the day is really about. A wedding is a union of two people in love. It is not about impressed guests, excessive decorations, and a big jazz band. Kim K's last wedding showed us that lavish celebrations doesn't mean you'll have a lasting marriage. Live in the moment, be truly present on your big day, and remember that love, in itself, is the most exquisite part.
And hey, if City Hall (and a label-less dress) is good enough for Carrie & Big, a simple celebration can be good enough for you!
MORE ON BRIDAL BLISS:

A Bride's Worst Nightmare Realized: 'I Lost My Wedding Dress'

The Most Gorgeous Celebrity Wedding Gowns