The Big Lesson Learned from an Anti-Bridezilla
Even behaving like a laid-back bride has its downfalls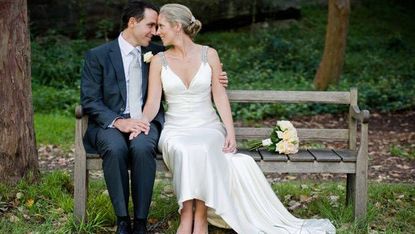 (Image credit: Getty)
Marie Claire Newsletter
Celebrity news, beauty, fashion advice, and fascinating features, delivered straight to your inbox!
Thank you for signing up to Marie Claire. You will receive a verification email shortly.
There was a problem. Please refresh the page and try again.
The year between my engagement and my wedding, I prided myself most on the fact that I was not a bridezilla. And you can add a side of smug. There was no drama over whether the cake filling would be chocolate or buttercream, no slamming my veil on the floor in a fit of rage because the beading on my dress looked off. And there was little interest in planning the nuptials.
After six years of dating, Neil proposed on my 29th birthday. Although we wanted to get married, neither of us had patience for all the details that go into creating a wedding. He was an ambitious associate at a New York law firm, and I was equally determined to climb the ladder at my advertising agency. I put the kibosh on someone's suggestion of a wedding planner, as that screamed bridezilla. The only thing that kept us from eloping was the feeling that our families expected a grand affair from an eldest son and only daughter.
When our wedding plans had not progressed eight months later, my mom found her esteemed standing as mother-of-the-bride devolve into a state of aggravation. Mom got tired of waiting for us to get a move on and demanded, "Are we doing this thing or what?" We took her up on her offer to plan the big day; Neil and I hoping to participate with the most minimal effort possible.
He was able to keep a healthy distance – she wasn't his mother after all. I, however, found myself roped into a trip to the Bronx, where my family lived, to OK the nearby catering hall that happened to have an opening on the same day that our church could book our nuptials.
I rolled my eyes. Could we not have handled this on the phone? I chose the house photographer because it was easy. The house band would suffice too, as I was assured they played all the hits of the day. When the band's rep was unfamiliar with my chosen wedding song, I looked at their repertoire list and picked some sugary tune that was popular at the time, put on my coat and headed back to Manhattan. It didn't even occur to me to ask the band to learn the song I preferred. Really, what difference would any of this make? People should put their efforts into their marriages, more so than their weddings. That would make for fewer divorces, wouldn't it?
I made a single trip to an unintimidating, but low on merchandise, bridal store with my bridesmaids: my two sisters-in-law and my two cousins, who were each 10 to 15 years younger than me. I always liked the look of a bridesmaids wearing the same dress in different colors, but I stiffened up the minute my mother said, "I hate that." I would not argue or even discuss. I let her pick out the color and the girls agreed on the dress. On a whim I picked up a hat and decided it completed the ensemble.
The only thing I did concern myself with was my gown, but every time I had to go for a fitting I acted as though I was being forced into an iron maiden. By the time we got to the cake and the food, I had had it. My mother handled that herself and the buffet remains the only aspect of my wedding former guests still rave about.
These many years later, I wonder what I thought I was gaining by being so disengaged. At the time, my blasé attitude went with my sophisticated, always busy, New York City ad executive lifestyle. Although I was glad — and rather relieved — to move my status from girlfriend to wife, I felt like I was a grown woman doing a little girl thing: playing dress up.
Looking back, I feel regretful and foolish, as I am left with stories of a silly wedding song, a wedding album lacking photos of myself with key family members and friends, a first dance that looked as though my husband and I had never before had physical contact, hat-wearing bridesmaids in washed-out mauve, and the broken record reminder from my mother that she had planned a wedding for two people who could have cared less.
My mom did a wonderful job arranging the reception, and guests had a good time celebrating with Neil and me. But my day, as well as my memories of it, could have been great if I had put as much energy into being an interested bride as I did into not being a bridezilla.
Related:
A Bride's Worst Nightmare Comes True

5 Annoying Things Brides Do That Are Totally Reasonable

10 Most Gorgeous Wedding Gowns from Spring 2014

9 Wedding Dresses for the Non-Traditional Bride
Photo Credit: Getty; Lorraine Duffy Merkl is a freelance writer in NYC and author of the novels Fat Chick and Back to Work She Goes.
Celebrity news, beauty, fashion advice, and fascinating features, delivered straight to your inbox!
Lorraine Duffy Merkl is the author of the novels FAT CHICK and BACK TO WORK SHE GOES.