How One Woman Toured Eastern Europe Using Tinder
On a backpacking adventure through Eastern Europe, Anna Davies discovers a host of eager personal guides, thanks to a wildly popular dating app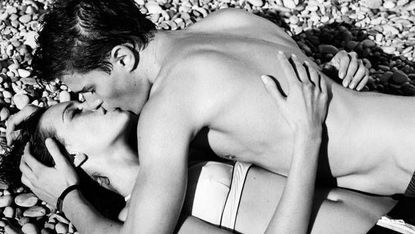 (Image credit: JOSHUA KOGAN/FIGAROPHOTO/CONTOUR STYLE BY GETTY IMAGES)
I stood outside a café within the ancient walls of Kotor, Montenegro, squinting at the tourists walking across St. Luke's Square. I glanced down to my phone at a photo of Roman, the guy I was meeting: a broad-shouldered blond and my date for the evening, whom I'd met on Tinder just an hour and a half before.
"Anna?" I pulled myself out of my reverie. The man in front of me was even more attractive than his photo. As he guided me toward a sidewalk table, I noticed his chest muscles were clearly visible through his tight black T-shirt. When he broke into rapid-fire conversation with the waiter in Montenegrin, his gravelly accent caused my stomach to flip in nervous anticipation. "I ordered us beers, and the octopus salad to share. You will like," he explained. I nodded, smiling at his formal, accented English.
Tinder tourism, I call it. I'd gotten the idea from an American I met in Costa Rica last fall who always knew the best surf breaks and cheapest bars around, even though she'd been in the country for only two weeks. When she told me that she'd received a host of insider tips from locals she met online, I was skeptical. "What's the point of meeting them if you don't live here?" I asked. "Because I'm here now," she replied. She shrugged, then headed out to meet a hot dreadlocked surf shop owner she'd found on the app to watch the sun set over the ocean.
Now, in the middle of a six-week solo backpacking trip through the Balkans this late spring, I was trying out her strategy myself. I've always loved the anything-can-happen thrill of foreign flings. I'd had a few: a makeout in a Galway pub, a weekend exploring Amsterdam perched on the handlebars of a local's bike. But sitting at a bar waiting for opportunity to knock left too much to chance, wasted too much time, and often made me feel lonely and desperate.
Tinder, the app all my friends used back in NYC that instantly matches people based on location, took chance out of the equation, making it much easier to connect with someone I might actually like. Messaging men on Tinder gave me a peek into their personalities, introducing me to a world of quiet, thoughtful guys I might never have met otherwise.
When I first sat down with Tone (pronounced "Tony"), I thought our date would be a bust. We were the only ones on the outdoor patio of the bar he recommended, which made every awkward silence that much more obvious. But I knew we'd had chemistry during our Tinder chats, and after 10 minutes of struggling in real-life conversation—and one shot of Rakia, the local 40-proof liquor—we discovered a mutual love of True Detective and a shared ambivalence about marriage. When he suggested we end the evening at his place, I hesitated long enough to find his LinkedIn profile and verify his identity while he was in the restroom before I agreed.
"We're going on my motorbike." He shot me a devilish grin as my heart hammered in my chest. I'd never been on a motorbike before. But I'm braver and bolder when I travel, more apt to shrug off bus delays and say yes to cliff diving and, apparently, motorbike rides, so I nodded and slipped on his extra helmet. I hugged him tightly, my chest pressed against his back, as we drove past the ancient walls (and Game of Thrones–esque backdrop) of Diocletian's Palace and into a leafy neighborhood. By the time I hopped off, my knees were wobbly as I hungrily reached toward him. I left his apartment the next morning feeling indulgent, but not guilty.
Halfway through my first beer with Roman, I knew my date with him wouldn't end similarly. Boasting about his tour company—the biggest in the country, he pointed out several times—he reminded me way too much of the type A personalities I dated back home. But that didn't stop me from lingering over a second drink, or allowing my fingers to brush his when he walked me back to my hostel. I was intoxicated with the accent, the atmosphere, the fact that I had learned far more about the former Republic of Yugoslavia in an hour than I had on the 12-hour bus tour I'd taken the day before. "You would like to meet again?" he asked hopefully. "Maybe," I lied. By tomorrow, I'd be in another town—and likely on another date.
BY THE END of six weeks, I'd gone on nearly 10 dates. In the shadow of the Old Bridge in Mostar, Bosnia, I learned how to drink Turkish coffee (suck on a sugar cube, sip, repeat) from Mehtab. In Albania, I walked around Tirana Park's Artificial Lake with Erjion, a 30-something musician who told me how, as a kid, his dad tinkered with the television so his family could occasionally receive scratchy, blurry broadcasts from Western European stations—an act strictly forbidden in the formerly communist country. And on the Croatian island of Hvar, I was shown how to properly debone a fish by Mladen, a chef-in-training.
I made a point not to lead men on, usually grabbing coffee or drinks before sunset. I'd imply I was meeting friends later that evening to make it easier to slip away if need be. Maybe it was opportunistic—"Nice way to get a free meal," one Canadian backpacker sniffed, eyebrow raised (hey, I always offered to split the bill!)—but to me, the best part was getting to see the city through a local's eyes. Plenty of travelers were hooking up in hostels, but I wanted the insider info I wouldn't get from a tour guide. In the past, my most treasured travel experiences were discovering bars down winding back alleys; seeing apartments full of unfamiliar appliances; eating at restaurants where menus—if they even existed—didn't have English translations. These were hard to find on my own, but the men I met on Tinder were eager to show me what their cities had to offer.
I may have missed a few major monuments in favor of a drink with a virtual stranger, but I arrived home feeling like I'd truly experienced the Balkans. Even when you're a solo traveler who loves nothing better than exploring on her own, that doesn't mean you can't get a lot out of a tour. Especially when it's very personalized.
Follow Marie Claire on Instagram (opens in new tab) for the latest celeb news, pretty pics, funny stuff, and an insider POV.