5 First Date Ideas for People Who Don't Drink
Who says you need alcohol to have a great first impression?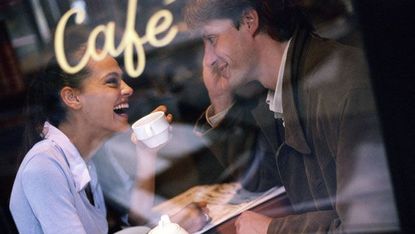 (Image credit: Romilly Lockyer/Getty Images)
He's cute and seems sweet enough. He asks if you want to go on a date and wants to know if you have any suggestions. Here's the thing though, you don't drink, so now what? Here are some great date alternatives if you want to skip the alcohol:
The Casual Food Hang
An obvious date choice is getting dinner together, but maybe you have some hesitation about sitting down for three courses and two hours with someone you've never hung out with before. In that case, go for the casual food date - tell him you know a great gelato place, or a bohemian tea house that features great bands, or a smoothie/dessert place that you love. You get the minimal time-commitment of a cocktail date and the option to extend the night in numerous ways if it's going well.
Take a Walk
If you live by nature (a beautiful river or tree-lined street), take advantage of it! Go for a walk as the sun is setting. For us city-dwellers there are still lots of great parks and places to walk for a bit, laze on the grass, and even snag a kiss if the mood strikes. For New Yorkers, the High Line is a great option for a nice walk, with lots of benches facing the waterfront.
Go to a Museum
You know how you're always saying you should go to museums more? Why not take a date? Yes, the hush-hush environment is not entirely conducive to getting to know one another, but there's something romantic about sharing a space, appreciating art together, and moving on into the next room in tandem. It's quite intimate. When you're done head to the cafeteria, grab a coffee, and talk.
Venture Into a Quirky Store
In the pilot episode of the long-gone television show Jack and Jill the title couple go on a first date to a toy store and mess around with giant foamies, windup animals, and Nerf guns. It was aired fifteen years ago and I still remember it. If you take your date to a toy store, quirky comic book store, or even your favorite bookstore you can chat the entire time and it will be equally memorable.
Go for a Non-Drink Drink
Don't overthink this date idea – sometimes just going to a place where alcohol is served and not ordered an alcoholic drink is totally fine. The casual atmosphere lends itself well to a first date which is why so many of them begin there. Instead of opting for a traditional bar, look for one with a unique spin, like a dive bar with an array of old board games patrons can play while sitting, or one that has live music.
Related:
I Went on 157 First Dates (opens in new tab)

How to Turn a 'Friends with Benefits' into a Boyfriend (opens in new tab)

8 Very Real Reasons He Broke Up with You (opens in new tab)

If Your Family Doesn't Like Him, Is the Relationship Doomed? (opens in new tab)
Photo Credit: Getty Images