Women Harassing Men
Complaints about women bosses preying on men have doubled since 1990. What's going on out there?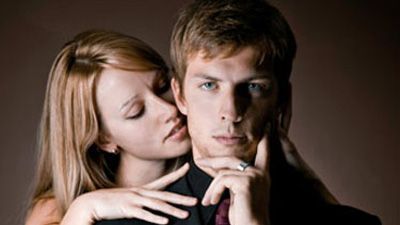 (Image credit: Valentin Casarsa)
Marie Claire Newsletter
Celebrity news, beauty, fashion advice, and fascinating features, delivered straight to your inbox!
Thank you for signing up to Marie Claire. You will receive a verification email shortly.
There was a problem. Please refresh the page and try again.
He was just a young thing — in his early 20s — and only two months into a promising new job at First Mutual Corporation in posh Cherry Hill, NJ. That's when Jackie Mesinger — the Pagan Princess, as she called herself, a woman twice his age — began groping Louis Oblea Jr., as he remembers it, and lobbing sexual innuendo into their conversations.
Oblea reported her to his boss. His response? Oh, she does that to some men. She'll stop eventually. Until then, avoid her.
And so Oblea did just that, until the day after Christmas, when he logged onto his company computer and clicked on his e-mail: There was the Pagan Princess, completely nude and performing a sex act on herself. Not two minutes later, another e-mail from her landed in his in-box. This one, another woman, in a bondage getup.
Oblea complained again. He even showed his boss the pictures. Please, he said, just make it stop.
His complaints echoed up the chain of command, but they were ignored, perhaps because the Pagan Princess was also the company's rainmaker, reeling in the big clients. Young Oblea was just an entry-level loan officer. He was expendable. Two days later, when Mesinger heard that Oblea was making noise, she sent him an e-mail. You should rethink your position, it read.
A few weeks after that, although Oblea's manager had recently said that he was adapting well to his new position, First Mutual fired him. For poor work performance.
That's when Oblea turned to the Equal Employment Opportunity Commission. The EEOC filed a lawsuit on his behalf, and he received a monetary settlement from First Mutual. Oblea then quietly slipped away. No media blitz. After all, who would empathize? Was it even possible for a man to be sexually preyed upon by a woman?
The harassment of men at the hands of women is clearly having a moment. While the total number of sexual-harassment claims brought to the EEOC has been declining steadily over the past eight years, the percentage of allegations filed by men has doubled between 1990 and 2007, to 16 percent of all claims. Given that it's estimated only 5 to 15 percent of incidents are even reported, and those that are remain confidential unless a lawsuit is filed — which rarely happens in cases where men are the victims, says EEOC spokesman David Grinberg — who knows how many Louis Obleas are out there, staring in horror at nude pictures of their female superiors? "Most complaints are mediated and resolved, and you'll never hear about them," says celebrity lawyer Gloria Allred. "You won't even see a piece of paper."
While it's true that the boldest headlines still involve old-school offenders like Knicks coach Isiah Thomas — who was found guilty of harassing a female former Knicks executive (she claimed that Thomas told her he loved her, and also called her a bitch and a ho) — the more recent phenomenon of women taking lascivious liberties with men has slipped quietly into the zeitgeist. Note Lipstick Jungle's stiletto-wearing magazine editor, Nico Reilly, getting slapped with a complaint after dumping her young lover, Kirby, a photography assistant who works with the magazine. The plotline is plausible because women finally have the power to be predators. We've come a long way since 1994's Disclosure, about a female boss who tries to coerce a male employee to have sex with her, the very premise of which was considered silly at the time — the stuff of, well, Michael Douglas movies. According to New York City lawyer Ronald Green — who represented Bill O'Reilly after O'Reilly's female producer accused him of, among many things, fantasizing over the phone about lathering her up with a loofah mitt — his big clients are now coming to him for help in defending their female executives against sexual-harassment claims. "Women are just behaving like those who came before them," he says.
The relative newness of women in the corner office has lent an undeniable frisson to the corporate environment. Given how accustomed women are to drive-by comments and propositions, it can be thrilling when the tables turn and they're the ones controlling the dynamic. Says a 35-year-old executive at a Massachusetts financial company, who has 37 men reporting directly to her: "There are days when I just think, You know, I could have any single one of these guys. Of course, in reality, I wouldn't step over that line, but I know I could. And to be frank, that thought makes work far more interesting." She admits to dressing for her male colleagues. And when hiring an assistant, damned if she didn't choose the "totally hot" 25-year-old former professional hockey player. "If I have to look at this guy every day, why not have it be someone who makes me remember what a schoolgirl crush is?"
Then there are the women who aren't totally comfortable with their professional power and resort to flirting to get what they want out of their employees. "I've seen this happen, when the man thinks, Oh man, she wants me," says Rhoma Young, a human-resources consultant who investigates sexual-harassment complaints. "And the man might take someone wearing a shorter skirt who is trying to be stylish as a come-on, because that's how they relate to women."
A clear factor in cases brought by men is the difficulty society might have believing they would be offended by a come-on. No real man rebuffs sexual attention, goes the thinking, so how can he even be sexually harassed? "It's sort of a societal taboo. A man's going to complain because a woman's hitting on him? What's wrong with him?" says Alexis McKenna, a lawyer who litigates such cases. Men simply haven't been raised to think of themselves as potential victims — making it all the more difficult to protest. "It's much more shameful for men to have to confront sexual harassment and admit it," says University of Maine sociologist Amy Blackstone. "It's something that gets joked about."
Just ask James Stevens, a soft-spoken, devout Christian who worked for more than 15 years at a Vons supermarket in Simi Valley, CA, who claims that a coworker named Laura Marko was inappropriate with him every day for two years. "Most black men would love to have a white woman sexually harass them — that's what I'd hear," he says. "But I couldn't be more repulsed. She would ask me point-blank, Do I go down on my wife? When I announced that my wife was pregnant, she suggested that if my wife had done a different act, she wouldn't have gotten pregnant."
Stevens finally complained, and the company transferred him. "And the first thing out of my wife's mouth is, 'Why are they transferring you if she was harassing you?' In the back of her mind, she was thinking maybe I could have been harassing this woman," he says. His coworkers thought that, too. The rumor spread. And then Vons fired him.
"It really destroyed my family," Stevens says. "It destroyed my life." He spent most of his days lost in a prescribed narcotic cocktail — Zyprexa and Celexa and Vicodin — and then his wife took their baby daughter and left.
Determining that Vons fired him in retaliation for his complaining about being sexually harassed, a jury awarded Stevens $18 million, one of the largest decisions of its kind. (Vons has appealed.) But when I call Laura Marko and tell her that I'm writing a story about male victims of sexual harassment, she laughs hysterically (not to mention bitterly). "It was actually the other way around," she says. "He was just a guy waiting for an opportunity."
Of course, there are men who might just resent the increasing presence and influence of women in the workplace, who don't like that times have changed for good. For those men, is lodging a sexual-harassment complaint the ultimate retaliation — the way to make a woman's gender her downfall?
Or maybe they just feel...harassed. Consider the case of former senior undercover drug detective Matt Floeter, a deeply tanned 41-year-old with bulging muscles and eyes the color of the South Florida ocean. From the day Sergeant Barbara Jones took over as the supervisor of his hard-core, paramilitary-style unit of the Orlando Police Department, she could not keep her hands to herself, he says, grabbing and hugging him and the other guys every time they passed her desk in their big, open box of an office. "She was like a kid in a candy shop," he says. "She had a full-court press on me all the time" — even rubbing her groin against him, he says, and at least once humping his leg, just like their unit's drug-sniffing dog, Gunney.
It's hard to believe that this tough guy — who once shot a whacked-out dealer five times in a bust gone bad and who was commended for valor by former Attorney General John Ashcroft for doing it — would allow a woman pushing 50 to molest him. Floeter explains: "Hey, that is a sergeant, and you have got to bow down and say, 'Yes ma'am, no ma'am,' and you have to respect the rank." Plus, she was personal pals with her supervisor.
And yet Floeter did complain, finally, after three months of the alleged behavior, following a closed-door meeting with Jones in which she came down on him about his poor work ethic and threatened to subpoena his phone records because he was using his cell phone while on duty for calls related to his personal business, Aqua Cops. After another argument during a unit meeting in which Jones detailed changes she was set to implement that Floeter felt would undercut his investigative work and damage his reputation, Floeter drove straight to Internal Affairs and reported her for sexual harassment. The city settled out of court with Floeter last December, for an undisclosed amount. For her part, Barbara Jones was reprimanded for conduct unbecoming an officer.
"It was horrible," says Jones, who is now the public-information officer for the Orlando Police Department. "Especially when you didn't do anything, but you don't have any proof that you didn't."
Her explanation is simple: She was forcing the detectives to be accountable for their productivity, and they didn't like it. "They're all macho and aggressive and the best of the best and don't mess with us kind of thing," she says.
Who's telling the truth — the befuddled woman with the sweet Southern accent, now 53, or the defiant detective who drove 260 miles on a Sunday to tell me his side of the story?
Sure, Jones had hugged her men — "in a congratulatory way," she says. But it wasn't anything weird. That's how a woman shows appreciation. That's just what a woman does. Isn't it?
Celebrity news, beauty, fashion advice, and fascinating features, delivered straight to your inbox!