Skimming the Love Bibles
We read the new crop of self help relationship books so you don't have to.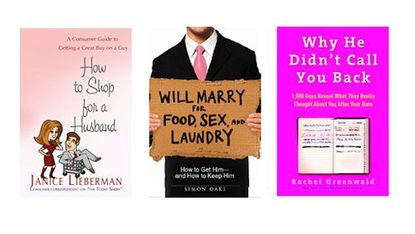 (Image credit: Archives)
How to Shop for a Husband:

A Consumer Guide to Getting a Great Buy on a Guy (St. Martin's), by Janice Lieberman.

The gimmick: Applying shopping principles can help you find a mate and close the deal.

Author's questionable credentials: As the Today show's consumer reporter, Lieberman is best known for helping viewers choose the right flat-screen.

Dubious advice: "Pick a guy who is a classic, a neutral, someone who will blend in with your entire wardrobe of friends and family — and leave the trendy fads in the store."
Will Marry for Food, Sex, and Laundry:

How to Get Him — and How to Keep Him (Adams Media), by Simon Oaks.

The gimmick: Wooing through creature comforts.

Author's questionable credentials: Married 10 years.

Dubious advice: "Your direct approach hasn't worked with him, so maybe it's time to bring out the big guns — his mom."
Why He Didn't Call You Back:

1,000 Guys Reveal What They Really Thought About You After Your Date (Crown), by Rachel Greenwald.

The gimmick: He's just not that into you — and it's your fault.

Author's questionable credentials: Greenwald is a "professional matchmaker."

Dubious advice: "Instead of leaving witty conversations to chance, it really helps if you spend one hour prior to your date mentally preparing interesting conversation starters."