My Life as a Mail Order Bride
To escape an impoverished life in Ukraine, Oksana Makarova married a Florida doctor who could give her young son a future. Things did not go as planned.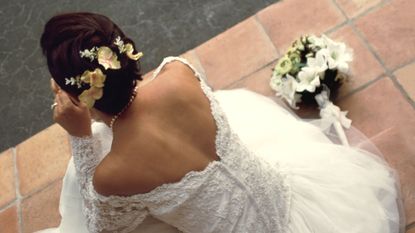 (Image credit: Getty)
The night I met my husband, in the port city of Odessa, Ukraine, in late 2000, I stood against the wall in a restaurant at the Black Sea Hotel along with 200 other young women. They were decked out in their fanciest dresses, their faces caked with makeup. Dressed conservatively in my dark-gray pantsuit, I felt invisible in the sea of ball gowns. The two dozen men seated before us—all from America, mostly in their 50s or 60s—had come to find wives.
My best friend had begged me to come, and we'd ridden for 12 hours on a train from our small town on the Crimean coast. I thought it would be an adventure, if nothing else. Sure, maybe some small part of me entertained the idea of meeting someone interesting, but it didn't seem very realistic.
While the women met with their eager suitors, I leafed through a Russian-language brochure about the marriage broker hosting the event. The Atlanta-based company, European Connections, explained that after decades of feminism, American women had become undesirable partners for marriage, uninterested in having children. Russian women, it said, are more feminine, with old-fashioned family values. I knew nothing about America except for what I'd seen on TV, like old dubbed episodes of Beverly Hills 90210. It seemed plausible enough.
When I noticed a short, stocky man grinning at me, I thought, Oh, no, and quickly turned away. But his interpreter was already walking toward me. "How old are you?" she asked. I said I was 25. "Would you like to talk to my client?" she asked. I shook my head no. "What do you have to lose?" she prodded.
His name was Carl, I learned, and he had a full head of black hair, which made him look younger than the other men, who were fat and bald. I sat at his table, and he asked me questions from a prepared list, speaking to me through the translator. I could understand some English from what I'd learned in school, but didn't speak it very well myself.
"Do you have kids?" he asked.
"Yes, a 2-year-old son."
"Do you like dogs?"
"Sure."
"Do you believe in prenuptial agreements?"
"Yes."
I learned that he was a 50-year-old Filipino-born emergency-room doctor, now living in Cape Coral, Florida. I felt no immediate attraction to him, but when he asked if I'd like to give my son a father, a life in America, and a college education, I had to seriously think about that. I was a single mother, working at a local post office and living in a tiny apartment with no hot water or heat, and sometimes no electricity. Ukraine is a relatively poor country, and the infrastructure was never fully developed outside of major cities during the Soviet years. I'd become pregnant at 22 by my boyfriend, who had then disappeared. And here was an educated man from America, promising my child the world. In return, he wanted a family. I thought, Maybe I owe it to my son, Dimitri, to try.
When Carl asked me to have breakfast with him in the morning, I accepted. For the next week, he treated me to lavish dinners, booked me a private room in his elegant hotel, and bought me a proper black dress to wear to my first opera, Carmen. He was an absolute gentleman: He never touched or tried to kiss me. It was a wonderful fairy tale of a week, and I was taken by how respectful he was. A translator came along on our dates, and on our last day together, Carl asked me to come to America. I would get a three-month "fiancée visa," he said, and then we would marry. (The visa arrangement was legal, I learned, since Carl had met me in person; a man can't just pick a photo of a woman and get her a visa.)
I thought about my son and the new future he could have. I didn't expect to fall madly in love with Carl, but he seemed like a kind man. In Ukraine, women don't necessarily expect to marry the man of their dreams; it's a hard life, and marriage is often more about security and stability than love. I confided in my mom, who worked as a post-office manager, and my dad, an instructor at a driving school, and they agreed: The opportunities for my son were too good to pass up.
Over the next 10 months, I took English lessons and e-mailed with Carl about the plan for my trip to the States. In the fall of 2001, feeling both nervous and excited about my new life, I arrived in Florida. Cape Coral seemed like paradise—the sun, the palms, the orange and lemon trees. As we turned into the driveway at Carl's house, it looked like a palace to me: a four-bedroom Mediterranean-style home with a sunroom that was bigger than my entire apartment.
Carl, however, did not complete the pretty picture in the way I'd hoped. The polite, generous man I'd met in my homeland seemed more distant here. The first thing he did was to introduce me to a cousin, an older woman who showed me how to cook and clean the way Carl liked. Next Carl made it clear that he wanted to start working on a family immediately. Indeed, the first time we had sex, it felt perfunctory and calculated, devoid of any passion. Yes, I felt disappointed, but I decided to look at the act as just another chore that would be required of me in my new role. Soon after, Carl brought home an ovulation test kit so he could start charting my cycle and focus on getting me pregnant. At one point, Carl even tried to make Dimitri look more like a son of his own by dyeing Dimitri's blond hair black. Shocked, I shaved my son's head; Carl just laughed.
Carl's behavior became controlling in other ways, too. He said it was too expensive for me to call my family, so he gave me one 10-minute calling card per month. When I wanted to send an e-mail, he'd privately enter his computer password, then press Send for me and log off. Needless to say, I was having doubts about this arrangement. Still, I was willing to sacrifice for my son, who loved his fancy, rambling new house, full of new corners to discover.
By the third month, I was pregnant. Carl and I got married in a courthouse in the fall of 2001; he said he would file for green cards for Dimitri and me. I thought Carl might be happier with a child of his own on the way, but as the weeks wore on, he grew increasingly possessive. I had no driver's license or even a key to the front door. When I asked for a key, Carl said I had nowhere to go. He had a point: I had no money, no friends, and no idea how to navigate this foreign country. He would say, "Oksana, I thought you'd be obedient. This is the impression you gave me in Ukraine." I felt like a child, and quickly became withdrawn, mostly staying indoors taking care of the house.
Carl grew increasingly domineering toward my son, too. One time, when Dimitri ripped the wallpaper in his bedroom, Carl grabbed him and spanked him so hard, there were full red handprints on his backside. After that, I told Carl I wanted to leave. But Carl begged Dimitri and me for forgiveness, saying he hadn't had any experience with children. And he refused to pay for my ticket home.
Not long after, we moved to the town of London, Kentucky, where Carl had taken a new job in a hospital. "It will be a fresh start for us," he said. But his usual behavior soon resumed. Saying he was concerned about the water bill, he insisted that Dimitri flush the toilet only once a day, so my son had to pee in an empty milk jug all day and flush it down at night. Carl also began hitting my son again and dyeing his hair black. When I threatened to leave—and sleep on the streets if I had to—Carl had a new threat in return: He told me that he had not, in fact, filed paperwork for Dimitri's green card. He would deport my son, he said, but keep me here. (My own green card was still in the works, as I awaited an interview with immigration officials.) I felt trapped. I didn't know where to turn; in Ukraine, there were no shelters or social services for women, and the police were corrupt.
Our son, Giovanni, was born on Independence Day, July 4, 2002. Thankfully, he was a healthy baby boy, even though Carl hadn't taken me to a doctor for prenatal care until seven months into my pregnancy. In those first few days with my newborn son, I would look at him and try to imagine that his father was someone I loved. Staring out the kitchen window at the golfers on the lush green course, I dreamed of escape. Carl, meanwhile, wanted to start working on more babies as soon as possible. So I lied about my menstruation days to throw off his charts.
Just when I felt on the verge of an emotional breakdown, something happened that would change everything: I was at the local Walmart one night with Carl and the kids, who were then 9 months and 4 years old, when Dimitri got lost in the store. When we found him, Carl twisted Dimitri's ear so hard that my son let out a terrified shriek. A shocked bystander called the police, who arrived with a social worker. She talked to us in the store, then came to our house the next day. With Carl away at work, I told her my story.
On the morning of May 5, 2003, nearly two years after I'd come to America, I packed a few things, per the social worker, and called her while Carl was at work. A policeman drove the kids and me to a shelter; Carl filed for divorce the next day. The shelter connected me with pro bono lawyers from a domestic-violence association. They would help me obtain child support, finalize my green card, and fight for custody of Giovanni.
After three months in the shelter, the kids and I moved into low-income housing, and I saved everything I could from child support to buy a used car. Eventually I got a job at a Pizza Hut and began attending community college to train as a dental lab technician. During this time, my mom came from Ukraine to help with the children. In November 2004, I was awarded custody. But for the next six years, Carl dragged me back to court on technicalities and appeals.
Today, I live and work in Louisville, Kentucky, and am in a relationship with a wonderful man I met at a friend's Thanksgiving dinner. Dimitri and I are U.S. citizens. I bring Giovanni to visit his father every week, but Carl and I do not speak. He is allowed to file for a custody review every two years, so I'm expecting a new court summons any day. Still, I no longer fear that my children will be taken from me, and we have a good life. Would I do it all over again? No. But I don't look at life in terms of what I should have done differently. I hope that by telling my story, I can help another woman like me. Perhaps the most important thing I've learned is that there are options for women in America: You don't need to stay in an abusive situation. You can get help.
Kira Zalan is a freelance writer based in Washington, D.C.
You should also check out:
I Let My Tinder Matches Dress Me for a Week
Why I Didn't Take My Husband's Last Name
Marie Claire email subscribers get intel on fashion and beauty trends, hot-off-the-press celebrity news, and more. Sign up here.