A New Breed of Single Bridezillas
There's a new trend of would-be brides on the rise. They're designing wedding invitations, looking at rings, and dreaming about their big day — now all they need is a groom.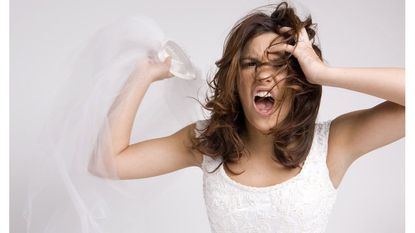 (Image credit: Getty Images)
Kat Richter, 26, a single writer and teaching artist in Philadelphia, has, like many women, dreamed about her wedding day since she was a teenager. "At 16, I started clipping wedding dresses from magazines to store in a scrapbook. But when I inherited my grandmother's wedding dress a few years ago, things started snowballing," she says. "I decided that I would need another dress for the reception and found one on sale, so I bought it — but then I needed shoes to match." She and her mother, a florist, have pored over floral arrangements and centerpieces for ideas, and Kat, who knows the Bach song that will play during the wedding procession, even has a honeymoon location in mind.
Likewise, Laurie, a 30-year-old publishing associate in New York, wants her wedding to be perfect. She has stalked Facebook friends' wedding photos for gown ideas, carefully debated traditional cake versus doughnut towers, and endlessly tweaked her band's set list for the big day. But Laurie isn't a bride, either. She sheepishly admits to being "150 percent single."
And Ruth, a 38-year-old Barnard graduate turned lawyer, is actively planning her wedding despite the fact that she's single. "When I was 32, I bought two ring settings: one for a large diamond and a backup setting for a smaller diamond," she says. "I've also purchased a vintage wedding gown, after seeing it in the window of a Madison Avenue consignment shop, because I knew I wouldn't find anything as unique. My dream is to have a wedding as magical as — don't laugh — the one in Twilight: Breaking Dawn. Having seen so many of my friends get married, I feel pressured to get engaged, and it makes me fantasize about the kind of wedding I want someday."
Kat, Laurie, and Ruth might sound like anomalies, especially in light of new research that suggests young adults have grown increasingly apathetic about marriage. According to the U.S. Census, just 45 percent of people ages 25 to 34 are now married — a record low, and a 10 percent drop in less than a decade. And while just over 2 million people married in 2009, that's a 4 percent slide from the year before. Pew Research conducted a study on how the economy has affected personal growth, and found that out of 1,028 people, nearly a quarter of those ages 24 to 35 were postponing marriage due to tough financial times.
But waiting and wanting aren't mutually exclusive states. A growing number of fiancé-free women are actively in the "beta version" of bridedom, planning and debugging every detail for possible glitches. Their test audiences: a thick-as-thieves community on wedding sites, blogs, and online forums.
The online community has recently pushed matrimania to a new level, creating an anonymous forum safely removed from the WTF? glare of skittish boyfriends. "Wedding planning is ultimately about wishful thinking, hoping, and organizing," says Helen Fisher, Ph.D., anthropologist at Rutgers University and author of Why Him? Why Her? "Now women can get caught up — and ultimately obsessed — with the fantasy, without being found out."
Elizabeth, a 27-year-old psychologist in Philadelphia, just broke up with her boyfriend of three years and admits to designing her wedding invitations and engagement ring online — but never checking out of her virtual cart — when the two were together. "I dreamed about the details of the wedding because it was a way for me to feel control in a situation in which I unfortunately felt I had very little. In other aspects of my life, I have complete autonomy — I'm used to going for what I want. There was a deep sense of doubt about my validity as a woman if I couldn't 'get him' to marry me. So the planning was a comforting fantasy."
While popular bridal destinations like theknot.com target brides, they now draw just as many bride wannabes. Of all its "special topics" message boards, theknot.com's Not Engaged Yet (a board for single women and those in relationships to vent about the frustrations of not being engaged) is second in traffic and comments only to Wedding Woes. These sites also provide fertile ground for those hungry for emotional support. "Seeing so many women in my shoes makes me feel less weird about planning," says Sarah Bush, 26, a Los Angeles-based marketing coordinator who religiously frequents the Not Engaged Yet board on almost a daily basis. Bush has three different wedding themes mapped out — beach, ranch, or plantation — and takes comfort in reading other women's stories. "It helps when I want to ask my boyfriend for the umpteenth time, 'When are we getting married?'" she says.
Fair enough. But why the psychological need to bum-rush it to the altar at all? We know that about 40 percent of marriages fail and that there's no longer such a necessity for women to marry. Sex, babies, financial security — it all used to be tethered to marriage. Now? Not so much, says Bella DePaulo, Ph.D., social scientist and author of Singled Out. "You can pick up the check at work and the sperm at the bank," she says. "So what's the wedding industry going to do? They have to sell women on the psychology of it, convince them that the only way to have a complete and happy life is to get married."
It must be working, says Manisha Thakor, financial expert and coauthor of Get Financially Naked. Though women are now a greater percentage of the overall workforce and earning bachelor degrees at faster rates than men, "there is still a subtle but steady drumbeat of expectation that women will be defined by their relationships and not their work," Thakor says. Of the dozens of women interviewed for this article, the majority had booming careers and postgrad degrees, and one even owned a home at the age of 22. Despite all that, women are still taught to believe that a wedding is "the most important day" of their lives.
Sociologists say that for successful women, there's another factor pushing them to prematurely plan their weddings: Because women of the Echo Boomer and Y generation don't need to marry for financial security, they've hyper-romanticized the institution. It's essentially become a nonprofit venture, aimed at a greater, far more elusive good: happiness. In fact, 51 percent of college-educated women believe married people are happier than singles. Women without college degrees are less likely to buy into that sentiment.
And the latter group may be on to something. Take one study, published in the Journal of Personality and Social Psychology in 2003, that traced people's happiness over the course of 15 years. When you look at the study's graph, there's a slight uptick in happiness leading up to their respective weddings. Once married, though, people retreated to being as happy or unhappy as they were previously.
But, oh, what magic it must be when you're in the thick of that uptick. "In my dreams, my wedding day is the perfect day," Laurie says. "Beautiful hair and makeup, amazing food, everyone being happy, everything corseted in."
And then, we exhale.
Celebrity news, beauty, fashion advice, and fascinating features, delivered straight to your inbox!