Can A Fling Become the Real Thing?
Find out what happens when the exotic vacation romance doesn't end.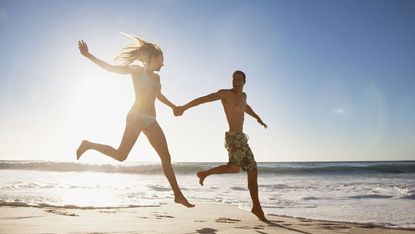 (Image credit: Archives)
On the eve of my 35th birthday, I decided it was time to take a proper, adult vacation. Alone. I'd traveled abroad with friends in the past, but I'd always deferred to their itineraries and skimped when it came to fancy four-star resorts and indulgent spa treatments. I wanted to get away by myself and in style. So I cashed in several thousand frequent-flier miles, used some savings, and booked a two-week trip to Greece.
During the weeks leading up to my departure, I read travel websites and dog-eared guidebooks. I planned to fill my mornings with empowering activities, like sunrise meditation and poolside Pilates, and reserve my evenings for good books and plates of tahini. I was eager to escape, to splurge, to follow my own agenda. And for the first 48 hours in Greece, I honored my plan.
Then I met Alex.
Alex was an impossibly handsome Serbian man, hired by my hotel in Santorini to teach me how to operate a scooter I'd rented. Before he handed over the keys, he asked if I wanted to meet him that evening for a drink. Immediately after I said yes, I went back to my suite and sent an e-mail to my friends with the subject line: "Guess who has a date!"
"I know I said I needed some time alone, but forget that," I wrote. "He's hot, and I'm bored! So I'm either going to have an amazing night or end up on the next episode of Dateline: Missing Abroad. I'm willing to risk it."
I didn't actually believe my date with Alex would result in the filing of a missing-persons report, but I was somewhat nervous about having a foreign fling. Fooling around with a mysterious man in an exotic location sounded as intimidating as speaking Greek. Yet compared with the "kid- and senior-friendly" sunset hike I'd scheduled, meeting Alex for a drink was no contest.
That night, Alex and I stayed out until 4 a.m., sipping gin and tonics on the roof of a crumbling building overlooking the Mediterranean. We met for dinner the following evening. And the evening after that. On the fourth night, I invited him to stay with me, and the next morning I threw my guidebooks in the trash, promptly canceling all of my solo activities.
We spent the rest of my vacation together, sunbathing and sightseeing, drinking and dancing, aimlessly strolling for hours, holding hands and taking pictures of each other on the sun-bleached streets. Some days we went on adventures — him maneuvering our scooter along the rocky cliffs, me resting my chin on one of his tanned shoulders and looking out at the ocean. We talked. We made out. And then we talked some more. I shared emotional details about my childhood in Pittsburgh and my life in New York. He bought me silly souvenirs, rolled my cigarettes, and taught me how to swear in Serbian. One night, over a plate of grilled octopus, he confided that he was legally married to an American woman but officially separated from his wife of eight years. It was a surprising fact but one that, given our connection, made me more sympathetic than suspicious. "We grew apart," he said. "I've been ready to meet someone else for a while now." The way he spoke, it was clear that someone was me.
On my last day in Greece, Alex and I tearfully promised to keep in touch and clung to each other until the captain of my boat threatened to leave. Saying good-bye was sad — but it was strangely satisfying to participate in such a dramatic "nothing can keep us apart" sort of scene. Our casual affair had started to resemble the plot of a Hollywood romance — one where Alex and I were the stars and my departure was the start of Act 3: the turning point where the lovers face an obstacle (another time zone, an ex-wife) and the audience (my friends, family, and me to some extent) wonders if it will all work out.
Two weeks later, Alex announced he was purchasing an open-ended ticket to New York. He'd said how much he missed me, but the suggestion that he essentially move in with me was a bombshell. I began reciting reasons (visa complications with his green card, the fact that he didn't know my middle name) why an indefinite stay didn't seem wise. Couples rarely shift from sipping on cocktails in the afternoon to exploring the complexities of sharing a bathroom or splitting the cable bill. Yet I wasn't ready to restrict our relationship to my photo album. Our romance had been so unexpected; maybe we'd have luck in the real world. After much discussion, I agreed to the plan.
We had a passionate reunion for a week, but soon — without alcohol and sunshine — the initial thrill began to fade. Once we were confined to my small apartment, navigating the thorns of daily life, our relationship became prematurely serious and painfully pedestrian. Alex sat on my couch each day and waited for me to finish working on my writing assignments. I felt trapped in the role of tour guide and organizer. I didn't mind finding hairs on my soap or men's underwear in my hamper, but we avoided discussing his scant finances and marriage.
Within a month, I'd gone from having an unforeseen fling to living with a virtual stranger. Oddly, it reminded me of the vacations my family used to take — how at the beach I'd pay to have my hair braided Bo Derek — style. It was a look I could pull off on the sand, but once back home, waiting for my school bus in the snowy Pittsburgh winter, the braids looked absurd. I was starting to suspect that bringing Alex home was the starry-eyed equivalent of wearing cornrows in January.
I was feeling antsy one morning, listening to Bob Dylan's "Don't Think Twice, It's All Right," debating how to resolve the sudden shift in our relationship, when clarity arrived in an unexpected form. Over the sound of my coffeemaker, I overheard Alex's video Skype call with his ex-wife.
"Where are you right now?" she demanded, soon hitting him with another question. "You're living with a woman!" He didn't respond, but she continued. "You can't be alone at all, can you?"
He was silent as she accused him of abandoning her and escaping his responsibilities. The picture she painted was of a confused, cowardly man who always took the easy way out.
"Sorry you heard that," he said when he found me wide-eyed on the couch.
"Me, too," I said, avoiding eye contact. "Because I agree with her."
I'd wanted to believe that Alex had truly fallen for me. But that day, I couldn't deny the truth: We'd gotten together because I'd hated being alone in Greece; we'd stayed together because he couldn't be alone in life.
We sat in painful silence for a few minutes. Then, finally, he said, "Maybe I should go." I nodded yes. I was crying and hugging him — the same as when we'd parted ways just weeks before — only this time, he was the one leaving, and it was a little bit easier to say good-bye.