6 Tips to Take From the Office into the Bedroom
Own your sex life like you command your career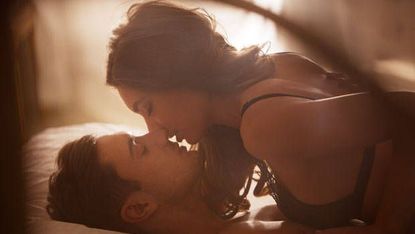 (Image credit: Tom Merton/Caiaimage)
Photo Credit: Tom Merton/Caiaimage
Research

Men are attracted to women who know what they want, so spend as much time pouring over your sex life as you do the files at work. If you're having consistent sex with your partner, drum up a new ways to get touchy or how to safely fit shower sex into your already steamy routine.
Time Management

There are never enough hours in the day, but that doesn't mean your sex life should take a hit. You figured out how to fit a conference call, perfect wing-tipped eyeliner application, and breakfast into your bus ride to work. Now master the art of the quickie to add a little kink to your lunch hour or make his jaw drop before he hits the gym.
Confidence

There's a reason you slipped on those Louboutins to kick ass in your presentation. They made you feel like you could command attention (newsflash: you can do it all the time!). So swipe on the red lipstick from your bag and strut home to own it between the sheets.
Negotiation and Communication

Think $20,000 is a great salary? No? If you can channel your inner Sheryl Sandberg to "lean in" to a living wage you should definitely push for a sex life that keeps you hot and bothered. If your partner is soaking up all the pleasure, suggest a position or a change of scenery that will keep you both satisfied.
Stay Flexible

Sometimes blunders in bed are too funny not to chuckle at. Stretch your mind and your body to stay in tune with your partner when things go off course. And those extra exhausting yoga moves you've been doing means you're ready to show off that flexibility. Lusty leg lifts anyone?
Awareness of Body Language

After negotiating a deal you're most likely to reach a business agreement when you act enthusiastic. If you don't sweep your excitement about your work under the rug, why would you hush your orgasm? (Trust us he wants to hear it).
Related:
10 Ways to Spot a Commitment-Phobe

Yoga Poses for Better Sex
Celebrity news, beauty, fashion advice, and fascinating features, delivered straight to your inbox!