The 14 Best G-Spot Vibrators
These vibes run deep.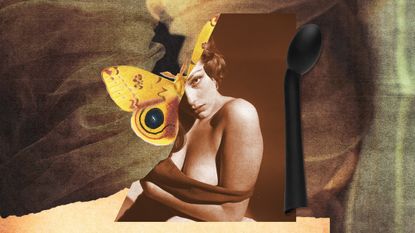 (Image credit: Brittany Holloway-Brown)
The world of sex toys is vast and accommodating, encompassing a variety of vibrators, dildos, anal toys, and more that can be used for solo masturbation or for partner play. This means that no matter how you like to receive pleasure, there's an option for you. And while many women find that they can only climax from clitoral stimulation, a great deal of people with vaginas prefer G-spot, or internal, stimulation, and are therefore partial to dildos and G-spot vibrators.
But what sets a G-spot vibrator apart from its fellow sex toys?
"A G-spot vibrator is different from other vibrators because its primary focus is to stimulate the G-spot," says Marla Renee Stewart, MA, a sexologist and sexpert for Lovers (opens in new tab). "Some use vibration only, while some use thrusting and vibration for stimulation. Trying the different ones helps you to decide which vibrator is best for you."
Angie Rowntree, the founder and director of ethical porn site Sssh.com (opens in new tab), adds that this type of vibrator is "designed with a curved shaft to arouse the G-spot in women" and is "close cousins of the dual action vibrators that aim to please your G-spot and clitoris simultaneously [a.k.a. rabbit vibrators]," but is particularly suited to those who enjoy penetration and/or who find the clitoral stimulation too intense.
But what is a G-spot exactly, and how do you find it? And once you find it, how do you know which G-spot toy is right for you? To answer these questions and more, we consulted sexperts, sexologists, and even employed our own personal experience to help you learn everything you need to know about the mysterious G-spot, how to stimulate it, and the best toys on the market for your most satisfying G-spot orgasm yet. For more specific guidance, you can also check out our guide on how to use a vibrator, which includes a section devoted to the G-spot variety.
What is a G-Spot?
The G-spot is the source of countless arguments, discussions, and pop culture phenomena. Some say it's an extension of the clitoris, some say that only certain women have one, and others claim it doesn't exist. The existence of the G-spot vibrator, however, along with the testimony of countless women, leads me to contend that there is, indeed, a G-spot, and it's worth learning about.
"The g-spot, also known as the Gräfenberg spot, was 'discovered' by a German doctor named Ernst Gränfenberg (hence 'g-spot') in 1953," Rowntree tells us. She goes on to explain, "The g-spot is located a few inches inside the front (anterior) vaginal wall. When aroused, it becomes swollen and can lead to intense orgasms and even squirting."
Stewart, on the other hand, says that the g-spot can be known as "the female prostate, the clitoral-urethral-vaginal (CUV) complex, the urethral sponge, and so on," and says that the g-spot is "simply the prostate―the thing that is connected to your bladder and urethra" while simultaneously admitting, "Technically, we could argue that all stimulation is clitoral stimulation because of the clitoris and its external and internal parts."
Confusing? Yes, we know. Female pleasure is unbelievably understudied, and therefore society's understanding of it is largely anecdotal. Stewart admits, "The g-spot can sometimes be contested because it is different on every single body and placed in a different spot on every single body." Rowntree, meanwhile, points out, "Some sexologists, especially the renowned Dr. Ruth, have expressed skepticism about its existence, and are also concerned that the pressure to find the g-spot and orgasm with it can cause performance anxiety that sabotages pleasure."
Indeed, many vagina owners (and their partners) feel like failures if they cannot bring about an orgasm through penetration. In reality, it's completely normal for women to have specific and differing needs when it comes to sexual pleasure, including a preference for clitoral rather than g-spot stimulation.
"There's a whole world of pleasure points on a woman's body, so never feel like you are limited," says Rowntree, "Explore what feels right for you and don't worry about comparing how your body and pleasure works to what works for someone else."
Finding Your G-Spot
But for those who do enjoy penetration (or who think they would), and are curious about finding their g-spot, there's a way of pinning that sweet spot down. Stewart says that this step is essential before finding the perfect G-spot toy for you.
"Everyone's G-spot is in a different place, so just because someone says they found it by going 2 inches in and 1 inch up, yours might not necessarily be in that space," she says. "With that said, once you find your G-spot, then you want to stimulate it by providing pressure with the vibrator while it's vibrating. You can move it around, move it in and out, stimulating the outside of the vaginal canal, too."
But remember: You won't feel anything if you're not in the mood! Throw on some porn or an erotic film and use some high-quality lube to get in the mood. Stewart also says that "erotic breathing [can] help you relax and get you the orgasm you desire."
Best Beginner G-Spot Vibrators
"The type of vibrator you want to have is a vibrator that sits well inside of you and is compatible for the type of vagina you have," Stewart advises those who are just beginning their G-spot journeys. This is why the aforementioned self-exploration is so crucial. She explains, "You may have a more shallow vagina or you may have a longer vagina, so finding the perfect fit is necessary if you don't want to waste your time." Below, check out some of our favorite G-spot vibrators for early self-exploration and prime G-spot stimulation.
Best G-Spot Vibrators for the Experienced
If you're a G-spot connoisseur and know exactly how to bring yourself incredible penetrative pleasure, you may be in the market for a more advanced product. The options below employ cutting-edge technology, unique shapes, and novel movements and vibration patterns so you can bring yourself to a whole new world of stimulation.
For more, visit our Sexual Wellness section, where we unpack topics around consent, kink, sex toys, and more so you can have your safest and very best sexperiences yet.
Meet the Experts
Gabrielle Ulubay is an E-Commerce Writer at Marie Claire and writes about all things beauty, sexual wellness, and fashion. She's also written about sex, gender, and politics for publications like The New York Times, Bustle, and HuffPost Personal since 2018. She has worked extensively in the e-commerce and sales spaces since 2020, including two years at Drizly, where she developed an expertise in finding the best, highest quality goods and experiences money can buy. As a film school graduate, she loves all things media and can be found making art when she's not busy writing.