How to Break Up with Dating Apps
11 ways to stop looking for love online.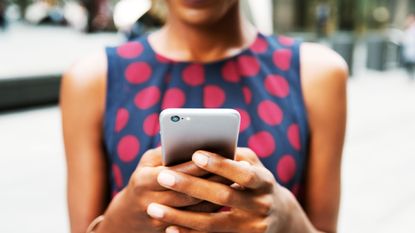 (Image credit: Tim Robberts)
You've swiped right so many times it's beginning to feel wrong. If only there were no- and low-tech ways to have a social life. Um, there are.
We hit up experts—matchmakers, relationship gurus, lifestyle coaches, and a single woman in New York City with a kickass social life—for tips on how to meet someone IRL. Here are 11 ways to get out of the dating-app trap.
1/11
In other words: Delete, delete, delete. "You'll be less tempted if you don't have access to your favorite apps," says Sophia Reed, PhD, a marriage and family therapist. "And even for those times when you are tempted, you'll think twice because you'd then have to download it again."
2/11
Live your online profile
You can spend time writing that you like a good poetry slam, riding bikes, or kayaking—or you can actually do it. "Make a list of a few things you would like to see or do outside of your house or apartment," suggests Tammy Shaklee, founder of H4M, a matchmaking service for gay professionals.
"When you're there, don't get on your device—pretend your battery is dead if you have to. Look up and around, as though you were waiting for a friend to meet you, but they're running late. Make eye contact, ask a question of a fellow attendee."
3/11
Get out of your comfort zone
Doing the same things with the same people will yield the same results. "If you have a routine and see the same friends all the time, branch out. Volunteer, attend a charity event, try a new fitness class," says Rori Sassoon, co-founder of Platinum Poire, an upscale matchmaking agency in New York, and author of The Art of the Date. "You'll broaden your horizons and your circle at the same time."
4/11
Be that person
We're talking about the one who strikes up a conversation standing in line at Starbucks, sitting in the next seat on a flight, or sizing up the produce at the grocery store. "Wherever you find yourself, put yourself out there," says Wyatt Fisher, PsyD, a marriage counselor in Boulder, Colorado. "Strike up a conversation. You never know when one of them could lead to more."
5/11
Create dating karma
Do some matchmaking of your own and set up a friend. "I've gone on dates with people who were great, but not great for me," says Lisa Holden, a 30-something single woman in New York City.
"When there's no one out there I'm interested in, I go through my dating history and look for folks I can set up. I once went on two great dates with a guy who was awesome and ended up connecting him with a friend of a friend and they hit it off. It felt great to make a love connection for someone else, and I have to believe it did good things for my dating karma."
6/11
Step into the shoes of someone you'd like to date
Where would they go? What would they do? "If you'd love to have a partner who reads a lot, become a regular browser at your local bookstore or public library," says Ana Jovanovic, a clinical psychologist.
"If you want to meet someone who shares your passion for art, see an exhibition at the local gallery or a museum. Perhaps you'd like to meet an animal lover—volunteer at an animal shelter. Be creative. The possibilities are endless."
7/11
Hit up (human) matchmakers
"Ask to be added to their free database," says matchmaker and dating coach Karenna Alexander. "You never know when they'll sign up a client who wants someone just like you."
8/11
Try speed dating
"Speed dating has been elevated and I've had success with a company called CitySwoon," says single-girl Holden. "For a small fee, they make it easy for singles to show up at a bar and get instantly matched for brief conversations. It's an efficient way to have a handful of dates in one night."
9/11
Remember the downside of dating apps
To stay offline, repeat after us: Catfishing, ghosting, lying, creeps. "Remember the reason you quit online dating is that it wasn't serving you in some way," says Reed. "Either you weren't getting dates, or you were getting bad dates, meeting crazy people, and not meeting quality people."
10/11
"Many of us go to the gym to train our bodies, but most of us don't train our minds. When you're looking for love, you have to create a mindset that love is abundant, easy to find, and all around you," Kara Loewentheil, a life coach and dating guru.
"With that thought in your brain you'll see opportunities for connection everywhere. But if your thought is 'This is so hard, no one meets in real life' or 'I'm not cool enough,' you literally might not register that your soulmate is trying to flirt with you in the grocery store line. The way you think about yourself is the most important element of successful dating."
11/11
Take yourself on a date
"Eating at the bar and chatting with the bartender can lead to a phone number exchange; a trip to the museum might yield a coffee with a friendly entomologist," shares Holden. "But that's never the goal."
"The goal is to treat myself the way I'd like to be treated and take some time for self care. I take my time getting ready: I put on my pre-date playlist and I intentionally spend some time and money only on myself, doing something I'd like to do."
Marie Claire email subscribers get intel on fashion and beauty trends, hot-off-the-press celebrity news, and more. Sign up here.