The Drama Behind Taylor Swift's TikTok-Famous Lookalike, Explained
Is it a deliberate impersonation or a case of mistaken identity?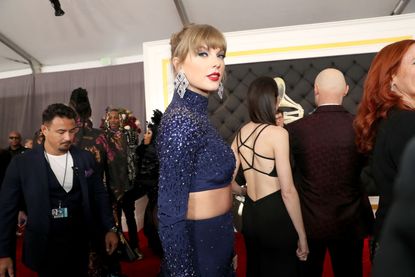 (Image credit: Getty Images)
Marie Claire Newsletter
Celebrity news, beauty, fashion advice, and fascinating features, delivered straight to your inbox!
Thank you for signing up to Marie Claire. You will receive a verification email shortly.
There was a problem. Please refresh the page and try again.
If you're on a certain Swiftie corner of TikTok, you may have noticed some drama in between the livestreams of Taylor Swift's Eras Tour stops and the deep analyses of what her outfits may be trying to tell us about her just-announced 1989 rerelease. It concerns an influencer named Ashley Leechin, who shares a resemblance to Taylor Swift and has inspired some strong responses in onlookers.
Since Ashley Leechin is now getting Taylor Swift-like headlines in her own right, it may be a good time to explain who she is and why there seems to be such a heated debate about her raging online.
Who is Ashley Leechin?
Leechin is a 29-year-old nurse, mother of two children, and a social media personality with 1.6 million followers on TikTok and another 80,000 on Instagram. On her accounts, she styles herself in many of Taylor's signature looks, bright red lipstick and all, and frequently lip syncs to Swift hits. She is a self-proclaimed fan of Swift's since the age of 13.
Though Leechin's brand is ostensibly Person Who Looks Like Taylor Swift, she told Rolling Stone's EJ Dickson earlier this year that she does not consider herself an impersonator and has not found a way to effectively monetize her lookalike status besides TikTok, where she can only "make enough to buy a coffee."
She also told the publication that she actively declines opportunities to work as an impersonator, despite their potentially lucrative paychecks. (Swifties do not tend to buy this, as will be explained below.)
Does she actually look like Taylor Swift?
Well, yes. While in "civilian" clothing she may bear more of a passing resemblance to the star, when she actively dons Swift's signature red lip and outfits that the singer herself has worn in the past, she's a dead ringer.
Compare Leechin out of Swift drag:
And in Swift drag:
It's pretty darn uncanny!
What are Swifties saying?
Some of them are not pleased.
Leechin first started posting videos and photos of herself mimicking Swift's various eras during the pandemic, when her job as a nurse was causing her enormous stress (understandable) and TikTok provided a gentle escape (and relatable).
Per Rolling Stone, Swifties were into it initially, especially after Swift actually commented on one of Leechin's posts that her own mother saw their resemblance. But when Leechin's videos kept coming, alongside more repeated references to her shared interests with Swift (a cat that looks like Swift's Meredith Grey, touring Swift's old New York apartment) and Leechin's monetization of their resemblance on the video greeting site Cameo, some members of the fandom turned on her.
Nowadays, the Swifties who aren't charmed by Leechin's antics tend to make one of two arguments: 1) That Leechin doesn't even really look like Swift, and/or 2) That Leechin has taken her fandom too far.
One frequent point of contention, as the below TikTok user explains, is that Leechin often claims that she doesn't actually look like Swift or that the resemblance is incidental, while also clearly taking steps to heighten the similarities when out in public.
The annoyance some fans have with Leechin first came to a head in February 2023, when Leechin announced that she had been offered a ticket to the Grammys by a brand, but that when she arrived on the tarmac in Los Angeles, the brand revoked the offer without explanation. Many Swift fans accused Leechin of making it up for attention, though Leechin did later provide receipts of her email exchanges with the brand in question.
How does Leechin respond to the criticism?
While there is a fairly objective resemblance between the two women, Leechin's insistence that its incidental tends to fan the flames a bit. It's unclear whether she's trolling when she says this, because as noted above, she is actively wearing Taylor Swift garb and lip syncing to her lyrics—both things that make their resemblance more striking.
While she occasionally addresses criticism directly—and even created a petition following the Grammys dust-up to put a stop to the alleged cyberbullying she received—the fact that she's continuing to celebrate new Taylor Swift releases and dressing like her favorite artist suggests she's not taking the criticism to heart.
Leechin's videos, for her part, may be the stuff of a megafan, but they don't necessarily give off the more sinister vibes that Swift's biggest fans accuse Leechin of cultivating.
These sound like preexisting dramatic conditions. Why the sudden backlash now?
Well, last week Leechin donned a serious T-Swift look (red newsboy cap, red lip, long blonde hair, big sunglasses) and, flanked by "bodyguards," took a stroll through noted celebrity sighting haunt The Grove in Los Angeles. Given that the real Taylor Swift can't even go to a friend's New Jersey rehearsal dinner without her fans shutting down an entire street, Leechin was immediately bombarded. She was even asked to leave a store after Swift fans tried to pile in after her.
Swifties on TikTok saw the stunt as another example of how Leechin's obsession with Swift has real-world consequences.
Leechin later responded to the criticism by noting that it was a "social experiment," and a prank co-orchestrated by YouTuber Victor Galvan, whose Instagram corroborates this story:
However, Leechin also claimed in the caption of her own TikTok on the prank that "[t]he fact that you don't even need to look like the actual celebrity and still get mistaken is insane," which does get to the heart of a main Swiftie complaint.
So that really wraps up the source of drama surrounding Ashley Leechin and her lookalike status. While there are a lot of strong feelings about celebrity impersonation, let's also note that nearly every major celebrity has their own doppelgangers who, inevitably, want to feel the warmth of the celebrity sun for a moment. This is not a new phenomenon—we've even covered other Taylor Swift lookalikes in the past!— but the continuation of a long-running tradition in our culture's unique obsession with celebrity worship. (That's a thinkpiece for another time.)
Celebrity news, beauty, fashion advice, and fascinating features, delivered straight to your inbox!