Weekend Travel Guide: Where to Stay, Eat, and Drink in Hollywood, Florida
There's no sign, but you'll still feel like a celebrity here.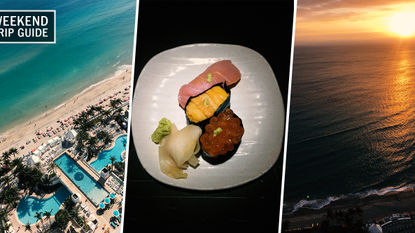 (Image credit: Courtesy of Jada Wong/Travis McHenry)
Welcome to MarieClaire.com's series on weekend travel—a smart girl's guide to making the most of those glorious two days off.
Tinseltown isn't the only Hollywood in America. Situated between Fort Lauderdale and Miami is Hollywood, Florida—an oceanfront community that's easy to skip over in favor of its better-known and more high-energy neighbors. However, it's worth making your destination if you're looking for a chill, relaxed weekend trip packed with beach time, museums, and tons of frosé.
Where to Stay
Let's be honest, you'll probably spend most of your time on the beach, so book a hotel or resort near or on it. I stayed at The Diplomat Beach Resort and spent 75 percent of my time at the beach. The other 25 percent was at the resort's pools and restaurants, but more on that later.
The Diplomat just completed a $100 million renovation, so everything is new, sparkly, gorgeous. In the lobby alone there are floor-to-ceiling glass panels, towering palm trees, couches piled with bright pillows, and wicker chairs with rope details so you feel like you're out on the sand before you even check in. There are 10 "culinary experiences," including restaurants, coffee shops, and grab-and-go kiosks. And the cherry on top of it all? The infinity and lagoon pools, which are situated on top of each other—guests downstairs in the lagoon can see people swimming in the infinity pool on top. Yeah, you bet I took advantage of that for an Instagram.
I recommend getting a suite—the rooms are massive (seriously, the size of a real, legit, non-New York City apartment) and the wraparound balcony affords amazing views of the ocean, the property, and Hollywood. Standard rooms still offer views for days, in case you don't need space that can sleep a family. I mean, just 👏 look 👏 at 👏 this.
What to Do
Activities at the resort consist mostly of eating and beaching. Amazing, if that's what your end game is for the weekend, but if you're looking to venture out, the town offers a good mix of outdoorsy and cultural things to do. The Hollywood Beach boardwalk is well-paved for a good stroll without risking splinters, and there are restaurants and bars peppered along the way for quick bites and people-watching. If you want to kayak or hike, hit up the Ann Kolb Nature Center. Meanwhile, art fiends should head over to the Art & Culture Center of Hollywood. One of the current exhibits actually lets you buy the artwork—a much better souvenir than an overpriced keychain from the typical tourist shops.
Where to Eat
Normally, I try hole-in-the-wall places when I travel—you know, the ones that only locals know and go to. But honestly, one of the perks of staying at a resort (aside from relaxing until you forget what day it is) is not having to work hard to find your next meal.
I highly recommend stepping out of your comfort zone and into your stretchy pants for a Japanese izakaya dinner at Monkitail. Chef Michael Shulson's 65-dollar, 10-dish tasting menu lets you pick and choose from an extensive list of small plates so you can try a bit of everything. You can also leave it up to the chef to surprise you, which is what I did and I couldn't have left more satisfied—or full. The broiled sea bass with truffle, soy, and pea shoots was my favorite dish by far. The fish melts in your mouth, and the soy and truffle is such a mind-blowing combo, you'll wonder how you got so far into life without tasting it sooner.
For breakfast, try the adorable coffee shop Counter Point, created by chef and Food Network star Geoffrey Zakarian. It's right next to the pool so you can grab a berry smoothie and mango coconut donut before setting up shop on your lounge chair. Still hungry? Next door is Point Royal, which offers an all-you-can-eat breakfast and an à la carte menu too.
Where to Drink
Venture down the boardwalk to Hollywood Brewing. All the beers are brewed locally and the menu is full of interesting flavors, like the Mango IPA which tastes like, well, mango, and the Bushka Stout which tastes like malted coffee. Grab a table facing the boardwalk so you can people-watch while you drink.
If you're not a beer girl, there's always frosé. Literally. It seemed like every bar inside the Diplomat had frosé on tap, so I just leaned into it. Partially because I'm basic AF, but mostly because Hollywood's warm weather and constant sunshine made it feel like summer, even though I visited in the middle of January.
Helpful Tips:
1. Wake up early to catch the sunrise. I don't think there's a bad view anywhere in Hollywood, and sunrises on the beach are just otherworldly gorgeous and worth the wake-up call.
2. Don't bother getting a rental car; you'd just be wasting precious beach time at the rental shop. You can walk to the boardwalk pretty easily and an Uber or Lyft to the nature or art centers will only set you back a few bucks. Save your money for the frosé.
3. Pack layers for unexpectedly chilly or windy mornings and nights. Staying by the beach is kind of like staying in a desert—cool mornings and nights, hot afternoons. It's best to be prepared with a sweater and jeans, even if you never use them.
Follow Marie Claire on Facebook for the latest celeb news, beauty tips, fascinating reads, livestream video, and more.
Marie Claire email subscribers get intel on fashion and beauty trends, hot-off-the-press celebrity news, and more. Sign up here.