Weekend Travel Guide: Where to Stay, Eat and Drink in Marfa, Texas
An artistic haven in the middle of nowhere.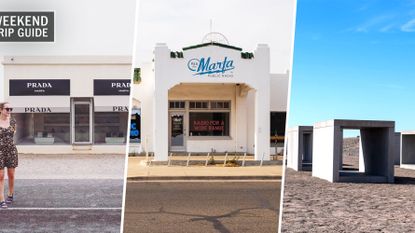 (Image credit: Getty Images)
Marie Claire Newsletter
Celebrity news, beauty, fashion advice, and fascinating features, delivered straight to your inbox!
Thank you for signing up to Marie Claire. You will receive a verification email shortly.
There was a problem. Please refresh the page and try again.
Welcome to MarieClaire.com's series on weekend travel—a smart girl's guide to making the most of those glorious two days off.
Marfa, Texas, is, at heart, a dusty western town surrounded by sprawling yellow fields and grazing cows. A three-hour drive from the nearest airport in El Paso, it's this remote landscape contrasted against a high-end art scene that creates Marfa's otherworldly magic. Artist Donald Judd plucked the place from relative obscurity and put it on the map when he selected it for both his studio space and the permanent installation of his works in the 1970s. Add in a famous Prada installation (more on that later), and Marfa was transformed into the hot spot for city hipsters, retired artsy-types, and even celebrities (hi Solange!) that it is today.

Marfa's sidewalks are mostly deserted (at least during summer's hotter months), save for the random packs of well-dressed wanderers sporting cropped linen pants and expensive leather clogs. Enter one of the town's unassuming restaurants, however, and you're transported into a bustling scene straight out of Brooklyn, complete with fanciful cocktails. Or, push open the door of what looks to be an abandoned storefront to find a highly curated shop filled with designer goods.
It's safe to say that middle-of-nowhere Marfa is definitely somewhere worth checking out. Here, the best hotels, bars, restaurants, and places to see during your visit.
Where to Stay
Marfa is teeny. The 2016 census posted a population of 1,747, so understandably, there are only a few (but all totally great) places to stay. I chose Hotel Saint George, a new boutique hotel that stands on the site of the original one, built in 1886. Minimal and sleek, it features a stylish lobby complete with a well-curated bookstore, a hopping hotel bar, spacious rooms, and Aesop products.
If you prefer lodging that feels a little less upscale and slightly more authentic-West-Texas, check out El Cosmico. Southwest-styled teepees, yurts, safari tents, and trailers sit within the desert landscape, meaning there are photo opps everywhere. While there is air conditioning, keep in mind that you will need to use a common bath house.

What to Do
Judd's presence in Marfa is still widely felt, even though he sadly passed in 1994. Buildings bare his name, and his studios, living quarters, and exhibition spaces are scattered throughout the streets and nearby fields. If you do one thing in Marfa, it's see Judd's works.

Start with a guided tour of the Chinati Foundation, a former army fort-turned-contemporary art museum, originally intended to showcase the work of Judd and his fellow artist friends John Chamberlain and Dan Flavin. There, you'll glimpse Judd's 100 aluminum sculptures housed in giant artillery sheds, along with an amazing neon light installation by Flavin. Compared to the cramped museum quarters of metropolitan cities, it feels like the works actually get the space the artists intended for them.
It's also worth touring La Mansana de Chinati/The Block, Judd's living and working quarters in Marfa. His extreme desire for simplicity and symmetry is apparent, as is his belief that working and living spaces should interact (most evident in the functional beds he placed in his studios, libraries, and exhibition spaces).
After a morning of art tours, cool off by taking a dip at the Bar Nadar Pool + Grill at Hotel Saint George. It's the perfect spot to sip a cocktail and snack on a quesadilla during the hottest part of the day.
For shopping, visit Ashley Rowe, a Canadian-born designer who moved to Marfa on a whim. She designs and operates directly out out of her store and will personally help you find the perfect pair of high-waisted, cropped jeans (made even better by an elastic waistband). For vintage, check out Raba Marfa, a husband-and-wife-run store featuring eclectic clothing, candy-colored sunglasses, and smokey-smelling apothecary goods.
Finally, did you even go to Marfa if you didn't get the coveted Prada store pic? Be sure you make a pit-stop on your way out of (or into) town at this Instagram-famous installation (sadly, it's not a real retailer) to get all the likes!
Where to Eat and Drink
Marfa's food scene is small but mighty. For early morning coffee runs, visit Do Your Thing and be sure to fuel up on their Jerusalem toast, a tasty avocado and tahini combo. For breakfast, check our Marfa Burrito, a hole-in-the-wall Mexican joint that's supposedly a favorite of Matthew McConaughey.
The Waterstop is a must-visit for lunch—every local said it was their favorite spot, and it did not disappoint. Make sure you order any dish that features roast chicken, whether it's the sweet potato and pickle torta or the chicken and waffle special.
For dinner, venture to Stellina, a Mediterranean restaurant with high ceilings and delicious share plates. Also try Cochineal, probably the fanciest spot in town with lovely outdoor seating, it's the perfect spot for a romantic date.
To get your buzz on, visit the courtyard bar at Hotel Paisano, a charming old-school oasis that also happened to house Hollywood stars like Elizabeth Taylor and Rock Hudson while they filmed Giant in 1955.

For a true Texas experience, check out the Lost Horse Saloona taxidermied-hog-wearing-sunglasses type of place (yes, there really is one on the wall). Friday nights are the busiest and they frequently have local live music—we got to see the funky Austin-based band Smiile.
Pro-tip:
Many restaurants and galleries in Marfa are closed Sunday and Monday (and even Tuesday) and it can feel like a ghost town. It's best to arrive on a Thursday to ensure you can get all your Judd tours and bar hopping in!
OTHER PLACES YOU MAY WANT TO VISIT
Celebrity news, beauty, fashion advice, and fascinating features, delivered straight to your inbox!