Weekend Trip Guide: Where to Stay, Eat, and Drink in Nashville
There's so much more to Music City than the honky-tonks.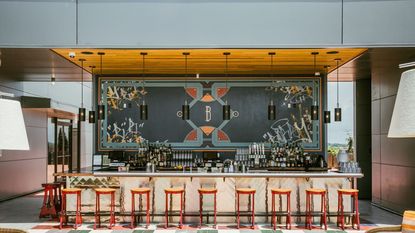 (Image credit: THE BOBBY HOTEL)
Nashville has become the new travel destination. The eclectic city still holds onto it's iconic reputation of the "Music City," but Nashville has reinvented itself as a Southern hotspot in every aspect - food, fashion, rooftops, outdoor activities, you name it. Considering it's just a few hours on a plane from most cities on the East Coast, it's also an ideal destination for a weekend getaway. So whether you're planning a trip for just you and your significant other or all of your best friends, here's where you'll want to stay, eat, and drink during a weekend in Nashville
Where to Stay
This new spot has really elevated the Nashville hotel scene. Bobby Hotel has redefined (actually, maybe defined) what southern luxury really is. Stepping into the Nashville scene, just in the Spring of 2018, this boutique hotel has already made its mark in downtown Nashville. It's located just a few blocks from the infamous Broadway, however this hotel makes you feel like you're in your own world away from the hustle and bustle, yet still a part of the Nashville coolness. What makes it so intimate is the curated details that have been hidden in every corner of the hotel - from the travel inspired rooms (featuring Paris, New York, London...) to the eclectic glass-covered bathrooms, this hotel is insta-worthy. Not to mention the rooftop. The hotel's Rooftop Lounge not only has stunning views but also boasts a 1956 Scenic-rouser bus that has been repurposed into a mini lounge, and completed with a dipping pool, cabanas and modern lounge chairs, it's the perfect spot to getaway to on a Saturday afternoon. It's one of those hotels you could get away with never leaving during your entire stay. They even have amazing restaurants and cafes - Tavern at Bobby as well as Bobby's Garage, the hotel's hidden bar.
Tip: Book your visit in the winter. The iconic rooftop transforms into a winter hideaway, featuring several heated "igloos" covered in colorful string lights serving winter cocktails including Bobby's Spiked Hot Chocolate and Bobby's Spiked Apple Cider.
What to Do
Nashville's live music scene is legendary and not to be missed. If you're more of the plan-ahead type you can nab tickets to a show at The Bluebird Café or patiently wait in line for some bluegrass at The Station Inn, but you can also drop in to see who's playing anywhere along lower Broadway at the city's famous honky-tonks. Sure, it's touristy, but it's also part of Nashville history. My recommendations? Robert's Western World always has a laid-back vibe and Miller High Life for $2.50 a pop, while Tootsie's Orchid Lounge is famously where early Opry stars would sneak out the backstage door of the Ryman Auditorium and pop across the alley for a drink in between shows.
But there's so much more to Nashville than country music. Case in point: the city's growing fashion and natural beauty scenes are worth making the trip for, too. Before a night out on the town, head over to Poppy & Monroe for an eco-friendly facial treatment or a seriously insta-worthy manicure in a lovingly restored 100-year-old house in Germantown. After a hectic month on-and-off bone-dry airplanes, their exfoliating dermaplaning treatment was exactly what my skin needed for a refresh on my latest trip to Nashville.
Over in East Nashville, drop by the recently-opened Lemon Laine to stock up on natural beauty supplies, which are conveniently arranged by skincare needs instead of brand . You can also make an appointment for their oil bar where you can create your own custom blend with natural oils provided by Clary Collection, another Nashville-based skincare company, while you sip on wine.
Bespoke denim shop Imogen + Willie helped transform the buzzy 12South neighborhood into a shopping destination that now includes Reese Witherspoon's ultra-preppy Draper James store and a modern-day general store run by Holly Williams (yes, that' s Hank Williams's granddaughter). Wondering where that "I Believe in Nashville" mural you've seen all over Instagram is? You can find that here too.
For more local favorites, head over to North Nashville where you'll find handmade leather bags at Emil Erwin, ethically-made shoes for men and women at Nisolo, plus a line of locally-designed (and affordable!) jewelry at Consider the Wldflwers, which are all conveniently located on the same block.
Where to EatHelpful Tips:
For brunch, make it your mission to seek out the best buttermilk biscuits in town. The White Lily biscuits and black pepper and sausage gravy are a must-have if you're having brunch at Husk, but you'll also want—no need!—to try a skillet of pastry chef Lisa White's perfectly flaky biscuits over at Marsh House in the Gulch. If you're not averse to waiting in long lines, Biscuit Love's biscuit sandwiches are likely to cure any hangover you might be dealing with from the night before.
If you're more of a coffee shop person than a sit-down brunch fan, stop for a cup at one of several Barista Parlor locations around town or at Crema, which is just across the street from Pinewood Social—a coffee shop, restaurant, swim club, and bowling alley all in one place. Yes, really.
Looking for a casual lunch or dinner? Locals are buzzing over the opening of Lulu, one of the city's first healthy fast-casual eateries. But if you want something with a little sustenance for a night out, head over to North Nashville for pizza and beer at Slim and Huskys, or tacos at East Nashville's Mas Tacos Por Favor. Want a burger? The Pharmacy has one of the best in town.
Be sure not to leave Music City without trying Nashville-style hot chicken. Prince's Hot Chicken is the original, and Hattie B's draws lines that wrap around the corner most days.
As for fine dining, Nashville's restaurant scene keeps getting better as new eateries open at a breakneck rate across town. Gray & Dudley at the new 21C Museum Hotel is one of the city's newest additions. While their menu of high-end takes on classic comfort food is on point, their desserts are the real showstoppers. Their warm chocolate chip cookies give New York's legendary Levain bakery a run for their money.
Looking for a night cap? Or even a pre-dinner cocktail. Walden is a true girl's paradise with nature inspired decor and the ideal atmosphere for a cocktail with the girls in the east side of Nashville. Not to mention, it does have a dog-friendly patio...
Germantown is home to some of the city's best restaurants, including 5th & Taylor, Rolf and Daughters, and City House, but be sure to make reservations at neighborhood newcomer, Henrietta Red. As a landlocked state, most wouldn't travel to Tennessee for seafood, but their raw bar has some of the best oysters I've ever tasted (get the oven-roasted green curry ones!). Not into oysters? There's plenty on the menu you'll enjoy too, including a delicious mushroom risotto and a playfully upscale take on strawberry pretzel salad.
Helpful Tips:
1. Nashville has some seriously unique places to picnic. For example, you can throw down your blanket in front of the full-size replica of the Parthenon in Centennial Park or at the abandoned airport turned public park at Cornelia Fort Airpark in East Nashville.
2. To get the most Instagrammable view of the Nashville skyline, walk over the John Seigenthaler Pedestrian Bridge and down to Cumberland Park just across the river from downtown.
3. If you have an extra day—and access to a car—drive down to Franklin, Tennessee to check out the shops and restaurants along the town's charming main street.
Follow Marie Claire on Facebook for the latest celeb news, beauty tips, fascinating reads, livestream video, and more.
Celebrity news, beauty, fashion advice, and fascinating features, delivered straight to your inbox!