Your Ultimate African Safari Guide
Get in, loser, we're going to Zambia.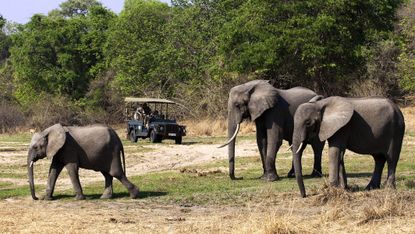 (Image credit: Bushcamp Company)
When you think of an African safari, you probably imagine South Africa, Botswana, or Tanzania. But Zambia, located in East Africa, is an off-the-beaten-track treasure that deserves serious consideration. The country may be lesser known than its neighbors for tourism, but it is just as beautiful, rich with culture, community, and untouched land.
I recently spent seven days in Zambia's South Luangwa National Park, a world-renowned protected area home to more than 460 species of mammals and birds. There, I saw breathtaking sunrises (for the first time—ever—since I have never arisen so early). I saw a baby elephant nursing. I saw lion cubs wrestling for an antelope skull. But I also learned. About the country, its people, and how to unplug from everything and actually, truly, live one day at a time.
You should try it. Here's your guide for planning a fantastic trip—Zambia will do the rest.
Take Care of the Details
Prior to traveling outside of the country, check the Center for Disease Control and Prevention (CDC) for which vaccines and medications to get before you leave. You'll want to chat with your doctor at least a month before your trip to give you enough time to schedule the vaccines and for them to take effect before you depart. A passport (valid for at least 6 months) and visa are also required for travel to Zambia.
When to Go
Late June through late September are the best times to go on safari in Zambia—starting in October, temps can soar, and some accommodations are closed from November through March for the rainy season.
What You'll See
Expect elephants, lions, giraffes, zebras, wild African dogs, hyenas, hippos, buffalo, and baboons. South Luangwa National Park also has the highest population of leopards in Zambia, so get ready to watch them slinking around (I saw one leap from a tree to attack an impala, nbd). If you're lucky, you'll also spot honey badgers, chameleons, and porcupines. Rhinos are one of the only safari staples you'll miss in Zambia—tragically, the species was poached out of the country in 1998 as a result of the black market sales of rhino horns (to learn more about rhino poaching and how to combat it, click here).
What to Pack
Clichés are so for a reason—you really do have to wear neutral colors while on safari, preferably shades of green, tan, or brown. These colors will better match your surroundings while in the bush. White and bright colors can startle animals, and black and blue hues attract teste flies, nasty little insects that have a seriously annoying bite. Do yourself a favor and invest in a few tan tee's
Speaking of bug bites, long-sleeve shirts and long pants better protect your skin from mosquitos (Zambia is a moderate malaria-risk area), and are a must if you'll be doing a walking safari, where you could brush up against plants and thorns.


Dress in layers: Most safari trips start early in the morning when the animals are active (brace yourself for a 5 a.m. wake-up call), so a light jacket is necessary. Stash a chic bandanna in your bag—this can be tied around your neck to protect from bug bites or soaked in cold water for relief on a hot day.
You'll also want a sun hat to protect your face and neck from the strong rays in the bush.
Make sure you bring along a backpack with a few other essentials:
What Not to Pack
Too. Much. Stuff. The small planes you take to Zambia do not allow hard-sided suitcases, and for most coach tickets you have to carry on your bag (certain business class tickets will accommodate a larger suitcase). Opt for a soft, carry-on sized duffle. Most lodging has laundry service, which will alleviate the need to pack outfits for every day of your trip.
How to Get There
You can't fly directly to Zambia from the U.S., so you'll need to make a pit stop first. I picked Johannesburg as my layover airport because I could fly there directly there from New York City (on South African Air), and from there I could fly directly to Zambia's capital, Lusaka. Next up, I had to get to Mfuwe, the region outside of the South Luangwa National Park. There's only one option to fly into Mfuwe, and that's Proflight Zambia. The three flights brought the travel time to a grand total of close to 24 hours. I know. But it's worth it. Wine and a sleeping mask helps.
Where to Stay
I stayed at three separate hotels run by the Bushcamp Company, a safari company operating in the South Luangwa National Park area. The company is the only operator in the southern portion of the park, meaning you won't be in competition with other jeeps to view the animals in that area.
If you stay with a safari operator, they organize all of your jeep tours with their guides. While you do have the option to self-drive through certain portions of the park, should you choose to travel alone that requires much more planning, a great sense of direction, and is more restricted in terms of timing and where you can go within the park (you can't drive in the park after sundown in your own car). You also won't have a guide with you, so you're likely to miss out on the more covert animals, which the guides are adept at spotting.
If you're staying with a safari operator, there are generally two different types of lodging options to choose from:
Traditional-style hotel: For me, this was the Mfuwe Lodge, located on the outskirts of the national park. The lodge is closer to the Mfuwe village and airport, and you have amenities like Wifi, a pool, spa treatments, and air conditioning. This style is better for those who want more amenities, Internet access, or those traveling with younger children (kids under the age of 12 are not allowed in the second style of lodging, bushcamps, described below). Even though you're outside of the park, you still are close to the action—at Mfuwe, elephants and zebras lounge outside of your cabin door, and you can watch hippos splash around from the safety of your private porch.
Bushcamps: This option is for you adventurous types. Buschcamps are accommodations deep within the national park that give you a true taste of the African bush. They are more intimate than a lodge setup (I stayed at two places, Bilimungwe and Chamilandu, each of which sleep just six people total in three private chalets) but are no less luxe—I'm talking bathe-outside-in-your-private-rain-shower-while-overlooking-an-elephant-lagoon luxe. Because you're already inside the national park, you have direct access to the animals and can spend more time exploring the far corners of the park, which you might not be able to reach had you started your day from the lodge. The downside (or upside, depending on how you look at it) is there's no Wifi. No cell service. No LTE. Definitely no Instagram. You are completely disconnected from the rest of the world, which for me was the biggest blessing of the entire trip.
The Safari Breakdown
There are a few different types of safari you can go on while in Zambia. Talk to your guide to determine the right itinerary for you.
Jeep Safari: This is the most common way to safari—you and your party are packed onto a large, open-air jeep and drive around the national park, stopping to observe animals. It's the best way to maximize your sight-seeing; because the jeep covers a ton of distance, you can check out different corners of the park and see the animals up close (a leopard was perched three terrifying feet away from me).
Walking Safari: Zambia was the first country to offer a walking safari, where you get off the jeep and follow a guide on foot, learning about the vegetation, tracking animals via footprints, and trying unique activities that you can't do on the truck (like sucking water out of a tree branch, which I did)
Art Safari: Okay, so this isn't a *real* safari, but a worthy excursion. If you need a break from seeing elephants (yeah, right), head to Tribal Textiles, a female-founded, hand-painted textile biz right outside of the park that employs local Zambians to help combat a low employment rate. They'll take you on a "safari" through the production process, where you'll get the chance to create your own piece. Be prepared to buy everything.
Get to Know Your Guides
Not only are your guides walking encyclopedias with the ability to drop facts about the amount an elephant poops in a day in a nanosecond (it's 330 pounds), but they are also incredible conversationalists, and really gave me a glimpse into Zambia's culture. Some of my fondest memories from the trip include eating traditional Zambian nshima (sticky cornmeal that is used to scoop up stewed meats and veggies) with my hands in the middle of the bush, talking politics and traditional Zambian wedding ceremonies with Fannuel, our guide for the week. Kelvin, another guide, brought us to visit the school that he attended, a school that the company he works for is now rebuilding. It's these moments and people that make a trip truly something special.
Take Some Time to get to Know the People—And Give Back to Them
The animals you'll see on safari tour are awe-inspiring, but the community visits are life-changing. Make sure to stay somewhere that gives you the opportunity to do more than just safari. The Bushcamp Company works to improve the surrounding villages—including installing 85 clean water boreholes (so that villagers no longer have to dig at the riverside for ground water, risking disease and animal attacks), and building a new school where they feed more than 1,000 students a day. I got the opportunity to visit the villages twice during my trip, spending time with the local children, adults, and teachers. Tourism majorly boosts the economy of the communities surrounding the park, so your trip is already creating a positive impact, but don't stop there. Get to know the community and the people who live on the land you are merely visiting; take the time to learn about their lives. I guarantee it will change the perspective you have on yours.
To learn more about community and sustainability in Zambia, and how you can help, click here.
RELATED STORY
Celebrity news, beauty, fashion advice, and fascinating features, delivered straight to your inbox!
Megan DiTrolio is the editor of features and special projects at Marie Claire, where she oversees all career coverage and writes and edits stories on women's issues, politics, cultural trends, and more. In addition to editing feature stories, she programs Marie Claire's annual Power Trip conference and Marie Claire's Getting Down To Business Instagram Live franchise.