The Cool Girl's Guide to Tuscany
It's not all epic vineyards and villas (but they've got those, too).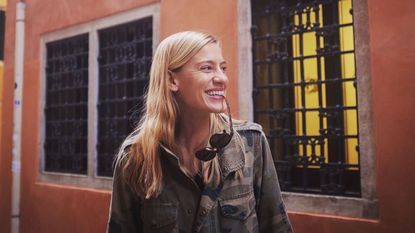 (Image credit: Courtesy of Julie Bensman)
Marie Claire Newsletter
Celebrity news, beauty, fashion advice, and fascinating features, delivered straight to your inbox!
Thank you for signing up to Marie Claire. You will receive a verification email shortly.
There was a problem. Please refresh the page and try again.
Cook With LocalsEat Lunch Al FrescoWeave Around PerugiaBite into Some BaciExplore a Castle
"My family summers in Tuscany," and "Oh, this wine? It's from our vineyard in Tuscany," are phrases I'd like to utter at some point in my life. Until that becomes a reality, I have to settle for shorter visits.
This fall I got my fix with the help of a great Trafalgar travel director and some cool fellow travelers I met on a guided Trafalgar vacation. And while, sure, it's imperative that you explore this gorgeous region with interesting people who also like to eat, drink and be merry, it's also important you do it the locals' way (the bonus of having a Trafalgar local specialist). Read on for how to do just that—and have your credit card handy. You're going to want to book a trip ASAP.
Cook With Locals
Our Trafalgar group was lucky enough to join Chef Saraceni Libero in the kitchen of Villa Machiavelli, an insanely beautiful estate in the heart of Tuscany. (Chef Libero and his two sons run Villa Machiavelli's Ristorante Albergaccio.) The featured dish of the day? Italy's most perfect squash blossom, purchased on a morning excursion to the local market. The Tuscan way to eat them, explained Chef, is the purist way: lightly battery and flash-fried, using the lightest touch. It took me a while to learn the technique: light back-and-forth motions in the batter with a flick of the wrist—never dunk!—but soon, it was second nature.
Eat Lunch Al Fresco
Built 500 years ago, Villa Machiavelli is set against nearly 70 acres of olive groves, cypress trees and rolling vineyards, with an underground cellar where the artist Nicccolò Machiavelli himself lived during his long exile from Florence. But the most special feature is the Villa's outdoor terrace, with sweeping views of vineyards that produce grapes used to make fabulous Chiantis. Under the Tuscan sun (sorry, I had to), eating the food you've cooked with new friends, sipping dessert wine and munching on biscottis, I had an epiphany: I could gladly hang out here every day. Unfortunately, both of Chef Libero's sons are married. I'm still working on a Plan B.
Weave Around Perugia
Just a short car ride away from Tuscany sits the Umbria region, which houses, among other things, Assisi, the birthplace of St. Francis and the monastery where he lived in 1212. The monastery is now home to a textile workshop called Giuditta Brozetti, one of Italy's few remaining ateliers specializing in hand-weaving on antique "Jacquard" frames. We stopped by to support local artisans and meet the people who are keeping the ancient traditions alive, like fourth generation weaver Marta Cucchia hand-weaves fabrics for top fashion houses, as well as traditional "Perugian tablecloths" (which you may associate with Medieval prints.) Look for the griffin and fountain of Perugia, signatures on every cloth.
Bite into Some Baci
Made of creamy nougat and chopped hazelnuts enveloped in smooth dark chocolate with a multilingual love note inside, you can find these "kisses" pretty much anywhere in Italy (including run-down roadside gas stations, where the shelves are filled with cigarettes, tumbleweeds and...Baci). They're still using the same recipe as when they started in the 1930s and are exclusively produced in Perugia. Baci's tagline is "Saying 'I love you' the Italian way," which basically summarizes my trip in a (hazel)nut shell.
Explore a Castle
Castello del Trebbio, a 12th century castle set on 150 acres of gorgeous Tuscan vineyards, is filled with sights, smells and sounds that are pure Tuscany. And not only does Castello del Trebbio produce some amazing Chiantis (we were able to taste some delicious bottles), but they're also famed for their extra virgin olive oils. In fact, Anna Baj Macario, the estate owner, also serves Florence Chamber of Commerce as an official extra virgin olive oil taster (Side Note: How does one/me acquire this job?). She explained that you should never be afraid to bring your own olive oil to a restaurant—so next time you see me pull a mini bottle of Castello del Trebbio EVOO out of my purse, don't judge.
For more on Tuscany, watch the video below:
Follow Marie Claire on Facebook for the latest celeb news, beauty tips, fascinating reads, livestream video, and more.
Celebrity news, beauty, fashion advice, and fascinating features, delivered straight to your inbox!