The Cool Girl's Guide to Venice
Here's the non-touristy way to visit the most romantic city on earth.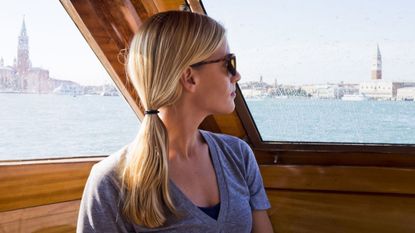 (Image credit: Marie Hennerchart)
Exploration with an ExpertModern Art MasterpiecesBoat LifeSignature StationeryRainbow-Bright BuranoPeach Perfection
At first glance, Venice feels more like a movie set than a real city where people live and work. But once the reality sinks in that this idyllic place is a living, breathing, and floating metropolis of culture, characters, and cucina, a love for this city will stay in your heart forever. Is that cheesy? Absolutely. But I'm one of the converted ones.
This wasn't my first visit to Venice, and while I've certainly enjoyed roaming the city tipsy on Aperol spritzes in the past, I recognized the fact that cichetti pubs and cafe-hopping with friends wasn't exactly getting to the cultural heart of the city (just my stomach). So I was excited to reutn to the city on a Trafalgar guided vacation to see all the cool stuff I was likely missing before. Led by the interesting, super-knowledgeable travel director named Tony, I was struck by Venice's charm, beauty and libertine ways in just a mere 48 hours in the city.
Here, six of the most magical parts of my recent Venice trip.
Exploration with an Expert
In addition to Tony, our Trafalgar local specialist, Natasha, was a sprightly born-and-raised Venetian. Sure, she showed us the typical tourist stops like Rialto Bridge and Doge's Palace but she was also full of secret stories behind each place. ("There wouldn't be history without gossip!") She told us Venice was an original Vegas of sorts, a total party town where seemingly nothing was off limits: Sex, drugs and the early libertine version of rock 'n roll. Case in point? Casinos disguised as hotels, built above archways with peepholes in the floors, so that when the lookout guy saw la policia coming, the gamblers could escape through a secret back door.
Modern Art Masterpieces
Venice's Peggy Guggenheim Museum is a relaxed, gorgeous, finely-curated space with an outdoor garden so lovely I was nearly tempted to leave my group behind and just stay there forever. The late Guggenheim was an American art collector and a rebel (shaving off her eyebrows in high school, working in a bookstore instead of marrying rich... you get the idea) who saved dozens of modern art masterpieces from being destroyed during World War II. Her museum—and the place she is now buried alongside her beloved dogs—is a modern art lover's dream, with an eclectic mix of Cubism, Surrealism and Abstract Expressionism.
Boat Life
Vaporettos (water taxis, for non-Italian-speakers) were my favorite method of getting around town for two main reasons: 1) Fabulous panoramic city photo opps by water 2) Chill moments to chat with new friends—and, nip into some mini bottles of Amaretto we snuck onboard. For a more romantic water-based vehicle, there are also, of course, the famous gondolas, which offer a lazy, relaxing way to see the beautiful city. But take note: When you reach land, this is not a city for stilettos. Venice was built on stilts and, over time, the ground has naturally settled, leaving uneven cobblestone streets and misaligned buildings. It's such a unique experience, you'd be remiss to skip it while visiting Venice!
Signature Stationery
I'd stumbled upon Scriba stationery boutique on a previous visit, and insisted our Trafalgar group stop quickly this trip so I could pick up some signature Venetian notebooks with marbled watercolor covers. Admittedly, I'm a stationery nerd and send handwritten cards to friends on any and every occasion—and I've found my kin at Scriba, where they are championing all things calligraphy, bookbinding and penmanship. If you're not as fanatical as I am, the handmade leather notebooks are the perfect travel companions for jotting down holiday notes on the fly.
Rainbow-Bright Burano
The island of Burano, or rather, the "best kept secret in Venice," as Tony put it, is Instagram GOLD, with row-upon-row of small, brightly painted houses, fresh white laundry hanging out to dry, little gold address plaques, and street cats basking in the sun. And if you're hungry (because, when aren't you hungry while in Italy?), Burano's history as a fishing village means excellent seafood.
Peach Perfection
All of Italy loves a bubbly beverage (like the aforementioned Aperol spritz), but no cocktail reigns more supreme in Venice than the Bellini, which was born at the inimitably chic Harry's Bar, founded by Giuseppe Cipriani. Named after Giovanni Bellini, a fifteenth century Venetian painter, the cocktail—made with just Prosecco and white peach purée—may seem simple, but it's the technique that matters. Everything must be as ice cold as possible (especially the glasses), with a ratio of one part white peach purée to three parts Prosecco. Harry, we toast you.
For more on Venice, watch the video below:
Follow Marie Claire on Facebook for the latest celeb news, beauty tips, fascinating reads, livestream video, and more.