The Best National Parks for Every Kind of Vacation
They're legitimately life-changing.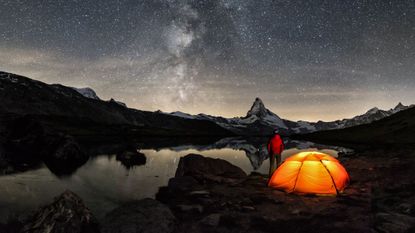 (Image credit: DieterMeyrl)
For a Laid-Back Beach TripFor Red Rocks and Blue SkiesFor Scenic Desert DrivesFor Glamping Under the StarsFor a Rejuvenating WeekendFor Untouched BeautyFor Iconic Valley ViewsFor Total SeclusionFor Camping in an Ancient VolcanoFor an Adventure Before You Even Arrive
Looking for an end-of-summer trip that's a little more exciting than tanning by the pool? You don't even need to board an international flight to experience the best of the great outdoors—just visit one of the 61 different national parks in the United States. Many of the parks offer activities ranging from horseback riding and scenic drives to intense rock climbing and backpacking.
We've curated a list of the most vacation-worthy parks for your next adventure—just remember to Leave No Trace.
For a Laid-Back Beach Trip
Indiana Dunes was declared a national park in 2019, making it the newest addition to the national park service. The park includes 15 miles of the Lake Michigan shore, pristine beaches, and more than 50 miles of hiking trails. Take the free shuttle to one of the eight beach sites or kayak on the newly designated Lake Michigan Water Trail.
For Red Rocks and Blue Skies
Explore the picturesque sandstone arches and pinnacles of the American Southwest at Arches National Park. More than 2000 unique stone arches can be seen from hiking trails that range in distance from 0.3 miles to seven miles. Stargazing is popular and, no wonder, since the park's dark night skies allow visibility of more than 2,500 stars (and, in the right conditions, even the rings of Saturn). The city of Moab is only a 10 minute drive away, and is a passage to numerous other national parks and recreation areas, like Canyonlands National Park and Sand Flats Recreation Area.
For Scenic Desert Drives
Joshua Tree National Park, California
Joshua Tree National Park is where the Mojave and Colorado deserts meet, home to more than 800,000 acres of desert wilderness. While the park has plenty of outdoor recreation, including camping and world-class climbing for all skill levels, it's also easy to view the whole park without walking more than a few steps at a time. Drive from the park's South Entrance to the West Entrance, and stop to see the roadside exhibits and massive Joshua trees along the way. Visit Skull Rock for a photo-op and drive up to Keys Point, where on a clear day, you can see all the way to Mexico. Los Angeles and San Diego are both just a few hours away, so make it a road trip and stay in one of these neighboring cities.
For Glamping Under the Stars
Roughing it not your thing? Try camping out in Zion with Under Canvas. Their luxury tents are located right on the border of Zion National Park and are a comfortable gateway to the iconic American southwest. Each tent can accommodate 4–6 people, and all include beds with lush linens, chic decor, and wood burning stoves. You can also choose a deluxe or stargazer tent, which have their own private bathrooms. Massages are available by appointment, as well as guided kayak tours, helicopter tours, and horseback riding.
For a Rejuvenating Weekend
Hot Springs National Park, Arkansas
Relax at "The American Spa" in Hot Springs, Arkansas. The park is home to 40-plus geothermal hot springs, which reach temperatures up to 143 degrees Fahrenheit. While the outdoor pools are too hot to bathe in, you can visit one of the park's historic bathhouses that allow you to experience the healing mineral water at safe temperatures.
For Untouched Beauty
Crater Lake National Park, Oregon
What used to be an active volcano is now the deepest lake in the United States. Crater Lake National Park possesses some of the cleanest water in the world. In the summer, hike down the one mile trail, which leads you to the shore where you can take a dip in the crystal-clear water. You can even book a boat tour to Wizard Island in the middle of the lake.
For Iconic Valley Views
Yosemite National Park, California
Yosemite National Park is easily one of the most accessible national parks for visitors of all ages, with numerous visitor's centers, shops, restaurants and a shuttle service. Enter the park via Highway 41 and drive through Wawona Tunnel to Tunnel View, where you can see the iconic monuments of Yosemite Valley—El Capitan, Half Dome, and Bridalveil Falls—all in one place. Hop on one of the park's shuttle lines to Half Dome Village, where you can shop for local treasures or rent bikes for the day. If you're feeling more adventurous, the seven mile round-trip hike to the top of Yosemite Falls is worth the 3,000-foot elevation gain thanks to the panoramic view of the valley you're rewarded with at the end.
For Total Seclusion
Great Sand Dunes National Park, Colorado
This southern Colorado hidden gem boasts the tallest sand dunes in North America, and is also an International Dark Sky Park. Clear skies and limited light pollution create the perfect conditions for stargazing. Embark on a guided night hike through the dunes, or get a camping permit for one of the quietest night's sleep you've ever had.
For Camping in an Ancient Volcano
Haleakala National Park, Hawaii
In case you needed another reason to visit Maui, you can sleep in the crater of a dormant volcano in Haleakala National Park. Book one of the three rustic wilderness cabins for an immersive experience in the Hawaiian volcanic landscape. The park hosts two different areas—the Kipahulu District and the Summit District. Access the lush subtropical Kipahulu District 12 miles past the town of Hana on the popular Hana Highway. The more sequestered Summit District (there are no gas stations or stores) is home to a host of native Hawaiian plants and animals and a stark desert landscape, free of light and environmental pollution. Register to view sunrise from the Summit District for $1.
For an Adventure Before You Even Arrive
Gates of the Arctic National Park & Preserve, Alaska
If exploring the remote terrain of the Alaskan Wilderness sounds like the adventure you're looking for, visit Gates of the Arctic National Park. There is no paved road to the entrance of the park, no trails, and no visitor services, so all travelers have to be totally self-sustained. From November to March, temperatures can get colder than -30 degrees Fahrenheit, but the extreme cold is counterbalanced by the aurora-filled skies. In the summer, the weather hovers around a balmy 50 degrees, and caribou herds, sheep, and wild foxes can be seen. Guided day trips and overnight camping can also be arranged via air taxi if you don't have proficient backcountry experience.

For more stories like this, including celebrity news, beauty and fashion advice, savvy political commentary, and fascinating features, sign up for the Marie Claire newsletter.
RELATED STORIES
Celebrity news, beauty, fashion advice, and fascinating features, delivered straight to your inbox!
Jae Thomas is a contributor at Marie Claire Magazine. You can find her avoiding single-use plastic at all costs, cooking a new recipe every week and trying to visit all 61 National Parks.