How to Spend 24 Hours in Salem, Massachusetts
The Halloween capital will put a spell on you.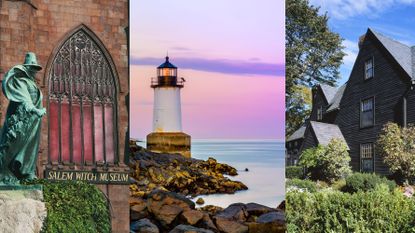 (Image credit: Getty)
If you're a fan of the occult and macabre, chances are you've had Salem, Massachusetts on your travel bucket list since the first time you binge-watched Hocus Pocus. The 400-year-old New England town is infamously known for the Salem Witch Trials of 1692—most notably dramatized in Arthur Miller's 1953 play (and required high school read) The Crucible—and has become a global destination for Halloween lovers and history junkies alike over the last few decades.
Salem proudly displays its witchy heritage (fun fact: a witch serves as both the local police department's trademark insignia and the Salem High School mascot), and while you can visit its sites all-year-round, the month-long annual Haunted Happenings festival in October is when you can experience the town's spooky spirit at its fullest potential. Here, the best way to spend 24 hours in the "Witch City."
Get a Spellbinding History Lesson
To fully appreciate Salem, you need to know its deep-rooted past. Start your trip off by visiting the Salem Witch Museum, which offers an in-depth presentation of the 1692 Witch Trials (guided by a sinister recorded voiceover and some seriously creepy wax figures) followed by a fascinating look at how the perception of witches has evolved throughout history. (This is the most visited museum in Salem, so I'd suggest getting there right when it opens to beat the rush.)
Continue your history lesson with a live-action reenactment of the trials at the Witch Dungeon Museum, followed by a tour of a recreated dungeon where many of the accused were imprisoned. You can also check out Imprisoned! 1692, a walking tour that relives the horrors of the Old Witch Gaol (jail) at the actual dungeon location (it's now a corporate office building, but locals claim that the site is one of the most haunted in Salem). Finally, head over to the Instagram-friendly Witch House, the gothy former home of Judge Jonathan Corwin and Salem's only remaining building with direct ties to the 1692 events.
Now that you're witch trial-ed out, The House of the Seven Gables is another historic abode worth visiting; it's slightly outside of the city center, but a must-see if you're a fan of old, dark romantic literature and colonial architecture.
Go Shopping in Your Halloween Costume
The heart of Salem's Halloween-themed activities is located near the Essex Street Pedestrian Mall, where the town's Creative Collective merchant market takes place. Here you'll find a plethora of costume-clad street performers, psychic shops, street food vendors, haunted attractions, and bar crawls.
Shop artisan soy candles at Witch City Wicks or snag some custom-fit fangs and gothic jewelry at Vampfangs. Read up on occult literature at Wicked Good Books and stock up on steampunk home decor at Emporium 32.
Essex Street is also home to Count Orlok's Nightmare Gallery, an absolute must-visit for horror movie fans. The cinematic museum features more 60 life-size wax figures of your favorite movie villains (Frankenstein, Freddy Krueger, Chucky—you name it) professionally crafted by Hollywood special effects artists. If you need a breather from all of the Halloween action, the Peabody Essex Museum, only a stone's throw away, features a wide variety of work by artists from all over the globe.
Indulge in Seafood & Sweets
All of that ghoulish gallivanting is likely to work up an appetite and, luckily, Salem is host to a thriving food scene. For brunch, go to Sea Level Oyster Bar, a lively, casual spot with breathtaking views of Salem Harbor. It's New England, so the fresh seafood and raw bar are top notch (my personal picks are the shrimp cocktail, lobster egg white frittata, and seafood shepherd's pie), but the non-pescatarian options are just as delicious.
Wind down for dinner at Adriatic, a cozy, dimly-lit restaurant that serves up traditional Italian dishes with modern Mediterranean twists. Make sure you order the "bag of munchkins" (a.k.a. lobster corn fritters)—they're amazing.
Need a sugar rush? Head over to Kakawa Chocolate House for some of the best hot chocolate you've ever tasted. The premium chocolate shop offers one-of-a-kind truffles, drinking chocolate elixirs, agave caramels, solid dark chocolates, and homemade ice cream. You'll never be able to drink grocery store powdered mix again.
If you're still feeling peckish at the end of your journey, grab a nightcap and a hearty bowl of clam chowder at Turner's Seafood in Lyceum Hall. Be warned: The historic restaurant is allegedly haunted by a lady in white, so you might end up dining with an unexpected visitor.
Uncover Spooky Secrets on a Haunted Tour
The best way to end your day in the Halloween capital is with a good old fashioned haunted tour. There are literally dozens to choose from, which can be overwhelming, but I highly recommend going with Spellbound Tours. Dr. Vitka–an actual paranormal investigator–is your leader, keeping you engaged with his seasoned, "historically accurate" knowledge of Salem's dark past.
You'll learn stories about modern-day vampires, visit documented haunted sites, uncover little-known facts about the infamous witch trials, and see where Hocus Pocus was filmed (including the town hall where Bette Midler performed the legendary "I Put A Spell On You" dance number).
For more stories like this, including celebrity news, beauty and fashion advice, savvy political commentary, and fascinating features, sign up for the Marie Claire newsletter.
RELATED STORY
Nico Amarca is a New York City-based editor, stylist, and creative producer. His interests include fashion, horror films, shoegaze rock bands, and internet subcultures. His celebrity look-alikes have been alleged to include David Wright, Zac Efron, and Slim Shady.