The Instagram Guide to St. Lucia
The majestic island is home to the twin Pitons, rainforests, and Insta-worthy sunsets.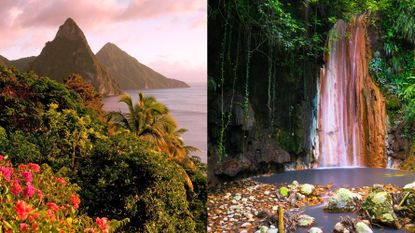 (Image credit: Getty Images)
Marie Claire Newsletter
Celebrity news, beauty, fashion advice, and fascinating features, delivered straight to your inbox!
Thank you for signing up to Marie Claire. You will receive a verification email shortly.
There was a problem. Please refresh the page and try again.
Editor's note: As we continue to practice social distancing, we encourage our readers to check the Center for Disease Control website for up-to-date information on how to safely travel during the COVID-19 pandemic. For now, bookmark this Instagram travel guide for inspo—you're going to love it.
The 240-square-mile Caribbean island of St. Lucia is home to iconic twin mountains, the Pitons, which create a striking presence that defines the west coast of the island. Nestled alongside the mounds are idyllic beaches and colorful fishing villages. If you don't think it can get any better than that, the center of the island hosts lush rainforest dotted with waterfalls and volcanic sulphur springs. Translation: St. Lucia is beautiful and majestic.
In order to protect both locals and visitors from COVID-19, St. Lucia has a "bubble" system. When you arrive at the island's airport (with a completed pre-arrival registration form and negative COVID-19 PCR result) you are given a wristband and shuttled into an approved taxi (or helicopter!) directly to your COVID-compliant hotel. Currently, you can't rent a car to explore the island on your own—you can only stay within approved "bubble" hotels, transport, and tours. Since you'll be staying at your resort for most of your stay, consider hotel-hopping so you can check out different parts of the island. More on where to stay and what to treat yourself to on the island, below.
Explore the Pitons
The twin Pitons, the island's most famous landmark and a World Heritage Site, are on the southwestern coast of St. Lucia. Gros Piton (2,530 feet high) stands just slightly above Petit Piton (2,438 feet high). If you're adventurous, you can climb Gros Piton in two to three hours. If you're looking to relax, sail around the mountains with a bottle of the local beer, Piton, named after the landmark.
Stay at Jade Mountain Resort
The bold design, which includes stone columns and crisscrossing bridges, from Jade Mountain Resort architect and owner Nick Troubetzkoy, celebrates the beauty of St. Lucia; the luxury features—like private infinity pools—transport you to an other-worldly kind of extravagance. The 29 rooms (which they call sanctuaries, and you will too) are so spectacular that you may never want to leave your accomodations. Luckily, a team of domos (butlers) can make that happen, bringing you room service, scheduling in-room massages, and providing you with anything else you might need.
Sleep Surrounded by Nature
Jade Mountain is built around its perfect view of the Pitons and the bright blue Caribbean Sea. The rooms don't have TVs; instead, with the fourth wall of the hotel room entirely absent, sparkling water, stunning sunsets, and stargazing are your entertainment. You'll wake up to mornings of sunshine and chirping birds—light sleepers will appreciate the eye mask and earplugs that housekeeping puts out during turndown service.
Scuba Dive in Warm Blue Waters
Under the waters around St. Lucia are 22 incredible dive locations including shipwrecks, coral reefs, caves, and trenches. The Marine Park ecosystem is home to more than 150 different species of fish like peacock flounders, octopus, moray eels, parrot fish, and more.
Relax at the Beach
Underneath Jade Mountain resort is Anse Chastanet Beach, which it shares with its sister property. The peaceful waters are home to incredible snorkeling (use of snorkels, as well as paddleboards and kayaks, are complimentary for resort guests). Or, as an exercise in true relaxation, just lay back and relax under a shady palapa and sip on a cocktail from the beach bar.
Get Jazzy During a Sunset Cruise
Take in live saxophone music and a champagne toast as day turns to dusk during the weekly Jazzy Champagne Sunset Cruise aboard catamaran Miss Babsie. Climb to the top of the double-decker boat to take in golden hour views of the coastline from Anse Chastanet Beach to the Pitons.
Try Chocolate Making
St. Lucia's cocoa history dates back to the early 1700s and the island now produces gourmet sweets. Chocolate lovers can see how their favorite sweet treat goes from cacao fruit to finished bar at Emerald Estate's Chocolate Laboratory.
Head North to Cap Maison
Rodney Bay, in North St. Lucia, is the most popular resort area of the island and close to Cap Maison, an elegant resort on the cliffs above Smugglers Cove Beach. The 49 Spanish-Caribbean-style rooms, suites, and villas offer private terraces and charming details like hand-painted tiles. Relax at the resort's two-tier pool or head down to the beach for lunch at The Naked Fisherman.
Don't Miss the Champagne Zipline
On Rock Maison, a secluded deck for private dining, you can enjoy a bubbly brunch, epic sunset drink, or romantic dinner, with your refreshments arriving via the beloved Cap Maison champagne zip line. The only view better than the unobstructed scenery of Martinique to the north and Pigeon Island to the west and the magnificent Caribbean sea spreading out in front of you, is watching your champagne zip towards you.
Pack Light, Bright, and Breezy
St. Lucia is consistently warm throughout the year, so pack breezy dresses, colorful separates, rattan bags, and plenty of swimsuits. Opt for shades of blue to match the ocean and lightweight fabrics like linen and silk to keep you cool.
St. Lucia runs on 220-240 volt electric current, so you should bring a converter and plug adapter to use U.S. chargers and appliances. The official currency is the Eastern Caribbean Dollar (XCD), though U.S. dollars and credit cards are widely accepted, so you likely won't need to exchange your money.
If you've fallen in love with St. Lucia, book a trip here.
RELATED STORIES
Celebrity news, beauty, fashion advice, and fascinating features, delivered straight to your inbox!
Michelle Stansbury is a San Diego-based freelance writer who writes about travel, food, cannabis, and relationships. Misuse of the word "literally" drives her figuratively insane.