The Instagram Guide to South Andros, Bahamas
The largest, most sparsely inhabited island in the Bahamas is perfect for social distancing.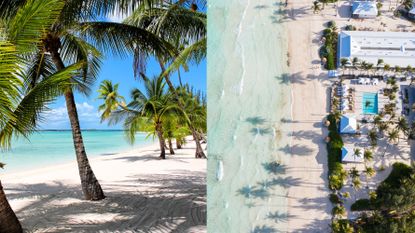 (Image credit: Courtesy Caerula Mar Club)
Editor's note: As we continue to practice social distancing, we encourage our readers to check the Center for Disease Control website for up-to-date information on how to safely travel during the COVID-19 pandemic. For now, bookmark this Instagram travel guide for inspo—you're going to love it.
With more than 90 miles of pristine beaches, Andros is the largest island in the Bahamas and the fifth-largest island in the Caribbean. Fishermen know Andros as the bonefishing capital of the world, but the island has mainly stayed off the tourist radar—making it the perfect place for a socially-distant getaway.
Andros is one of the "out islands" of the Bahamas, where cruise ships never come to port and no high-rise hotel has ever been built. The area is actually made up of three main islands—North Andros, Mangrove Cay, and South Andros, which are connected by bridges—and covered in mangrove forests, wetlands, palm savannas, wild orchids, and, of course, secluded beaches. East of Andros is one of the world's largest coral reefs and beyond that, the deep blue Tongue of the Ocean. This deep water basin separates the islands of Andros and New Providence, attracting snorkelers and divers.
RELATED STORY
As for COVID-19 safety protocols, the Bahamas requires visitors to submit a health visa (all visitors are required to opt into a $40 COVID-19 health insurance) for approval before visiting. You'll need to take a COVID-19 PCR test within five days of travel and upload your negative result, along with scanned travel documents and a health questionnaire found here. If you're staying in the Bahamas for more than five days, you'll take a COVID-19 rapid antigen test on the fifth day of your visit as well. Additionally, the Centers for Disease Control and Prevention (CDC) requires proof of a negative COVID-19 test or documentation of having recovered from COVID-19 for all air passengers arriving from a foreign country to the United States, so you'll need to get a test before you leave.
If you're comfortable traveling after reviewing the island's safety protocols, find out where to stay, what to do, and what to eat in South Andros, below.
Make a Pit Stop in Fort Lauderdale
The best way to get to South Andros is to fly the Makers Air shuttle from Fort Lauderdale, Florida. The 10-seat plane will take you to Congo Town International, the island's airport, in about an hour. To catch an early morning flight, stay the night before your trip in Fort Lauderdale at the Hyatt Centric Las Olas.
Stay at the Caerula Mar Club
If you've ever seen HGTV's Renovation Island, you know about luxury resort Caerula Mar Club, owned and designed by Bryan and Sarah Baeumler. The resort is the first to open in South Andros in almost 20 years, breathing new life into the area. The boutique property offers only 18 oceanfront suites and six private villas dotting the expansive resort, so you don't have to worry about crowds. If you're staying more than five days, the resort can administer your day-five COVID-19 rapid antigen test on site.
Kayak or Standup Paddleboard in Turquoise Waters
If the ocean waves are gentle enough, grab a standup paddleboard from the resort to explore the coastline. With bigger waves, opt for a kayak to paddle out into the crystal blue water.
Swim Through Elusive Blue Holes
If you aren't afraid of the mythical Lusca sea monster that guards Andros's blue holes, jump into the water and explore the natural caves. A local guide can help you discover the best spots and explain the island's flora and fauna along the way.
Eat Lunch Poolside at Drifts
Drifts straddles the beach and pool area at Caerula Mar, making it the perfect spot to order lunch with your toes in the water. Fish tacos are made with the catch of the day and salads are filled with vegetables from nearby gardens. Order a Piña Colada to go with your lunch—made with fresh pineapple and topped with toasted coconut!—or heat things up with a spicy Bloody Mary.
Snorkel in One of the Largest Coral Reefs
The Andros Barrier Reef is the third-largest in the world and home to stunning sea life. On the island side, the reef drops to about eight feet; on the ocean side, it plunges to a depth of more than 6,000 feet.
Sample Delicious Fried Conch
Head over to The Pointe for a typical Bahamian lunch of fried conch and a local Kalik beer. The casual restaurant offers sweeping ocean views and outdoor gazebo seating.
Catch the Sunrise at Kemp's Bay Beach
Wake up early one morning and head to what's considered the most beautiful beach in South Andros: Kemp's Bay. For a perfect start to the day, kick up your feet and watch the sunrise with a mimosa in hand.
Fine Dine at Lusca
For an unforgettable dinner, experience South Andros's sole fine-dining restaurant: Lusca. The restaurant, located at the Caerula Mar, is led by Argentine chef Sebastian Perez and provides a new menu inspired by seasonal ingredients each night.
If you've fallen in love with South Andros, book a trip here.
RELATED STORIES
Celebrity news, beauty, fashion advice, and fascinating features, delivered straight to your inbox!
Michelle Stansbury is a San Diego-based freelance writer who writes about travel, food, and relationships. Misuse of the word "literally" drives her figuratively insane.