14 of the Coolest Airbnbs in the World That You Can Book Right Now
These Pinterest-worthy getaways are all under $200 a night.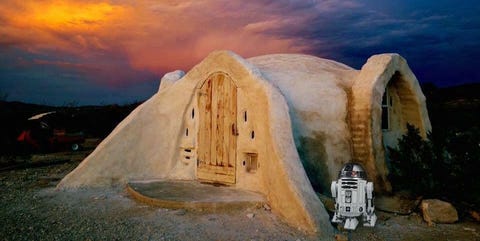 As we endure blistery winter weather, it's easy to dream about treating ourselves with some much-needed relaxation and maybe even a weekend getaway (or two). To encourage your fantasies, we've found some of the coolest Airbnbs on the market right now—and they're each less than $200 per night. From Texas deserts to the valleys in England and a handful of islands in the Caribbean, we've found the perfect—and affordable!—listings to make your vacation visions a reality.
1
A modern Santo Domingo apartment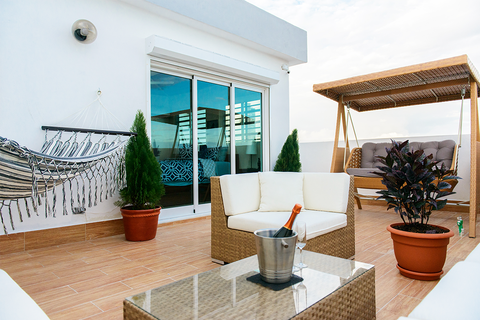 In the capitol of the Dominican Republic sits this chic space with all the modern-day trappings you need: HD TV, wifi, hot water, and air conditioning.
Price starts at: $34 per night
Special features: Private furnished outdoor terrace
2
An artistic home in the Carribean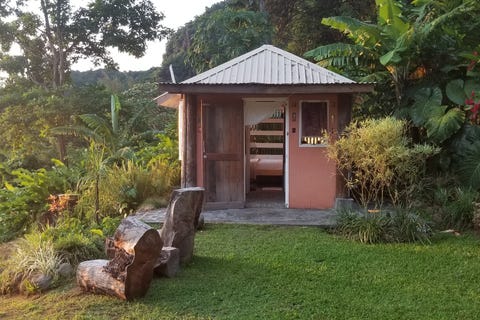 The walls of this cozy cottage on the island of St. Vincent and the Grenadines are adorned with colorful glass bottles and conch shells.
Price starts at: $40 per night
Special features: Property located on a private garden
3
A quaint San Juan studio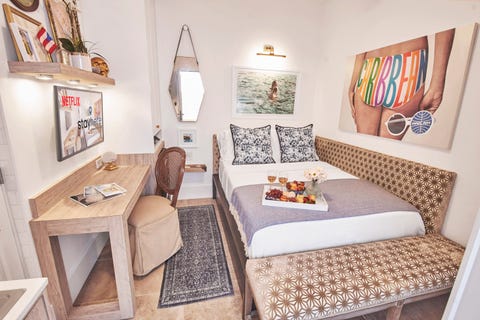 The charming decor in this pad provides the perfect Caribbean retreat for you and your partner.
Price starts at: $60 a night
Special feature: A relaxing hammock in a private patio
4
A reclusive Arizona cabin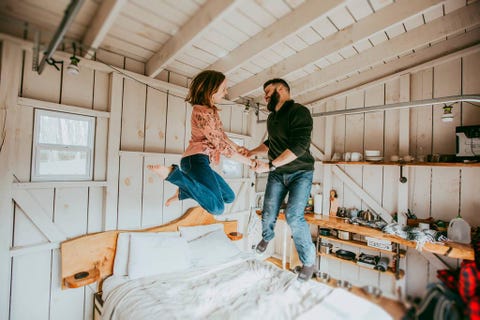 Hidden amidst acres of Candler, Arizona foliage is a tiny cabin on a gated, mountain-top property. But be prepared for truly "off-the grid" living, as cell phone service is not promised, there's a seasonal outdoor shower that uses rainwater, and a bring-your-own-cooler policy since there's no fridge.
Price starts at: $69 per night
Special features: A glass garage door with scenic mountain views
5
A New Mexican trailer with mountain views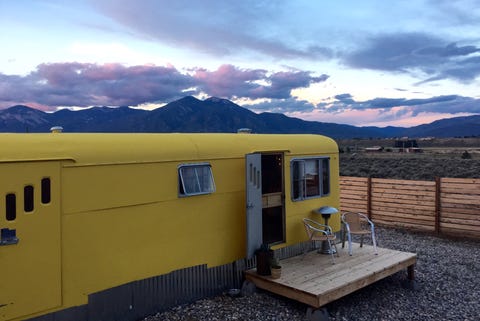 Another enchanting mobile home, this bright yellow trailer located in Taos, New Mexico brings mid-century charm to a secluded escape with breathtaking sights.
Price starts at: $74 per night
Special feature: An outdoor fire pit in a fenced-in yard.
6
A restored 1940s train in Pennsylvania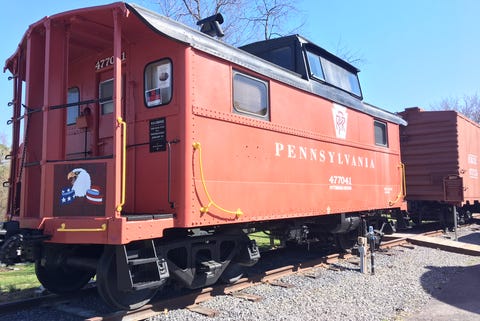 In Lock Haven, not too far from Penn State University, is this incredibly unique caboose getaway equipped with two twin beds, a quaint dinette, and the industrial details of a historical train.
Price starts at: $74 per night
Special feature: It's placef right next to a kiosk that provides the history of the Castanea Railroad Station
7
A vintage Los Angeles trailer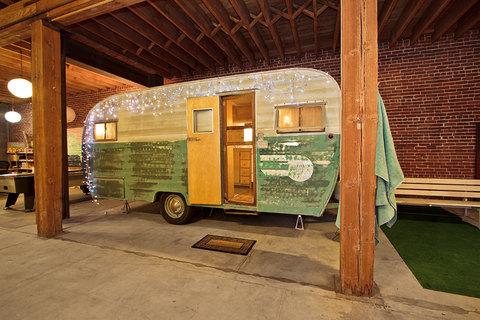 This 1954 trailer is located inside a huge downtown LA. rustic loft—a quirky private room in an expansive shared space.
Price starts at: $79 a night
Special features: An indoor swing and private garden

8
A tropical Australian tiny home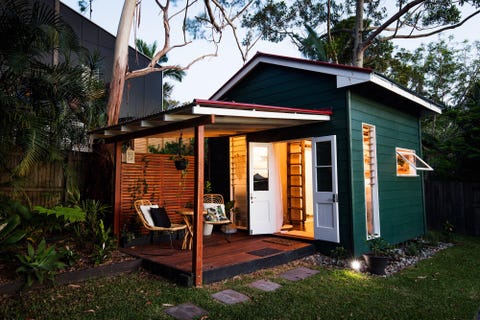 Located in the Australian suburb of Sunshine Beach is this idyllic tiny home that comes with a lofted bed, wooden detailing, and a modern bathroom, all complete with Hawaiian touches.
Price starts at: $83 per night
Special features: An attached private patio
9
A picturesque English cottage
Nestled in the plush valley of a large English village called Chalford, this romantic hideaway's stone work and wooden beams will remind you of a fairy tale.
Price starts at: $90 a night
Special features: Located near an idyllic stream
10
A remote adobe hut in the Texas desert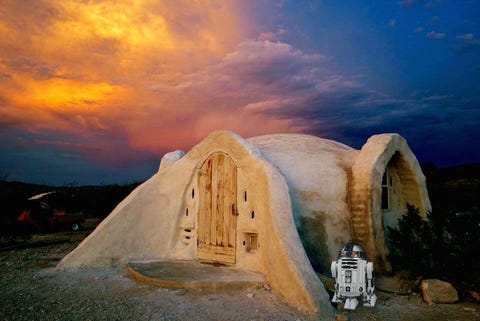 This Terlingua, Texas home offers clear views of the night sky, with a solar powered energy system and brand new kitchen that provides comfort as you enjoy some much-needed peace and quiet.
Price starts at: $98 per night
Special feature: 25 minutes away from Big Bend National Park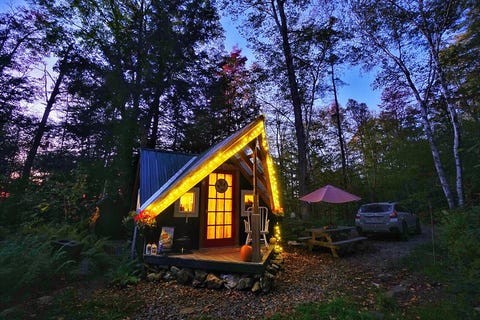 Plucked straight out of an old folk tale is this Nordic-inspired cabin in the woods, which comes complete with a small kitchenette and a tiny lofted sleeping space.
Price starts at: $125 per night
Special features: A sauna on the property
12
A glass house in Upstate New York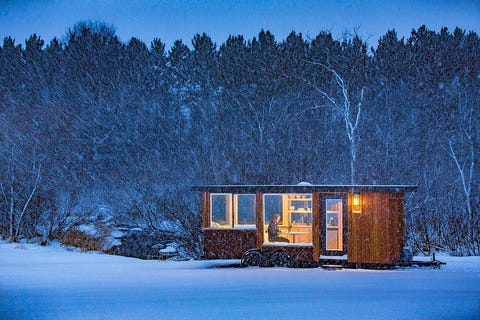 This one-of-a-kind tiny home was featured in The New York Times and The Today Show for its transparent walls. But despite its small status, it's an Airbnb of luxury with Wi-fi, AC, and a modern kitchen.
Price starts at: $149 per night
Special features: Views of the Hudson Valley
13
A dream silo in the Berkshires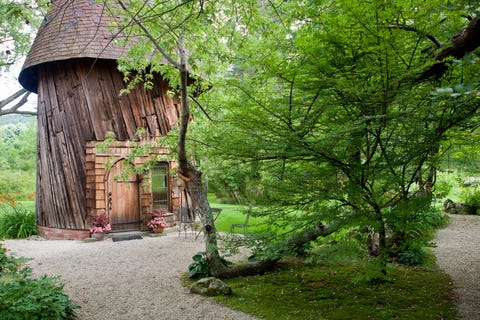 On the Santarella Estate in Western Massachusetts is this dreamy two-story "round" cottage. The upstairs bedroom has multi-paned windows with forest views that you can enjoy from the comfort of a delicately canopied bed.
Price starts at: $195 per night
Special features: Access to a pond and "babbling brook"
This content is created and maintained by a third party, and imported onto this page to help users provide their email addresses. You may be able to find more information about this and similar content at piano.io