Editors handpick every product that we feature. We may earn commission from the links on this page.
The 9 Best Luggage Options To Shop Before Your Next Trip
Make the most out of your next trip with these top-rated suitcases.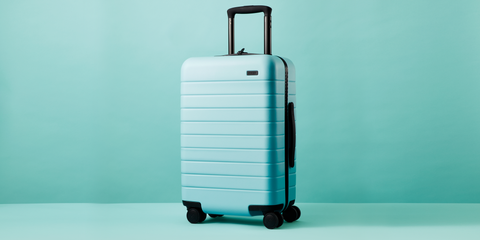 No matter how often or why you're traveling, you'll need a suitcase that suits your needs. It has to be spacious enough to hold all your stuff, light enough to carry around, and durable enough to last year after year.
Is soft or hardside luggage better? The answer: It's a personal preference. For hard shell luggage, we recommend going with polycarbonate because it's both durable and lightweight. Aluminum is heavier and ABS plastic is less durable. For softer fabric luggage that's more flexible to stuff into tight spaces (e.g. car trunks or overhead bins), nylon's your best bet because it's strong and water resistant.
After combing through the past 10 years of test data and researching new styles, we've selected the best luggage brands based on top-performing cases from our tests, our expert favorites that we use when we travel, and newer styles with unique features. Read on to learn more about our top picks.
1
Top Pick
Delsey Hardside Expandable Luggage
No matter what you're looking for, this brand has it all: With hard or softside options available, plus garment bags, underseat luggage, and more. It even has a smart suitcase called Pluggage that runs on AAA batteries (no need to remove them like lithium ion ones!) and connects to your phone so you can weigh your load, unlock it with your fingerprint, and track its location. We've tested this style and several others over the years, and we've always been impressed by Delsey's performance and durability.
2
Best Value
AmazonBasics Luggage 3 Piece Set
It's hard to find luggage for under $100, but Amazon's brand does not disappoint. There are soft and hardside styles to choose from, plus travel backpacks, duffels, and more. We recently reviewed the underseat luggage and found it was a total steal. Amazon also boasts extensive testing to make sure it'll hold up, and though it might not be the absolute best quality out there, the price can't be beat.
3
Most Durable
Samsonite Centric Hardside Expandable Luggage
Samsonite's another brand that has proven high quality as we've tested it over the years, including both hard and soft styles. It has specifically stood out for durability and ease of use: There's been no struggling to open and close the cases, and packing them has been a breeze thanks to the functional compartments, making them perfect for someone who is constantly on the go. We also love the designs, including the Stryde Glider which turns the luggage on the side so it's wide (not tall), making it more stable and less likely to tip if you stack another bag on top.
4
Travel Select Amsterdam Expandable Rolling Upright Luggage
This Travel Select set is cheaper than most others on our list, but it's durable and long-lasting, and the boarding bag is really convenient to keep your passport at arm's length. Made of polyester, the lightweight full, mid-size and carry-on pieces have reinforced corners to protect from wear and tear, and there's a lot of space for packing all the essentials for your trip (plus some goodies to bring back)!
Samsonite's sister brand is slightly pricier, but has timeless designs — like tweed fabric — that never go out of style. In fact, the brand's marketing and aesthetics are focused heavily on its heritage. On top of that, it's hardsided Vigor case had the highest performance score in a recent test: Not only was it was spacious and easy to pack, but both the wheels and handles made for smooth and comfortable towing. It outperformed even pricier styles, so you know you're getting good bang for your buck.
6
Bric's Bellagio International Carry On Spinner Trunk
If you're willing splurge, Bric's luggage is both high quality and super chic. The Italian brand is best known for its leather, which it even uses as trim on non-leather cases. The Bellagio spinner was a top performer in a recent luggage test: It was lightweight yet held a lot inside and proved to be durable.
7
Rockland Fashion Softside Upright Luggage Set
This Rockland Luggage set is small enough for a child to carry around, but boy can it carry a lot! When it comes to kids, you have to make sure everything is indestructible. This carry-on and tote bag set has a super cute owl design that'll camouflage stains from juices and foods, plus it's made out of heavy-duty 600 denier fabric. The tote is great for coloring books and snacks, but the actual luggage can hold up to four tops, a jacket, two pants, undies, a pair of shoes, and a toiletry bag. Go ahead and buy this for yourself too!
8
COOLIFE Luggage 4 Piece Set
This four-piece luggage set is perfect for the whole family to take advantage of. Vacation on the horizon? With a sleek style and hard outerwear, the Coolife spinner will hold up, and the convenient varying sizes help so much. It comes with a 28-inch, a 24-inch, and two carry-ons. Whether you're going away for the weekend or a month, these will become a go-to. One user took these for a spin on an international trip and found that it only had one scuff afterward. One.
9
Kenneth Cole Reaction Lightweight Hardside Luggage
For short trips that require packing outfits for every single possible event, you're going to want a sturdy hard shell case that'll provide extensive room on the inside. This lightweight Kenneth Cole set provides ample space with double side packing thanks to its well thought out compartments and interior lining, so you could stuff in just one more pair of shoes. Because your luggage just might get tossed around, this set was made to withstand that with guard reinforcements to take on the impact.
This content is created and maintained by a third party, and imported onto this page to help users provide their email addresses. You may be able to find more information about this and similar content at piano.io