5 Magical Ski Destinations for a Safe Winter Getaway
Here's everything you need to know about navigating a ski vacay in 2021.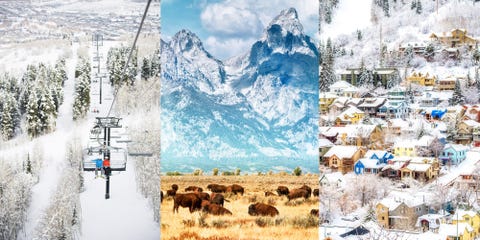 Editor's note: As we continue to practice social distancing, we encourage our readers to check the Center for Disease Control website for up-to-date information on how to safely travel during the COVID-19 pandemic.
Skiing is a great way to get some fresh air this winter season, and resorts around the country are taking additional precautions to make sure the experience is safe and socially distanced. Since mountains have reduced capacity compared to years prior, you'll want to make reservations well in advance to ensure you get a chance to ski. (Epic Pass holders get priority reservation access at participating mountains.) Additionally, face coverings are now required at all times. Skiing with buddies? Make sure you stay together, as skiers are only allowed to ride chairlifts and gondolas with their related parties. Most importantly, look into out-of-state travel restrictions on your departure and arrival state's travel website before you head off to your wintery wonderland. Now that you have an idea of what to expect, discover five magical spots that offer safe accommodations for your next ski-cation, below.
This content is created and maintained by a third party, and imported onto this page to help users provide their email addresses. You may be able to find more information about this and similar content at piano.io