Weekend Trip Guide: Where to Stay, Eat, and Drink in the British Virgin Islands
Welcome to paradise.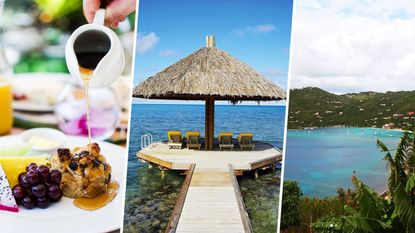 (Image credit: Instagram/Design by Monica Park)
Welcome to MarieClaire.com's new series on weekend travel—a smart girl's guide to making the most of those glorious two days off.
Seeing Barack Obama, mile-wide grin on his face, as he kite-surfed around the British Virgin Islands post-presidency wasn't just your typical vacation shot. It might as well have been a "new phone who dis" text to America, and the photos made us all feel like the jilted exes of someone who had quite literally moved on to greener isles.
Naturally, when I had a chance to see the crystal clear waters and postcard views of the BVIs for myself, I was also game to peace out on all earthly duties, forever and ever amen. Below, my tales of the best places in the BVIs to forget about your responsibilities and the best places to soak up some Vitamin D.
Where to Stay
Though there are countless beautiful villas and hotels to choose from when you're vacationing in the BVIs, I had the supreme bliss of staying at two stunning resorts, Surfsong Villa and Bitter End Yacht Club.
Opening the blinds on my first morning in the BVIs at Surfsong (located on their main island Tortola) was like waking up in paradise—you have to pinch yourself to confirm that your mini plane didn't tumble into the sea on the journey over. When I caught the sparkling waters and the lush mangroves, I wasn't quite sure whether to Instagram everything in my current line of sight or just soak it all in.
It's a constant struggle in Surfsong to just put your camera down, because the greenery and the Lost-worthy island scenery are *beyond*. Surfsong's owner Cate Stephenson was a sailor for years before finally putting down her anchor in the BVIs and starting work on the resort with her husband. The result is a series of cozy and secluded properties that feel like they've sprung up in the middle of nature.
Working with as many natural resources as possible, like the vines and boulders that flank the dining area, gives you the sense that you've left the rest of the world behind (it also helps that you get a full house to yourself, from canopy bedrooms to gorgeous outdoor showers). Many couples honeymoon here, and it's not hard to see why: this is the ultimate once-in-a-lifetime escape.
Bitter End Yacht Club is every adventure lover's dream and if you take an aerial view of it, you'll see why. The sprawling grounds house a sizable fleet of yachts and sailboats and it's a natural haven for water sport fanatics, offering everything from wind surfing to kite boarding and scuba diving. If you're thinking to yourself, "Oof, I can't stomach all that water time," don't fret.
There are several activities on the resort even if your vacation agenda is more land-based: An ambitious hiking trail for those who want to work off Bitter End's abundant brunch options, a pool, night time movies, and ferries to the nearby Saba Rock island. Plus, to be frank, if you've never enjoyed a massage en plein air—sea breezes blowing and everything—you have not lived, my friends.
My childhood fantasies of living in a treetop came true living in one of the resort's secluded tree bungalows: You follow winding trails and a series of steps through tropical greenery until you reach your doorstep. Everything is very serene and the view of the water from your porch is worth waking up early on vacation for.
What to Do
If you're *not* staying at an all-inclusive resort with access to water sports and private beaches (I know what you're thinking), you can cherry pick the activities on your itinerary. Sage Mountain National Park, the highest point in Tortola, is known for its hiking trails, while places like Josiah's Bay and Apple Bay on Tortola are international hot-spots for surfers.
Virgin Gorda Island is also known for its infamous Baths, a grouping of otherworldly natural granite boulders that form beautiful rock pools where the water creeps in. When the day is sunny, the light in the Baths refracts off the water there in dazzling colors.
I had the luck of securing a taxi driver with a vast knowledge of the islands (hi Lionel!) who took me on a driving tour through the winding streets of Tortola by some of their most-trafficked areas and past their many beaches and bays.
A drive through one or two of the islands is a great way to get an abbreviated glimpse at all the hot spots and views. Stop off at Skyworld Bar and Restaurant for a 360 view of the islands, spread out on the beach on the white sands at Cane Garden Bay, and pick up a fresh coconut from the street vendors along the way.
Or, if you want to live your life like Richard Branson himself on the islands, rent a yacht or catamaran from The Moorings—one of the most premium yacht charter companies in the world—then do your best Kendall Jenner and Kourtney Kardashian impression.
What to Eat
If you're staying at resorts like Surfsong and Bitter End Yacht Club, expect first-class service. The chef at Surfsong, a New York expat, works with farm-to-table ingredients to serve the freshest of meat and local fruits (Papaya! Mango! Watermelon! Pineapple!). The menu's always rotating, but if you can get it, I highly recommend the pork wrapped in bacon or watermelon and mozarella salad.
Bitter End's food is equally stellar, with menus that change day to day. Dinner runs the gamut from coconut encrusted chicken to fresh lobster or mahi-mahi, with appetizers that include fresh pumpkin soup and tuna tartare (I'm drooling as I'm writing this).
If you can make a day trip to the popular beach called Cane Garden Bay, take lunch at the terrace at Myett's. You can munch on fresh seafood, delicious cocktails (I recommend the Jungle Juice), scan the waters, and bliss out. Take a photo of the view, set it as your OOO message, and order another round. The views at the Saba Rock Island restaurant are also great for the appetite. Get there around sundown, when the owner feeds the massive local tarpin fish.
Other renowned local restaurants include the French-themed Dove restaurant in Road Town, seafood haven The Wonky Dog in the West End, and Hendo's Hideout in Jost van Dyke Bay.
RELATED STORY
What to Drink
For the uninitiated, continual references to painkillers in the BVIs will have you thinking that everyone is abusing prescription meds out here—not so much. The pain killer is the most famous cocktail in the BVIs, created with Pusser's rum, pineapple and orange juice, cream of coconut, and fresh nutmeg mmmmm.
You can pick one of those up at most local bars but if you want to go straight to the source, the oldest rum distillery in town is the Callwood Distillery. It's a short walk from the beach in Cane Garden Bay and you can take a tour of the property or cut straight to the part where you toss back rum shots (if you're a lightweight like me, try their "Panty Dropper" rum).
One excellent place to sip all things rum—from unique rum infusions to super pretty cocktails—is the rum bar on Cooper Island Beach Club, a small eco-resort with the largest collection of rums in the Virgin Islands. Highly recommended: the sampler board with selections from their 100+ rums.
Another infamous bar to put on your BVI bucket list is the Soggy Dollar Bar on Jost van Dyke Island where the pain killer is thought to have originated. It's a popular pitstop for sailors and locals who want to throw back a couple drinks before swimming back to their boats.
Helpful Tips
1. Choose your destinations wisely. The breathtaking plane ride into the BVIs gives you an idea of exactly how much land the islands cover. On a short weekend trip, you'll have to factor in how long it takes to hop from island to island (to map out exact distances, see this handy guide).
Every local I talked to recommended stopping by for at least four days to a week to truly experience the islands, but if you *must* make it out here and you're short on vacation days, do your homework. Choose one or two major islands like Tortola or Virgin Gorda to spend your time on and carpe diem! You'll only be scratching the surface of the beauty of the BVIs, but it will be worth it.
2. Bring your nausea medication if you get queasy easily. It's wild how much I underestimated the amount of time I'd be on water throughout the trip, so if you're a tried and true landlubber like me, you should be popping Bonines way in advance.
RELATED STORIES
Follow Marie Claire on Facebook for the latest celeb news, beauty tips, fascinating reads, livestream video, and more.
Marie Claire email subscribers get intel on fashion and beauty trends, hot-off-the-press celebrity news, and more. Sign up here.